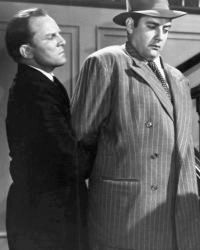 1949, USA, 78m, BW, Crime-Drama-Thriller
Screenplay Irwin Gielgud (with additional dialogue by William Bowers from articles published in the Los Angeles Mirror) Producer Jerry Bresler Photography William Daniels Editor Edward Curtiss Music Walter Scharf Cast Dennis O'Keefe, Gale Storm, Marjorie Rambeau, Raymond Burr, Will Kuluva, Jeff Chandler, Meg Randall, Jeanette Nolan, David Clarke, Mike Mazurki.
"In the tradition of many noir films, the plot of
Abandoned
is intricate and convoluted. The story zips along and was built on a foundation of sharp dialog and good direction. Newman does a fine job of creating a tense atmosphere and building suspense from the opening shot of city hall to the expressionistic finale. William Daniels' cinematography deftly weaves striking exteriors of L.A. with more stylishly contrived set pieces and almost-invisible rear projection. The climactic scene, an intricate sequence staged at a dark and deserted construction site, is definitive visual expression of film noir.
Abandoned
is a fine contemporary film in a beautiful sixty year-old package." -
Mark Fertig (Where Danger Lives)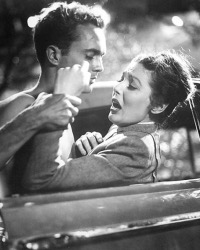 The Accused

1949, USA, 101m, BW, Crime-Drama
Screenplay Ketti Frings, Leonard Spigelgass [uncredited], Barré Lyndon [uncredited], Jonathan Latimer [uncredited], Allen Rivkin [uncredited], Charles Schnee [uncredited] (based on the novel Be Still, My Love by June Truesdell) Producer Hal B. Wallis Photography Milton Krasner Editor Warren Low Music Victor Young Cast Loretta Young, Robert Cummings, Wendell Corey, Sam Jaffe, Douglas Dick, Suzanne Dalbert, George Spaulding, Sara Allgood, Mickey Knox, Francis Pierlot.
"A nifty little psychological thriller,
The Accused
may seem a bit dated to modern day viewers, but it still has enough punch to be worth watching. Although it sags slightly in the middle, the end sections are terrific, and even the slight mispacing in the middle is mild and hardly worth mentioning. William Dieterle's smooth and assured direction highlights the tension at every turn and also takes time to get into the psyches of the characters, especially the tortured murderess-heroine (Young) whose efforts to fight her overwhelming guilt are driving her crazy. The psychology employed will seem a tad quaint nowadays, and the equation of "career woman" with "dull and lonely" will likewise be off-putting, but
Accused
manages to be effective despite this." -
Craig Butler (Allmovie)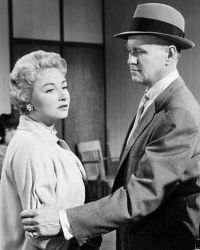 1956, USA, 74m, Col, Mystery-Crime-Detective Film
Screenplay Robert Creighton Williams, W.R. Burnett (based on the novel Vanity Row by W.R. Burnett) Producer Joseph Kane Photography Bud Thackery Editor Richard L. Van Enger Music R. Dale Butts Cast David Brian, Vera Ralston, Sidney Blackmer, Virginia Grey, Warren Stevens, Lee Van Cleef, Barry Kelley, Richard Karlan, Frank Puglia, Elisha Cook Jr..
"In
Accused of Murder
she's [Vera Ralston] a night club singer who's suspected of murdering a high-flying attorney (Sidney Blackmer) in debt to the mob, but luckily for her, the homicide lieutenant in charge of the case (David Brian) finds himself falling in love with her, and he's the only person standing between her and a life in prison… Adequate, therefore, but all around? Only adequate. There's no other word that might apply, unless it was mediocre, and truthfully,
Accused of Murder
is a step above that. It's a small step, but a step, nonetheless." -
Steve Lewis (Mystery*File)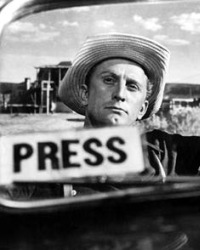 Ace in the Hole


The Big Carnival (alternative title)
1951, USA, 112m, BW, Drama-Media Satire
Screenplay Billy Wilder, Lesser Samuels, Walter Newman Producer Billy Wilder Photography Charles Lang Editor Arthur Schmidt Music Hugo Friedhofer Cast Kirk Douglas, Jan Sterling, Robert Arthur, Porter Hall, Frank Cady, Richard Benedict, Ray Teal, Lewis Martin, John Berkes, Frances Dominguez.
"Billy Wilder's
Ace in the Hole
almost requires an honorary expansion of the term film noir. There are no private eyes in seedy offices or femmes fatales lurking in the shadows of neon-lit doorways, no forces of evil arrayed against a relatively honorable hero. This emotional snake pit, the darkest of Wilder's dark meditations on American folkways, takes place under the relentless sun of the flat New Mexican desert. The noir is interior—inside a mountain tunnel where a man is trapped and suffocating, and inside the mind of a reporter rotting from accumulated layers of self-induced moral grime. The 1951 movie, fascinating in the sweep and savagery of its indictment, and a flop when it opened, points to the direction noir would take in the fifties, hiding in broad daylight in the films of
Alfred Hitchcock
,
Nicholas Ray
,
Douglas Sirk
." -
Molly Haskell (The Criterion Collection)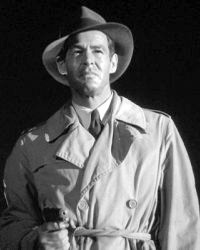 Act of Violence

1949, USA, 82m, BW, Crime-Drama
Screenplay Robert L. Richards (based on a story by Collier Young) Producer William H. Wright Photography Robert Surtees Editor Conrad A. Nervig Music Bronislau Kaper Cast Van Heflin, Robert Ryan, Janet Leigh, Mary Astor, Phyllis Thaxter, Berry Kroeger, Taylor Holmes, Harry Antrim, Connie Gilchrist, Will Wright.
"Arguably Zinnemann's most underrated film, this harrowing noir is a vivid evocation of survivor's guilt directed by a man who had lost much of his family in the death camps. Unlike most noirs, which open with its protagonists in desperate straits, the film derives much of its power from the contractor's gradual descent from a seemingly normal life into a perverse nightmare realm. While the highly improbable plot is a bit baroque for straight drama, and the character of Joe (Ryan) is less a human being than a projection of Frank's (Heflin) guilty conscience, the elements still mesh beautifully in the service of the film's tough-talking expressionism." -
Michael Costello (Allmovie)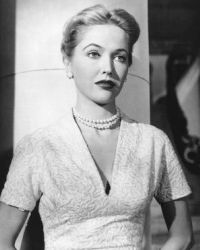 1957, USA-Cuba, 77m, BW, Crime-Thriller
Screenplay
Burton Lane, Maurice Zimm (based on a story by Janet Green)
Producer
Richard Goldstone
Photography
Alan Stensvold
Editor
Stefan Arnsten
Music
Ernest Gold
Cast
John Cassavetes
, Raymond Burr, Sara Shane, Lilia Lazo, Sergio Pena, Celia Cruz, Jose Antonio Rivero, Miguel Angel Blanco.
"An admirable example of truth in labelling,
Affair in Havana
is about just that. The film, in fact, resembles nothing so much as a swift, steamy verismo opera, albeit one set to a Cuban-bop score. This is the pre-Castro Cuba whose final days were so vividly summoned in
The Godfather II
… The film is also notable for another emotional performance by noir regular Raymond Burr, this time sporting a platinum buzz cut, as the bitter and obsessed industrialist Mallabee and
John Cassavetes
delivering an early version of his high-strung hipster persona, this time as the jazz pianist lover of Mallabee's wife." -
James Ursini & Bill MacVicar (Film Noir: The Encyclopedia)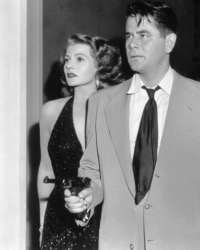 1952, USA, 98m, BW, Spy Film-Romantic Mystery
Screenplay James Gunn, Oscar Saul (based on an original story by Bernie Giler and Virginia Van Upp) Producer Vincent Sherman Photography Joseph Walkerl Editor Viola Lawrence Music George Duning Cast Rita Hayworth, Glenn Ford, Alexander Scourby, Valerie Bettis, Torin Thatcher, Howard Wendell, Karel Stepanek, George Voskovec, Steven Geray, Juanita Moore.
"Hayworth is the only reason to see this film, and if you need a better reason,
An Affair in Trinidad
isn't for you. Sherman knew this. He moves things along so quickly that the film survives as a moody valentine to un-blushing star power. Audiences knew it, too:
An Affair in Trinidad
actually out-grossed the superior
Gilda
. At 34, Hayworth's fresh face had taken on an edgy wariness, which is indelibly captured in a close-up as she stands smoking on the veranda, the light barely revealing her — unlike Ford, who shares the scene lit up like a spark plug. When Hayworth dances, she is transformed, and she has two terrific numbers, choreographed by Valerie Bettis." -
Gary Giddins (The New York Sun)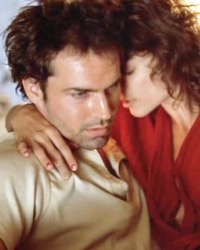 ●
NEO-NOIR / COLOUR NOIR
1990, USA, 114m, Col, Crime-Drama
Screenplay
James Foley, Robert Redlin (based on the novel by Jim Thompson)
Producers
Ric Kidney, Robert Redlin
Photography
Mark Plummer
Editor
Howard E. Smith
Music
Maurice Jarre
Cast
Jason Patric, Rachel Ward, Bruce Dern, George Dickerson, James Cotton, Corey Carrier, Rocky Giordani, Jeanie Moore, Tom Wagner, Burke Byrnes.
"The movie, based on a novel by Jim Thompson, the poet of circa-1950 pulp noir, has a stubborn, sullen truth to it, focusing on its handful of characters during the course of a particularly incompetent kidnapping. The story is so intimate that everything depends on the performances, and Jason Patric, Rachel Ward and Bruce Dern, and a character actor named George Dickerson, bring a grim, poetic sadness to the story…
After Dark, My Sweet
is the movie that eluded audiences; it grossed less than $3 million, has been almost forgotten, and remains one of the purest and most uncompromising of modern films noir. It captures above all the lonely, exhausted lives of its characters." -
Roger Ebert (Roger Ebert.com)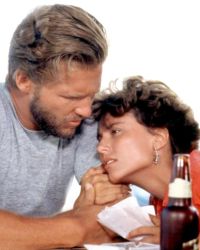 ●
NEO-NOIR / COLOUR NOIR
1984, USA, 128m, Col, Crime-Romantic Mystery
Screenplay
Eric Hughes (based on the screenplay for
Out of the Past
by Daniel Mainwaring)
Producers
Taylor Hackford, William S. Gilmore
Photography
Donald Thorin
Editor
Fredric Steinkamp
Music
Michel Colombier
Cast
Rachel Ward, Jeff Bridges, James Woods, Alex Karras, Jane Greer, Richard Widmark, Swoosie Kurtz, Dorian Harewood, Saul Rubinek, Pat Corley.
"It's hard to see why Taylor Hackford (
An Officer and a Gentleman
) wanted to remake
Jacques Tourneur's
classic film noir
Out of the Past
: he spends the first half of the movie trying to establish a plausible 1984 context for the 1947 plot, and the second half struggling to twist
Tourneur's
fatality into a typically bland 1980s happy ending. Robert Mitchum's disillusioned detective has been replaced by Jeff Bridges's down-and-out professional football player, and Jane Greer's frightening femme fatale has become Rachel Ward's confused but well-meaning rich girl. Little remains of the original but its weakest element—its overelaborate intrigue—and Hackford seems only to scramble it further. His habitual slickness seems to have deserted him entirely here, but in its absence he shows himself as a not untalented director of actors." -
Dave Kehr (Chicago Reader)
1949, USA, 93m, BW, Drama-Mystery-Fantasy
Screenplay Jonathan Latimer (based on an original story by Mindret Lord) Producer Endre Bohem Photography Lionel Lindon Editor Eda Warren Music Franz Waxman Cast Ray Milland, Thomas Mitchell, Audrey Totter, George Macready, Fred Clark, Geraldine Wall, Henry O'Neill, Darryl Hickman, Nestor Paiva, King Donovan.
"An undeservedly neglected film which should rank high on the list of Farrow's best. Starting out as a political thriller, almost imperceptibly it turns into fantasy, a variation on the Faust legend with honest, conscientious politician Mitchell falling under the spell of old Nick Beal (Milland) and turning into a ruthless, power-hungry monster. Working with his regular writer Jonathan Latimer, Farrow has a model screenplay of precision and construction, and adds to it careful detail, allusion and suggestion. Best of all is his visual coup of never having Milland walk into a scene: the camera continually discovers him as it or a character moves, and suddenly there he is when seconds ago he was nowhere. Sadly, there's a sellout religioso ending, which lessens the overall power of the suggestion of some all-pervasive, satanic evil." -
Chris Wicking (Time Out)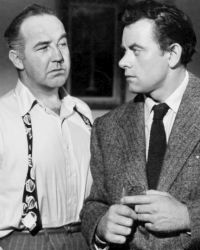 All the King's Men

1949, USA, 109m, BW, Political Drama
Screenplay Robert Rossen (based on the novel by Robert Penn Warren) Producer Robert Rossen Photography Burnett Guffey Editor Al Clark Music Louis Gruenberg Cast Broderick Crawford, Joanne Dru, John Ireland, John Derek, Mercedes McCambridge, Shepperd Strudwick, Anne Seymour, Ralph Dumke, Katherine Warren, Raymond Greenleaf.
"
All the King's Men
is one of the best political films of all time. It is based on Robert Penn Warren's Pulitzer Prize-winning novel of the same name which became a major best-seller, and has retained its reputation as one of the great works of American fiction… While many films which make political or sociological statements tend to date badly in a few years,
All the King's Men
still seems fresh and powerful. The contradictory character of Stark (Crawford), a man who wants to do good, but who succumbs to the temptation of power and the demands of his own ambition, becoming the embodiment of corrupt politics, is as relevant today as in 1949. The character of the demagogue has been known in literature for centuries, but few works have examined that figure as thoroughly and successfully as
All the King's Men
." -
Patricia King Hanson (Film Reference)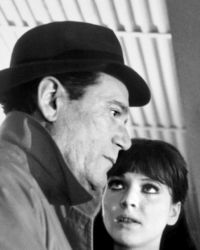 Alphaville

Alphaville, une étrange aventure de Lemmy Caution (original title)

●
FRENCH NOIR / SCI-FI NOIR / LATE NOIR (1960s)
1965, France, 95m, BW, Science Fiction-Mystery-Drama
Screenplay
Jean-Luc Godard
Producer
Andre Michelin
Photography
Raoul Coutard
Editor
Agnès Guillemot
Music
Paul Misraki
Cast
Eddie Constantine, Anna Karina, Howard Vernon, Akim Tamiroff, Laszlo Szabo, Jean-Louis Comolli, Michel Delahaye, Jean-Andre Fieschi, Christa Lang, Jean-Pierre Leaud.
"One of Godard's most sheerly enjoyable movies, a dazzling amalgam of film noir and science fiction in which tough gumshoe Lemmy Caution turns inter-galactic agent to re-enact the legend of Orpheus and Eurydice by conquering Alpha 60, the strange automated city from which such concepts as love and tenderness have been banished. As in
Antonioni's
The Red Desert
(made the previous year), Godard's theme is alienation in a technological society, but his shotgun marriage between the poetry of legend and the irreverence of strip cartoons takes the film into entirely idiosyncratic areas. Not the least astonishing thing is the way Raoul Coutard's camera turns contemporary Paris into an icily dehumanised city of the future." -
Tom Milne (Time Out)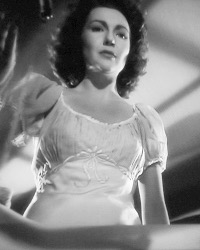 The Spiritualist (UK title)
1948, USA, 78m, BW, Mystery-Psychological Thriller
Screenplay Ian McLellan Hunter, Muriel Roy Bolton (based on an original story by Crane Wilbur) Producer Benjamin Stoloff Photography John Alton Editor Norman Colbert Music Alexander Laszlo Cast Turhan Bey, Lynn Bari, Cathy O'Donnell, Richard Carlson, Donald Curtis, Virginia Gregg, Harry Mendoza, Norma Varden.
"To the short list of memorable productions from the humble Eagle-Lion studio can be added this atmospheric and intelligent thriller from 1948. Sold as a horror film,
The Amazing Mr. X
is actually a romantic take on the spiritualist racket with a few similarities to the previous year's
Nightmare Alley
. Its strongest aspect is superb cinematography by the legendary John Alton, who makes the picture a remarkable showcase of expressive and tasteful lighting effects.
The Amazing Mr. X
almost completely redeems the sub-genre of thrillers that use the hokey convention of the séance, a gathering of people that can communicate with the dead when guided by a 'sensitive' conduit to the spirit world." -
Glenn Erickson (DVD Savant)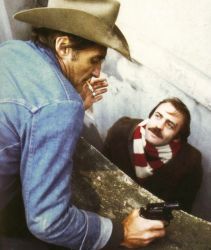 The American Friend

Der Amerikanische Freund (original title)

●
NEO-NOIR / GERMAN NOIR / COLOUR NOIR
1977, West Germany-France, 125m, Col, Mystery-Crime-Drama
Screenplay
Wim Wenders (based on the novel
Ripley's Game
by Patricia Highsmith)
Producer
Wim Wenders
Photography
Robby Müller
Editor
Peter Przygodda
Music
Jurgen Knieper
Cast
Dennis Hopper
, Bruno Ganz, Gérard Blain, Lisa Kreuzer,
Nicholas Ray
,
Samuel Fuller
, Peter Lilienthal, Daniel Schmid,
Jean Eustache
, Rudolf Schündler.
"Loosely based on Patricia Highsmith's novel
Ripley's Game
,
The American Friend
wears its love of the United States and its cinematic lineage on its sleeve. Though set in combination of New York, France, and Germany (with the action largely transpiring in the latter two locations), the film radiates a distinctly Western sensibility. From its engagement with genre tropes (particularly film noir), to its tangibly grimy urban backdrops, to its archetypal hero/villain dramatic dichotomy, there's no mistaking the film's American influence…
The American Friend
is structured around its two extended murder sequences, each a masterclass in choreography and visual storytelling." -
Jordan Cronk (Slant Magazine)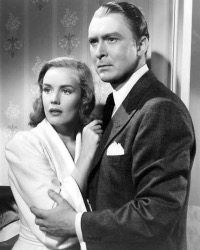 1941, USA, 68m, BW, Thriller-Drama-Crime
Screenplay Garrett Fort, Lester Cole (based on a story by Brian Marlow and Lester Cole) Producer Sol C. Siegel Photography Theodor Sparkuhl Editor Everett Douglas Music Gerard Carbonara Cast Albert Dekker, Susan Hayward, Frances Farmer, Harry Carey, Gordon Jones, Jean Phillips, Ernest Whitman, Maude Eburne, Len Hendry, Frank M. Thomas.
"A gripping piece of Southern gothic, with Albert Dekker (excellent) as identical twins. John, sent away to school as a boy, returns home after 25 years for his father's funeral, and is horrified to learn that his brother Paul is not dead as everybody thought, but shut away in the family mansion, driven insane by his father's cruelty to his mother when he was still a boy. In a nicely grisly touch, echoed in a later murder, the body of Paul's keeper is found with his hands placed over his ears (shutting out the mother's screams that Paul still hears)... Script (Lester Cole/Garrett Fort), camera (Theodor Sparkuhl) and direction all conspire beautifully to keep the screws turned tight." -
Tom Milne (Time Out)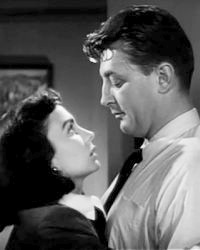 Angel Face


1953, USA, 91m, BW, Crime-Psychological Drama
Screenplay Frank S. Nugent, Oscar Millard (based on a story by Chester Erskine) Producer Otto Preminger Photography Harry Stradling Editor Frederic Knudtson Music Dimitri Tiomkin Cast Robert Mitchum, Jean Simmons, Herbert Marshall, Mona Freeman, Leon Ames, Barbara O'Neil, Kenneth Tobey, Raymond Greenleaf, Griff Barnett, Robert Gist.
"Superb Freudian crime thriller, noir-inflected in theme but shot by and large in crisp, bright drawing-rooms. Mitchum is the archetypal noir-hero confronted with a devious femme fatale; as an ambulance driver who becomes so infatuated with the outwardly angelic Simmons that he moves in as her family's chauffeur and can't bring himself to admit that she is trying to murder her mother, he gives one of his most restrained and lyrical performances, perfectly offset by Simmons' demonic ingenue. Preminger, as it were, flattens the melodramatics of the story with typically cool clarity, emphasising its psychological complexities and allowing the occasional incursions of violence to emerge with shocking matter-of-factness." -
Geoff Andrew (Time Out)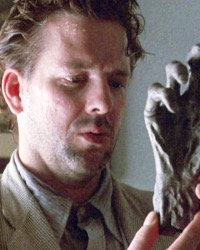 Angel Heart

●
NEO-NOIR / COLOUR NOIR
1987, USA, 113m, Col, Thriller-Mystery-Detective Film
Screenplay
Alan Parker (based on the novel
Falling Angel
by William Hjortsberg)
Producer
Alan Marshall, Elliott Kastner
Photography
Michael Seresin
Editor
Gerry Hambling
Music
Trevor Jones
Cast
Mickey Rourke, Robert De Niro, Lisa Bonet, Charlotte Rampling, Stocker Fountelieu, Brownie McGhee, Michael Higgins, Elizabeth Whitcraft, Elliott Keener, Charles Gordone.
"After everything is all over and the dust has settled and the blood has dried, it is possible to unsort the plot of
Angel Heart
and see that it's really fairly simple. But it doesn't feel that way at the time. It has the unsettled logic of a nightmare, in which nothing fits and everything seems inevitable and there are a lot of arrows in the air and they are all flying straight at you… The movie stars Mickey Rourke as Harry Angel, an unwashed private eye who works out of an office that looks like Sam Spade gave it to the Goodwill… This sounds like a million other private eye movies, and, in a way, it is. A few things make it different: a sly sense of humor, good acting and directing, and a sudden descent into the supernatural as Harry Angel discovers the horrifying true nature of his investigation." -
Roger Ebert (Roger Ebert.com)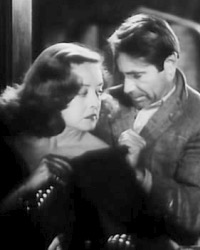 ●
BRIT-NOIR
1951, UK, 90m, BW, Crime-Melodrama-Thriller
Screenplay
Val Guest
(based on the play
Deadlock
by Leslie Sands)
Producer
Daniel M. Angel
Photography
Robert Krasker
Editor
Gordon Hales
Music
John Greenwood
Cast
Bette Davis, Gary Merrill, Emlyn Williams, Anthony Steel, Barbara Murray, Reginald Beckwith, Edna Morris.
"No one will ever accuse
Another Man's Poison
of being a great film, but it's certainly an entertaining one, especially for those who relish Bette Davis' more over-the-top performances. While certainly nothing to compare with her turn in
Whatever Happened to Baby Jane?
, the star's work here is a delicious mixture of consummate skill and sheer camp. That latter adjective is in no way meant as a criticism; Davis was working here with material that needed a "kick in the pants" approach… Irving Rapper seems to have his hands full just keeping some sort of lid on Davis, and so the rest of the film wanders a bit. But whenever Davis is around, it certainly catches fire." -
Craig Butler (Allmovie)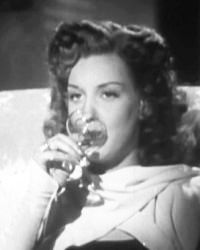 1945, USA, 67m, BW, Drama-Crime-Mystery
Screenplay Fred Myton Producer Sigmund Neufeld Photography Jack Greenhalgh Editor Holbrook N. Todd Music Leo Erdody Cast Ann Savage, Hugh Beaumont, Russell Hicks, Charles D. Brown, Pierre Watkin, Sarah Padden, Norman Willis, Eva Novak, Budd Buster, George Sherwood.
"
Apology for Murder
is not a great movie. However, the film does give viewers a glimpse into how films (especially B-movies) were green-lighted in the 1940s… This isn't just a film in the mold of
Double Indemnity
from a year before – it's an exact copy of it. Or should I say it's a copy of the film if it were made with little budget and no star power… The femme fatale gets her sucker boyfriend to kill her husband. The boyfriend feels guilty because someone else is being accused of the murder and so he steps in and tries to do the right thing by stopping Phyllis/Toni (Ann Savage). I would guess that if you haven't seen
Double Indemnity
for a while you may actually find
Apology for Murder
a decent grade-Z thriller. For classic movie fans I would recommend it just to see Savage play in another film noir." -
Film Noir of the Week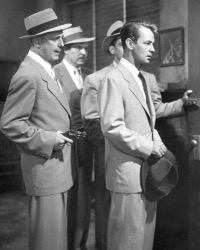 1951, USA, 89m, BW, Crime-Drama-Detective Film
Screenplay Richard L. Breen, Warren Duff Producer Robert Fellows Photography John F. Seitz Editor LeRoy Stone Music Victor Young Cast Alan Ladd, Phyllis Calvert, Paul Stewart, Jan Sterling, Jack Webb, Stacy Harris, Harry Morgan, David Wolfe, Dan Riss, Harry Antrim.
"Scripts about lawmen going undercover are a dime a dozen, but
Appointment with Danger
surprises with its sharp dialogue and interesting characters. Al Goddard (Ladd) leads off with a classic line: "Sure I know what love is -- it's what goes on between a man and a .45 that won't jam"... Much of
Appointment with Danger
is filmed on real city streets, including the swift mail robbery sequence. But the outstanding contribution is a sharp and observant script. The thieves sweat out the caper as individuals looking out for Number 1. Dodie (Sterling) plays records and relieves her boredom by trying to seduce Al. Paul Stewart's big boss keeps weighing the gang's choices, even when the heist goes bad. Director Lewis Allen (
The Uninvited
,
Desert Fury
) must be credited for some of this sophistication." -
Glenn Erickson (DVD Savant)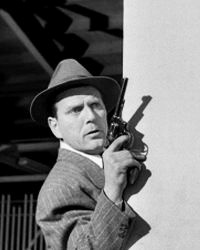 Armored Car Robbery

1950, USA, 68m, BW, Crime-Thriller-Caper
Screenplay Earl Felton, Gerald Drayson Adams (based on a story by Robert Angus and Robert Leeds) Producer Herman Schlom Photography Guy Roe Editor Desmond Marquette Music Constantin Bakaleinikoff Cast Charles McGraw, Adele Jergens, William Talman, Douglas Fowley, Steve Brodie, Don McGuire, Don Haggerty, James Flavin, Gene Evans, Barry Brooks.
"The caper movie has since succumbed to over-familiarity and over-elaboration, but this one - pointing the way to
The Asphalt Jungle
and
The Killing
- is a model of its kind. Almost documentary in its account of the heist that goes wrong and the police procedures that are set in motion, making excellent use of LA locations, it relies on superb high contrast lighting to meld reality into the characteristic noir look. Vivid characterisations, too, from Talman as the vicious mastermind, Jergens as a sleazy stripper playing games, and McGraw as the steely cop out to avenge the death of his partner." -
Tom Milne (Time Out)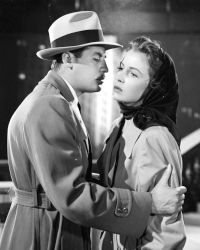 1947, USA, 86m, BW, Romance-Crime-Mystery
Screenplay Arch Oboler (based on his radio play I'll Tell My Husband, adapted by Jane Burr) Producer Jerry Bresler Photography Charles Salerno Jr. Editor Harry Komer Music George Bassman Cast John Hodiak, George Murphy, Frances Gifford, Dean Stockwell, Eve Arden, Warner Anderson, Lowell Gilmore, Archie Twitchell, Ruth Brady, Ruby Dandridge.
"
The Arnelo Affair
is based on Oboler's radio play
I'll Tell My Husband
, which in turn was adapted from a story by feminist writer and journalist Jane Burr. It is a very unusual noir in that the protagonist is an unfulfilled housewife who gets involved with an homme fatale, a charming Chicago nightclub owner and racketeer…
The Arnelo Affair
favors dialogue over action, equates the racketeer's behavior with Nazism, and some of the dialogue sermonizes about Americans' post-war responsibilities… Oboler's noir features lush cinematography by Charles Salerno, Jr., great Chicago locations and a plangent score by George Bassman.
The Arnelo Affair
also displays interesting performances from John Hodiak as the sympathetic villain, Frances Gifford as the heroine, Eve Arden as Gifford's independent friend, and Warner Anderson as a sharp police detective." -
Matthew Rovner (Parallax View)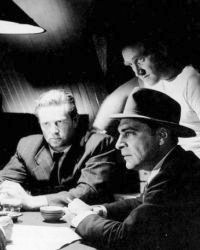 The Asphalt Jungle


1950, USA, 112m, BW, Crime-Thriller-Caper
Screenplay Ben Maddow, John Huston (based on the novel by W.R. Burnett) Producer Arthur Hornblow Jr. Photography Harold Rosson Editor George Boemler Music Miklos Rozsa Cast Sterling Hayden, Louis Calhern, Jean Hagen, James Whitmore, Sam Jaffe, John McIntire, Marilyn Monroe, Marc Lawrence, Barry Kelley, Anthony Caruso.
"An early masterclass in the art of the caper movie, John Huston's 1950 thriller stands up wonderfully well, even if we've got used to far more convoluted scheming by movie robbers in the intervening period. One of
The Asphalt Jungle's
strengths is that the crims seem about as thick as you suspect they would be in real life: no Cruise or
Clooney
-style braniac super-athletes here. The outfit's chief is scrawny Doc Riedenschneider (Sam Jaffe), who plans to bust into a jewellers' safe, but the story mostly revolves around bruiser Dix Handley (Sterling Hayden), who conceals a doomed fragility beneath a hard-boiled exterior. It all looks fabulous too, a Brechtian ode to the urban wasteland." -
Andrew Pulver (The Guardian)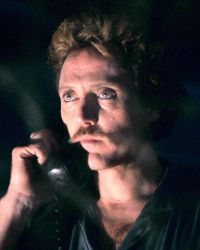 ●
NEO-NOIR / COLOUR NOIR
1986, USA, 115m, Col, Crime-Family Drama
Screenplay
Nicholas Kazan
Producers
Don Guest, Elliott Lewitt
Photography
Juan Ruiz-Anchia
Editor
Howard E. Smith
Music
Patrick Leonard
Cast
Sean Penn
, Christopher Walken, Mary Stuart Masterson, Christopher Penn, Millie Perkins, Eileen Ryan, Alan Autry, Candy Clark, R.D. Call, Tracey Walter.
"Sean Penn as an aimless, impoverished, sensation-seeking teenager who comes under the spell of his long-estranged father (Christopher Walken), a professional thief. Father-son relationships were about the only subject that early-Reagan-era films (from
Kramer vs. Kramer
to
Harry and Son
) were willing to take seriously, and Nicholas Kazan's screenplay ('based on a true story') creates a compelling psychology as it builds up to its highly charged confrontations. Yet James Foley's direction suffers from the same rock video-itis as his earlier and infinitely more trivial
Reckless
: the tricky back-lighting, the abstract compositions, and the obtrusive editing effects work against the sense of realism and emotional immediacy the project depends on." -
Dave Kehr (Chicago Reader)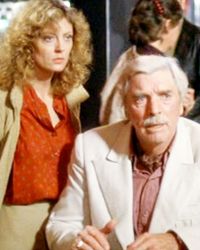 Atlantic City

●
CANADIAN-FRENCH NOIR / NEO-NOIR / COLOUR NOIR
1980, Canada-France, 104m, Col, Crime-Romance-Drama
Screenplay
John Guare
Producer
Denis Héroux
Photography
Richard Ciupka
Editor
Suzanne Baron
Music
Michel Legrand
Cast
Burt Lancaster, Susan Sarandon, Kate Reid, Michel Piccoli, Hollis McLaren, Robert Joy, Al Waxman, Robert Goulet, Moses Znaimer, Angus MacInnes.
"Louis Malle's drama of petty crime and faded dreams observes the effects of a cache of stolen drugs on the lives of a group of leftovers from both the organised crime of the 1940s and the counterculture of the 1960s as they struggle to escape the crumbling, redeveloping former gambling capital of America. Lancaster, in his last great starring role, is infinitely patient long-time loser Lou (his gangland nickname was 'Numb-Nuts'), still looking after his mob boss's widow (Reid) and running numbers… Beautifully written by playwright John Guare (
Six Degrees of Separation
) and played by a superb cast (Hollis McLaren is memorable as the fractured waif sister), this is wry, sad, erotic, funny, shocking and thoughtful." -
Kim Newman (Empire)

The 100 Most Cited Noir Films

Recommended Viewing (by
TSPDT
)