1950, USA, 99m, BW, Crime-Drama
Screenplay Philip Yordan, Charles Brackett [uncredited] (with additional scenes by Ben Hecht, based on the novel by Leo Brady) Producer Samuel Goldwyn Photography Harry Stradling Editor Daniel Mandell Music Hugo Friedhofer Cast Dana Andrews, Farley Granger, Joan Evans, Robert Keith, Paul Stewart, Mala Powers, Adele Jergens, Harold Vermilyea, John Ridgely, Douglas Fowley.
"
Edge of Doom
is a surprisingly bleak film noir, and that's saying something. It's also a somewhat frustrating one, as it could have been a truly exceptional film but had to settle for being merely quite good. The main problem are the prologue and epilogue that bookend the film; these were written after the film was completed and released, and the tacked-on feeling they give to the piece is unmistakable. Between this beginning and this end, the screenplay makes some other mistakes... Even with these flaws,
Doom
is quite effective and in places remarkably powerful, especially when its social conscience meshes with its story and the two build up a good head of steam. Mark Robson directs the main body of the story with skill and precision, aided enormously by Harry Stradling's commanding and compelling cinematography." -
Craig Butler (Allmovie)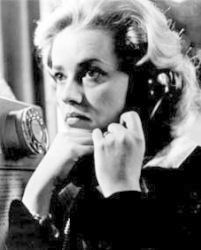 Elevator to the Gallows

Ascenseur pour l'échafaud (original title); Lift to the Scaffold (alternative title)

●
FRENCH NOIR
1957, France, 92m, BW, Thriller-Crime-Romance
Screenplay
Louis Malle, Roger Nimier (based on the novel by Noël Calef)
Producer
Jean Thuillier
Photography
Henri Decaë
Editor
Léonide Azar
Music
Miles Davis
Cast
Maurice Ronet, Jeanne Moreau, Georges Poujouly, Yori Bertin, Jean Wall, Elga Andersen, Sylviane Aisenstein, Micheline Bona, Lino Ventura, Iván Petrovich.
"As French crime thrillers go, this is about as good as it gets. It's also an important film historically, and to top it off, the jazz score, by Miles Davis, is famous in its own right...
Elevator to the Gallows
was the first feature in Louis Malle's long directorial career and probably his best. The story is pure pulp fiction, about a murder plan that goes bad, but what really counts is the fatalistic atmosphere... The heart of the picture is the Moreau character's odyssey, much of it at night and accompanied by poetic internal monologues, as she visits bars and cafes in search of her missing lover... The black-and-white cinematography of Henri Decae, who went on to work with
Jean-Pierre Melville
and
François Truffaut
, gives the movie the clarity of a dream and offers a vision of the City of Light as melancholy and haunted." -
Walter Addiego (San Francisco Chronicle)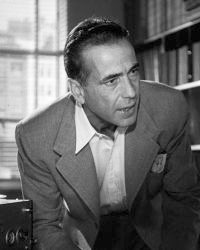 1951, USA, 87m, BW, Drama-Crime-Gangster Film
Screenplay Martin Rackin Producer Milton Sperling Photography Robert Burks Editor Fred Allen Music David Buttolph Cast Humphrey Bogart, Everett Sloane, Zero Mostel, Ted De Corsia, Roy Roberts, Bob Steele, King Donovan, Lawrence Tolan, Adelaide Klein, Don Beddoe.
"
The Enforcer
is a taut and suspenseful film noir, notable for its intriguing fragmented structure, its shockingly violent scenes, and its groundbreaking subject matter... When an informer who has agreed to testify against his mobster boss is killed, Assistant D.A. Martin Ferguson (Humphrey Bogart) reviews the case he has built up against the boss, searching for any discrepancies in the catalogued testimony... Though director Bretaigne Windust's name graces the credits, it was an uncredited
Raoul Walsh
who was really responsible for the film's most suspenseful sequences.
Walsh
directed five days' worth of retakes and additional scenes, including the thrilling finale." -
Jeremy Arnold (Turner Classic Movies)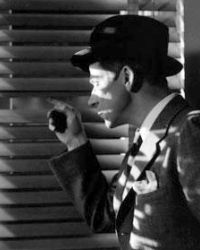 1945, USA, 65m, BW, Crime-Drama-Mystery
Screenplay Aubrey Wisberg Producer Wallace MacDonald Photography George Meehan Editor Jerome Thoms Cast Otto Kruger, Nina Foch, William Wright, Konstantin Shayne, Ivan Triesault, Ernie Adams, Jessie Arnold, Chin Kuang Chow, Edmund Cobb, Heinie Conklin.
"
Escape in the Fog
, a 63-minute Columbia production, was Boetticher's fifth picture. It's the story of an expert in psychological warfare (William Wright) who is given a secret mission to deliver some wartime documents from San Francisco to the Far East… It would be a stretch to try and find any real visual stamp of Boetticher's in a film like
Escape in the Fog
. His more mature later work features vivid and fascinating spatial relationships between characters in the frame and against the landscape, but you won't find that here. Instead you'll just find a filmmaker starting to piece together the basics in a breezy little programmer. The use of fog to create a claustrophobic and occasionally dreamlike effect is probably the most interesting thing visually in the movie." -
Jeremy Arnold (Turner Classic Movies)
●
LATE NOIR (1960s)
1962, USA, 123m, BW, Crime-Thriller-Police Detective Film
Screenplay
Gordon Gordon, Mildred Gordon (based on their novel
Operation Terror
)
Producer
Blake Edwards
Photography
Philip Lathrop
Editor
Patrick McCormack
Music
Henry Mancini
Cast
Glenn Ford, Lee Remick, Stefanie Powers, Roy Poole, Ned Glass, Ross Martin, Clifton James, Anita Loo, Patricia Huston, Gilbert Green.
"After seven lightish comedies and dramas, and directly following
Breakfast at Tiffany's
, Edwards launched himself in a new direction with this thriller: an experiment for him and also for the genre. Years before
John Carpenter
and other movie brats began to play with audience expectations and memories, Edwards constructed his film - about an asthmatic psycho pursuing Lee Remick - around precisely similar attitudes. Gone was the whodunit mystery formula; gone the need for psychological explanations; in their place, an exercise in steely style, with the audience split between its concern for the victim and its fascination with the psycho's activities. After
Carpenter
and
De Palma
, it may seem a little dated; yet Edwards' classical feel for pure cinema remains unalloyed." -
Chris Wicking (Time Out)
1944, USA, 91m, BW, Romance-Thriller-Melodrama
Screenplay Warren Duff (based on the novel by Margaret Seymour Carpenter) Producer Warren Duff Photography Tony Gaudio Editor Ralph Dawson Music Roy Webb Cast Hedy Lamarr, George Brent, Paul Lukas, Albert Dekker, Carl Esmond, Olive Blakeney, George Neise, Margaret Wycherly, Stephanie Bachelor, Julia Dean.
"A comparatively minor but characteristically elegant Tourneur costume melodrama-cum-psychological thriller in the vein of
Rebecca
and
Gaslight
, this features Lamarr as the wife of a wealthy philanthropist; inevitably, she comes to fear not only for her own sanity, but also for that of her genuinely dangerous husband, a manic authoritarian patriarch whose violence is the product of a troubled, traumatic childhood. Equally inevitably, doctor/ detective Brent is there to save her and supply romantic interest, but Tourneur manages to overcome the formulaic plotting and cod-Freudian characterisations through carefully controlled performances and Tony Gaudio's fine camerawork." -
Geoff Andrew (Time Out)

Available on Blu-ray

Recommended Viewing (by
TSPDT
)