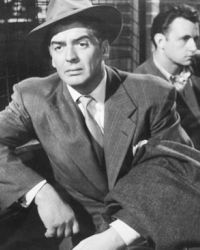 1950, USA, 80m, BW, Drama-Crime-Mystery
Screenplay Allen Rivkin, Marvin Borowsky (from a story by Erwin Gelsey) Producer Warren Duff Photography Harry Wild Editor Roland Gross Music Roy Webb Cast Victor Mature, Terry Moore, William Bendix, Zachary Charles, Basil Ruysdael, Donald Randolph, Damian O'Flynn, Cleo Moore, Ann Doran, Jack Kruschen.
"Apart from leads Victor Mature and Wiliam Bendix, the only other strong film noir connection for
Gambling House,
is Roy Webb's soundtrack. With a plot broadly similar to Mature's earlier
Kiss of Death
(1947), this is a tight thriller-melodrama with nicely-integrated social and romance angles. Mature is charming as the reforming hood, Bendix dependable as the casino-operater, and Terry Moore truly engaging as the love interest. The cinematography and art direction have a gritty noir look with deep-focus New York location shooting. The direction is tight with not a false step for the full 80 minutes." -
Tony D'Ambra (FilmsNoir.net)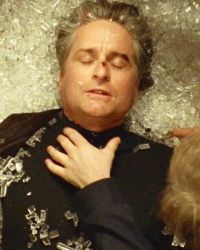 The Game

●
NEO-NOIR / COLOUR NOIR
1997, USA, 128m, Col, Mystery-Paranoid Thriller
Screenplay
John Brancato, Michael Ferris
Producer
Ceán Chaffin, Steve Golin
Photography
Harris Savides
Editor
James Haygood
Music
Howard Shore
Cast
Michael Douglas,
Sean Penn
, James Rebhorn, Deborah Unger, Peter Donat, Carroll Baker, Armin Mueller-Stahl, Anna Katarina, Charles Martinet, Scott Hunter McGuire.
"Between the tour de force of
Seven
(1995) and the cult sensation of
Fight Club
(1999),
The Game
is the David Fincher movie that time forgot. It's remembered, if at all, as a winking genre exercise by a craftsman at a loose end – elegant, sure, but hardly top-rank. Imagine for a second that
Lars von Trier
or
Michael Haneke
had made it, and the movie would get a lot more credit for what it's saying, rather than being judged on purely mainstream terms as a clever tease. On top of that, it happens to be the best-looking studio thriller of the Nineties. Give or take
The Social Network
, it's my favourite of all Fincher's films, because it's a puzzle box with a serious philosophical core, examining free will, fate and the definition of character through suffering without once feeling the need to flag up those concepts." -
Tim Robey (The Telegraph)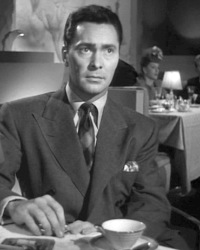 1947, USA, 84m, BW, Crime-Drama-Gangster Film
Screenplay Daniel Fuchs (from his story) Producers Frank King, Maurice King Photography Paul Ivano Editor Walter Thompson Music Louis Gruenberg Cast Barry Sullivan, Belita, Joan Lorring, Akim Tamiroff, Harry Morgan, John Ireland, Sheldon Leonard, Fifi D'Orsay, Virginia Christine, Shelley Winters.
"Another prime noir that goes unheralded, Allied Artists'
The Gangster
is an evocative and moody little anomaly. Gordon Wiles had a scattered career, dividing his time between directing and serving as an art director. He passed away in 1950, after working on
Cyril Endfield's
acidic
The Underworld Story
...
The Gangster
suffers from a generic title, but viewers will find it a diverting story of the fall of an established hood. With its ensemble cast and amusement pier setting, the movie plays a bit like Graham Greene's
Brighton Rock
or Gerald Kersh's original novel of
Night and the City
. Not an action show, the movie saves its violence for the final act. At other times it pauses for decidedly strange effects, always underpinning its story of betrayal and doom with more levels of sadness and misery. Barton Fink might have written this, had he been more talented." -
Glenn Erickson (DVD Savant)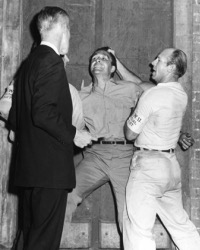 1957, USA, 88m, BW, Crime-Drama
Screenplay Harry Kleiner (from a series of articles Gangsters in the Dress Business by Lester Velie) Producer Harry Kleiner Photography Joseph Biroc Editor William Lyon Music Leith Stevens Cast Lee J. Cobb, Kerwin Mathews, Gia Scala, Richard Boone, Valerie French, Robert Loggia, Joseph Wiseman, Harold J. Stone, Adam Williams, Wesley Addy.
"Cut from familiar noir cloth - all eerie ceiling fans and empty elevator shafts expressionistically shot and lit -
The Garment Jungle's
off-the-peg plot concerns a coming-home Korean war veteran's discovery of foul play in the family firm and political gangsterism on either side. It's a sort of 'pro-labour' (
Aldrich's
term)
On the Fashion Front
, a radical retort to
On the Waterfront's
anti-union allegory three years earlier. Uncredited director
Robert Aldrich
was replaced by Sherman only one week before shooting ended for his refusal to tone down a tough screenplay. In spite of Sherman's efforts, though,
The Garment Jungle
makes latter-day labour films like
F.I.S.T
.,
Norma Rae
and
Blue Collar
look comparatively unstarched." -
Paul Kerr (Time Out)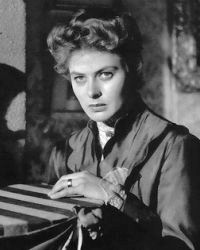 Gaslight

1944, USA, 114m, BW, Psychological Thriller-Mystery-Period Film
Screenplay John Balderston, John Van Druten, Walter Reisch (based on the play Gas Light by Patrick Hamilton) Producer Arthur Hornblow Jr. Photography Joseph Ruttenberg Editor Ralph E. Winters Music Bronislau Kaper Cast Ingrid Bergman, Charles Boyer, Joseph Cotten, Dame May Whitty, Angela Lansbury, Terry Moore, Barbara Everest, Eustace Wyatt, Emil Rameau, Edmund Breon.
"George Cukor carefully avoids the obvious effects in telling this story of a husband (Charles Boyer) attempting to drive his wife (Ingrid Bergman) insane; instead, this 1944 film is one of the few psychological thrillers that is genuinely psychological, depending on subtle clues—a gesture, an intonation—to thought and character. Boyer and Bergman are superb, and Angela Lansbury makes her debut as a cunning cockney maid. It's also one of the few films to expand the use of offscreen space, not simply to the sides of the frame, but to the areas above and below the image as well." -
Dave Kehr (Chicago Reader)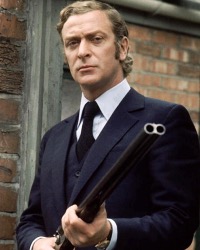 Get Carter

●
BRIT-NOIR / NEO-NOIR / COLOUR NOIR
1971, UK, 112m, Col, Crime-Thriller-Gangster Film
Screenplay
Mike Hodges (based on the novel
Jack's Return Home
by Ted Lewis)
Producer
Michael Klinger
Photography
Wolfgang Suschitzky
Editor
John Trumper
Music
Roy Budd
Cast
Michael Caine, Britt Ekland, John Osborne, Ian Hendry, Bryan Mosley, Geraldine Moffatt, Dorothy White, Tony Beckley, George Sewell, Rosemarie Dunham.
"Starring Michael Caine as a vicious London hoodlum who tries to smoke out his brother's killer,
Get Carter
was released in 1971, seven months before
The French Connection
. Though Hodges' film never achieved that level of fame, its shockingly amoral hero and location-shot existential realism were, in their way, every bit as blistering — and revolutionary. Caine, with his gimlet-eyed ironic elegance, has never had a role he dug into with greater relish than that of Jack Carter, who returns to his hometown of Newcastle and bullies his way through its sordid criminal maze.
Get Carter
is one of the few film noirs that appears to unfold spontaneously, with no hidden blueprint to shape the characters' fates." -
Owen Gleiberman (Entertainment Weekly)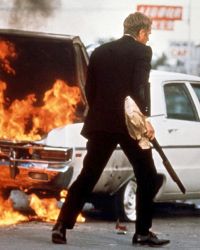 The Getaway

●
NEO-NOIR / COLOUR NOIR
1972, USA, 122m, Col, Crime-Action-Thriller
Screenplay
Walter Hill
(based on the novel by Jim Thompson)
Producers
David Foster, Mitchell Brower
Photography
Lucien Ballard
Editors
Robert L. Wolfe,
Roger Spottiswoode
Music
Quincy Jones
Cast
Steve McQueen, Ali MacGraw, Ben Johnson, Sally Struthers, Al Lettieri, Slim Pickens, Richard Bright, Dub Taylor, Bo Hopkins, Jack Dodson.
"An evident precursor to
The Driver
(
Walter Hill
scripted both, this one from Jim Thompson's novel). The major strength of
The Getaway
rests solidly on McQueen's central role, a cold tense core of pragmatic violence. Hounded by furies (two mobs, police, a hostile landscape), he responds with a lethal control, blasting his way through shootouts that teeter on madness to the loot, the girl, and Peckinpah's mythic land of Mexico. Survival, purification, and the attainment of grace are achieved only by an extreme commitment to the Peckinpah existential ideal of action - a man is what he does. Peckinpah's own control of the escalating frenzy is masterly; this is one of his coldest films, but a great thriller." -
Chris Peachment (Time Out)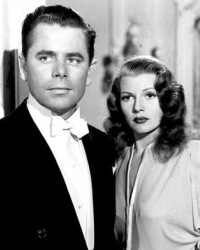 Gilda


1946, USA, 110m, BW, Thriller-Drama-Romantic Mystery
Screenplay
Marion Parsonnet (adapted by Jo Eisinger and Ben Hecht from an original story by E.A. Ellington)
Producer
Virginia Van Upp
Photography
Rudolph Maté
Editor
Charles Nelson
Music
Marlin Skiles
Cast
Rita Hayworth, Glenn Ford, George Macready, Joseph Calleia, Steven Geray, Gerald Mohr, Joseph Sawyer, Robert Scott, Ludwig Donath, Don Douglas.
"There never was a woman like Gilda!" drooled the posters – and no, there probably wasn't. Rita Hayworth's nightclub queen is at once seductive and innocent, a mix of virgin and whore – the perfect male fantasy. Her striptease scene is erotic to the max – but all she peels off are those long black gloves. No wonder club manager Glenn Ford is obsessed, as is club owner George Macready, her arrival disrupting their borderline gay relationship. Hothouse passions were rarely steamier than in Charles Vidor's 1946 thriller, and the close-knit triangle set-up plays itself out in classic noir style." -
Philip Kemp (Total Film)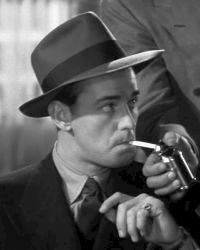 The Glass Key


1942, USA, 85m, BW, Mystery-Crime-Detective Film
Screenplay Jonathan Latimer (from the novel by Dashiell Hammett) Producer Fred Kohlmar Photography Theodor Sparkuhl Editor Archie Marshek Music Victor Young Cast Brian Donlevy, Alan Ladd, Veronica Lake, Bonita Granville, Richard Denning, Joseph Calleia, William Bendix, Frances Gifford, Donald MacBride, Maggie Hayes.
"Not quite so resonant an early example of noir as
The Maltese Falcon
, partly because the novel's ending has been clumsily softened, but still a remarkably successful Hammett adaptation. Best sequence by far is the marathon beating-up sustained by Ladd in a bout of grating sado-masochism as Bendix ('He's a tough baby, he likes this') coyly begs his 'little rubber ball' to bounce back for more. Shot and played with deceptive casualness, the sequence is central to the film, flaunting an erotic undertow that sows continuing doubts throughout." -
Tom Milne (Time Out)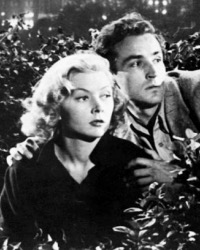 1953, USA, 82m, BW, Drama
Screenplay Ivan Tors, Maxwell Shane Producer Ivan Tors Photography Joseph Biroc Editor Herbert L. Strock, Stanley Frazen Music Leith Stevens Cast Vittorio Gassman, Gloria Grahame, Ann Robinson, Douglas Spencer, Robin Raymond, Jerry Paris, Elizabeth Slifer, Richard Reeves, Joseph Turkel, Else Neft.
"Hungarian Peter Kaban (Vittorio Gassman) survived the camps and life on the run in the battlefield of Europe and escaped the iron curtain that fell across his home country, only to be turned back from the promised land of America… Set mostly over a long night as Peter scurries through Times Square and makes his way to the U.N. building (the "glass wall" of the title), it's got the urban energy, nocturnal thrum and high stakes of the best noir without the crime or corruption of the genre. It offers a marvelous portrait of immigrant culture in New York in miniature and the references to the camps of World War II provides a dark backdrop to the drama and our hero's desperation to stay in America. -
Sean Axmaker (seanax.com)
1953, USA, 81m, BW, Mystery-Crime-Drama
Screenplay Leonard Lee, Robert Blees (based on the novel Spin the Glass Web by Max Ehrlich) Producer Albert J. Cohen Photography Maury Gertsman Editor Ted J. Kent Music Frank Skinner, Herman Stein, Milton Rosen Cast Edward G. Robinson, John Forsythe, Kathleen Hughes, Marcia Henderson, Richard Denning, Hugh Sanders, Jean Willes, Eve McVeagh, Harry Tyler, John Hiestand.
"Originally released in 3-D. It hoped to offer a movie benefit over its rival free TV. Sci-fi director Jack Arnold (
The Man From Bitter Ridge
/
Tarantula
/
Creature From The Black Lagoon
) turns to a B/W suspense film and does a decent job with keeping the potboiler going even though it's not that hard from early-on to figure out the guilty party. It's based on the 1952 novel
Spin the Glass Web
by Max Simon Ehrlich. The script is written by Robert Blees and Leonard Lee, that features a slow unfolding plot in a drab LA TV studio setting." -
Dennis Schwartz (World Movie Reviews)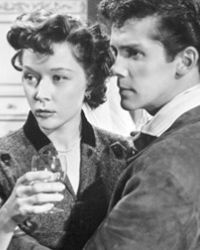 ●
BRIT-NOIR
1954, UK, 100m, BW, Thriller-Crime-Mystery
Screenplay
Lewis Gilbert, Vernon Harris (based on the novel by Richard Macaulay)
Producer
John Woolf
Photography
Jack Asher
Editor
Ralph Kemplen
Music
Georges Auric
Cast
Laurence Harvey, Gloria Grahame, Richard Basehart, Joan Collins, John Ireland, Rene Ray, Stanley Baker, Margaret Leighton, Robert Morley, Freda Jackson.
"Producer
Clayton
and director Gilbert (the most hard-working of all British post-war film-makers) assembled a top Anglo-American cast for this predictable but not unentertaining thriller (from a novel by Richard Macaulay). Psychotic playboy Harvey finds himself short of the readies so he persuades ex-GI Basehart, AWOL Air Force sergeant Ireland and no-hope boxer Baker to join him in holding up a mail van. This being a British picture from the '50s, you don't expect them to get away with it - but neither do you quite anticipate Joan Collins and Gloria Grahame popping up in such low-key supporting roles as they do here." -
Geoffrey Macnab (Time Out)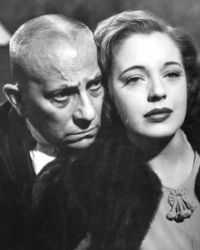 1945, USA, 78m, BW, Melodrama-Crime
Screenplay
Anne Wigton, Heinz Herald, Richard Weil (based on a story by Anne Wigton and Vicki Baum)
Producer
W. Lee Wilder
Photography
James S. Brown Jr.
Editor
John F. Link
Music
Alexander Laszlo
Cast
Erich von Stroheim
, Mary Beth Hughes, Dan Duryea, Stephen Barclay, Lester Allen, Esther Howard, Michael Mark, Jack Chefe, Kay Deslys, John Elliott.
"The life of
Erich von Stroheim
seems to have been ready-made for film noir. Anthony Mann's superbly hectic yet downbeat noir
The Great Flamarion
, from 1945, in which
Stroheim
stars, reveals both his high veneer and the irreparable damage it bore… In Mann's highly inventive low-budget film,
Stroheim
plays an artist whose severe self-discipline and exacting standards come at a high price: isolation, naïveté, and vulnerability. It's Mann's film, but
Stroheim's
performance, character, and story are so powerful and so exemplary that his very presence in a movie makes it his own—a reflection of his life as well as of his art, on both sides of the camera." -
Richard Brody (The New Yorker)
The Grifters

●
NEO-NOIR / COLOUR NOIR
1990, USA, 113m, Col, Crime-Drama
Screenplay
Donald E. Westlake (based on the novel by Jim Thompson)
Producers
James Painten,
Martin Scorsese
, Richard Harris
Photography
Oliver Stapleton
Editor
Mick Audsley
Music
Elmer Bernstein
Cast
Anjelica Huston, John Cusack, Annette Bening, Pat Hingle, J.T. Walsh, Henry Jones, Michael Laskin, Eddie Jones, Gailard Sartain, Jeremy Piven.
"Stephen Frears's
The Grifters
is a delectable con job of a movie. It seduces you into believing it's merely a cheeky trifle, and then, when you least expect it, lowers the boom. Indeed, the tone of this nimble, persistently odd movie is wicked and buoyant. With a script from Donald Westlake, who worked from the Jim Thompson novel about a trio of small-time crooks, the picture is brisk and sleekly contoured, with a sophisticated sense of cynical fun. The line Westlake and Frears walk skirts the edge of parody; it's the most puckish of film noirs. Their characters are scoundrels, but they have a hipster's arrogance; they play the sucker for nobody, and the sneaky thrill here comes from watching them work the angles for the upper hand." -
Hal Hinson (The Washington Post)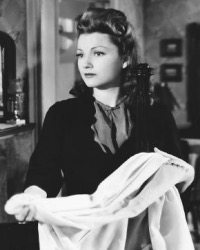 1944, USA, 121m, BW, Melodrama-Thriller
Screenplay Ketti Frings (from the play by Hagar Wilde & Dale Eunson) Producer Hunt Stromberg Photography Lee Garmes Editor James E. Newcom Music Werner Janssen Cast Anne Baxter, Ralph Bellamy, Aline MacMahon, Ruth Warrick, Scott McKay, Marie McDonald, Jerome Cowan, Margaret Hamilton, Percy Kilbride, Connie Laird.
"Take it as a cynical lesson in the pitfalls of kindness and trust, or as an overheated melodrama about a rampaging she-devil in human form,
Guest In The House
is, whichever way you cut it, certainly a spirited slice of 1940s Americana. Anne Baxter stars as Evelyn Heath, a fragile young woman, who is taken into the home of her doctor (played by Scott McKay) after she is diagnosed with a heart condition. Although it seems like the two are in love, Evelyn's attention soon wanders to the doctor's brother, Douglas (Ralph Bellamy). … Although it attempts film noir status,
Guest In The House
is ultimately only a partly successful melodrama, which is as watchable as it is due to the excellent performances." -
James Benefield (Eye for Film)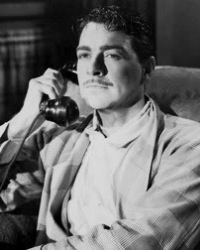 1947, USA, 70m, BW, Mystery-Crime-Drama
Screenplay Robert Presnell Sr. (from the short story Two Men in a Furnished Room by Cornell Woolrich) Producer Jack Wrather Photography Henry Sharp Editor Jodie Copelan Music Rudy Schrager Cast Bonita Granville, Don Castle, Regis Toomey, John Litel, Wally Cassell, Thomas Jackson, Netta Packer, Oliver Blake, Carol Andrews.
"John Reinhardt economically directs a crisp crime thriller from the screenplay by Robert R. Presnell, Sr. that is based on the short story
Two Men in a Furnished Room
by Cornell Woolrich. Though the surprise ending is hardly convincing or for that matter original (
Robert Siodmak's
The Dark Mirror
covered the same territory of identical twins in a superior fashion), and the acting was rather stiff, nevertheless this cheapie Monogram flick always kept me interested in the twisty plot and was quite engaging as it adequately covered the film noir conventions of following the dark sides of the main characters. " -
Dennis Schwartz (World Movie Reviews)
1950, USA, 92m, BW, Crime-Thriller-Detective Film
Screenplay Don Ettlinger (from the novel by Wade Miller) Producers Joseph Lerner, Rex Carlton Photography Gerald Hirschfeld, Russell Harlan Editor Geraldine Lerner Music Dimitri Tiomkin Cast Zachary Scott, Faye Emerson, Mary Boland, Sam Levene, J. Edward Bromberg, Kay Medford, Jed Prouty, Harry Landers, Dennis Patrick, Elliott Sullivan.
"
Guilty Bystander
is a strangely compelling, very atmospheric film noir. The movie is not quite entirely satisfying, but its offbeat casting and the odd, meandering story (which is largely seen through the hung-over haze of its main character) can hold the interest of casual viewers, and it makes superb visual and dramatic use of actual New York locations, including the inside of a subway tunnel... The camera work, even in the daylight shots, is harsh and shadowy, in keeping with the way that the panicked, struggling alcoholic Thursday (Scott) sees things, and many of the exterior shots have the look of newsreel footage, giving it startling verisimilitude -- the violence, when it comes, is always shown at odd angles that don't reveal more to us than Thursday is able to perceive in whatever state he is in at a particular moment." -
Bruce Eder (Allmovie)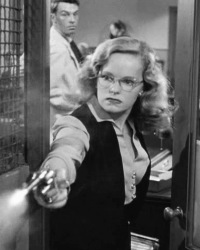 Gun Crazy


Deadly is the Female (original title)
1950, USA, 86m, BW, Drama-Crime-Thriller
Screenplay Dalton Trumbo [uncredited], MacKinlay Kantor (from the Saturday Evening Post story by MacKinlay Kantor) Producers Frank King, Maurice King Photography Russell Harlan Editor Harry Gerstad Music Victor Young Cast Peggy Cummins, John Dall, Berry Kroeger, Morris Carnovsky, Anabel Shaw, Harry Lewis, Nedrick Young, Trevor Bardette, Mickey Little, Russ Tamblyn.
"A handsome young couple (John Dall and Peggy Ann Cummins) meet at a carnival, where they engage in a sharp-shooting contest. It's love at first (gun) sight. And soon they're off on a crime spree, which ends tragically. Written under a pseudonym by the blacklisted Dalton Trumbo and well-directed by the expert B picture craftsman, Joseph H. Lewis, this is, to be sure, a
Bonnie and Clyde
precursor. But it is as crisp, no nonsense melodrama, and as a pioneering study of America's curious passion for the sleek, shiny beauty of death-dealing objects, that it retains its hold on us, 56 years after it slipped on to the bottom of the bills in our long-lost (and sorely missed) neighborhood theaters." -
Richard Schickel (TIME)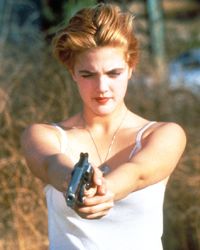 ●
NEO-NOIR / COLOUR NOIR
1992, USA, 96m, Col, Crime-Drama
Screenplay
Matthew Bright
Producer
Zane W. Levitt
Photography
Lisa Rinzler
Editor
Kevin Tent
Music
Ed Tomney
Cast
Drew Barrymore, James LeGros, Joe Dallesandro, Billy Drago, Rodney Harvey, Michael Ironside, Ione Skye, Robert Greenberg, Jeremy Davies, Dan Eisenstein.
"Straight to video in Britain, but audience support in the US eventually won it a theatrical release. Inspired by
They Live by Night
and the original
Gun Crazy
, this is a love-on-the-run yarn, with the incendiary Barrymore immensely sympathetic as the promiscuous, sexually mistreated teen who goes on the lam with former prison pen-pal LeGros. They leave behind an unwitting trail of death and destruction, begun by her shooting of abusive guardian Dallesandro. Although it doesn't seek to excuse their wrongdoing, the film stands out for its convincing depiction of the up-against-it white-trash mentality and the overriding demands of youthful desire." -
Trevor Johnston (Time Out)

The 100 Most Cited Noir Films

Recommended Viewing (by
TSPDT
)