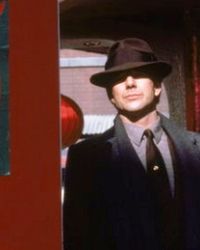 ●
NEO-NOIR / COLOUR NOIR
1985, USA, 136m, Col, Thriller-Crime-Police Detective Film
Screenplay
Michael Cimino,
Oliver Stone
(based on the novel by Robert Daley)
Producer
Dino De Laurentiis
Photography
Alex Thomson
Editor
Francoise Bonnot
Music
David Mansfield
Cast
Mickey Rourke, John Lone, Ariane, Leonard Termo, Raymond J. Barry, Caroline Kava, Eddie Jones, Joey Chin, Victor Wong, K. Dock Yip.
"Police captain Mickey Rourke finds himself reliving his service in Vietnam when he takes on a Chinatown heroin racketeer (John Lone). Michael Cimino's film gives full rein to his personal tics—Southeast Asia, male bonding, mass social ritual (no less than three funeral scenes in this one)—as well as his usual weaknesses—lumpy narration, rhetorical inflation, wooden dialogue—while staying well within the standard outline of the violent urban thriller. Cimino's talent is at least 50 percent hot air, but the part that is not—his superb feel for movement across the Panavision frame—seems especially valuable. Say what you will about his overstuffed, overdetailed images, they at least represent a notion of cinema, as opposed to the flat television aesthetic that dominates Hollywood, that no film lover can afford to ignore." -
Dave Kehr (Chicago Reader)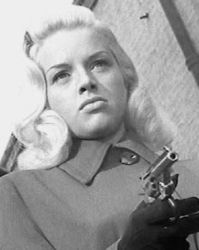 Blonde Sinner (USA title)
●
BRIT-NOIR
1956, UK, 99m, BW, Drama-Crime
Screenplay
Joan Henry, John Cresswell (based on the novel by Joan Henry)
Producer
Kenneth Harper
Photography
Gilbert Taylor
Editor
Richard Best
Music
Ray Martin
Cast
Diana Dors, Yvonne Mitchell, Michael Craig, Marie Ney, Geoffrey Keen, Liam Redmond, Olga Lindo, Joan Miller, Marjorie Rhodes, Molly Urquhart.
"Loosely based, like
Dance with a Stranger
, on the Ruth Ellis case, this oddly austere thriller has Dors as the unrepentant murderess waiting in prison, thinking back over the events that made her kill, and agonising over whether she'll be given the death sentence or not. Decidedly anti-capital punishment, the film never actually excites, but thanks to the downbeat mood and the surprisingly effective performances, it does grip the attention. It never, however, attempts to explore in any depth the relationship between the legal practice of hanging and society's attitudes to crime." -
Geoff Andrew (Time Out)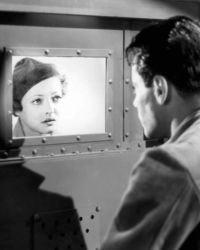 You Only Live Once

●
NOIR-PRECURSOR
1937, USA, 86m, BW, Crime-Drama
Screenplay
C. Graham Baker, Gene Towne
Producer
Walter Wanger
Photography
Leon Shamroy
Editor
Daniel Mandell
Music
Alfred Newman
Cast
Sylvia Sidney, Henry Fonda, Barton MacLane, Jean Dixon, William Gargan, Warren Hymer, Margaret Hamilton, Jerome Cowan, Ward Bond, Charles "Chic" Sale.
"Fritz Lang is one of the few directors with truly substantial bodies of film in both the silent and the sound era, though he rarely had the budgets or creative freedom during his Hollywood years that he'd enjoyed in 1920s Berlin. This classic of social-conscience cinema, his third film after fleeing from Nazi Germany, stars Henry Fonda as a three-time loser, unjustly convicted of murder and on the run with his pregnant wife (Sylvia Sidney). It is at once a great prison melodrama, an expression of Lang's fascination with fate and destiny, and a powerful attack on the death penalty and the stigmatisation of ex-convicts... The superb noir cinematography by Leon Shamroy (later to win four Oscars) provides a link between Lang's German and American work." -
Philip French (The Observer)

Recommended Viewing (by
TSPDT
)