The 1,000 Greatest Films:
Introduction
,
A-B
,
C-D
,
E-G
,
H-L
,
M-N
,
O-R
,
S
,
T-Z
,
Full List (Sortable Table)
,
By Ranking
,
By Ranking History
,
Ex-1000
,
Alternative Titles
,
Sources/Critics
,
Top 250 Directors
,
Resources/Links
,
Films Ranked 1001-2000
The banner image above is from
Werner Herzog's
The Land of Silence and Darkness
, the 1,000th ranked greatest film.


INTRODUCTION to the
1,000 Greatest Films

As voted by 3,873 critics, filmmakers, scholars and other likely film types.
Current Version: February 2016 (11th edition)
Bill Georgaris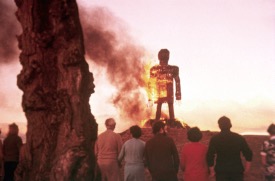 The Highest Entrant… The Wicker Man (1973)
This is the eleventh official edition of
TSPDT's
1,000 Greatest Films
, and as long as I have my health, and as long as there are critics prepared to put down their thoughts on what are some of cinema's finest achievements, it won't be the last. I'm happy to admit that assembling lists can get pretty tiresome at times, but my reward, in the end, is to provide something useful, and hopefully that's what the
1,000 Greatest Films
project
is.
As mentioned in the introduction of previous editions, the
1,000 Greatest Films'
major shortcoming continues to be that it doesn't contain as much Asian or African cinema (or for that matter, cinema outside of North America and Europe) as it should. However, hopefully the subsidiary list of another
1,000 films
, as well as the comprehensive
starting list
document of nearly 15,000 films goes some way to compensating this.
The past year has been a largely inactive one on
TSPDT
, with only a handful of director pages and
noir films
added. For this, I apologise. I'm hoping to devote a little more time in 2016 to building the site, but the best laid plans tend to get scuppered. We shall see. Offline, I continue to watch movies as often as I can, and during 2015 I saw some films that resonated deeply with me. Without question, the best film I saw during the 2015 calendar year was
Ornamental Hairpin
(1941) by
Hiroshi Shimizu
. A tender classic from a much underrated Japanese master. Some others I watched (or re-watched) during 2015 that I am particularly fond of include (in no particular order)
The Look of Silence
(2014, Joshua Oppenheimer),
The Strange Little Cat
(2013, Ramon Zürcher),
They All Laughed
(1981, Peter Bogdanovich),
David and Lisa
(1962, Frank Perry),
Yellow Submarine
(1968, George Dunning),
A Hen in the Wind
(1948, Yasujiro Ozu),
The Big Gundown
(1966, Sergio Sollima),
Locke
(2013, Steven Knight),
Leviathan
(2014, Andrey Zvyagintsev),
By the Law
(1926, Lev Kuleshov),
I Fidanzati
(1963, Ermanno Olmi),
A Touch of Sin
(2013, Jia Zhangke),
The Murderers Are Among Us
(1946, Wolfgang Staudte),
Dust in the Wind
(1987, Hou Hsiao-hsien),
A Girl Walks Home Alone at Night
(2014, Ana Lily Amirpour),
The Brood
(1979, David Cronenberg),
Yeelen
(1987, Souleymane Cissé),
Sicilia!
(1999, Jean-Marie Straub & Danièle Huillet),
Lumière d'été
(1943, Jean Grémillon),
David Holzman's Diary
(1967, Jim McBride),
The Seasons
(1975, Artavazd Peleshian),
The Discipline of D.E.
(1982, Gus Van Sant), and
Crime and Punishment
(1983, Aki Kaurismäki).
And now, on with the business. The 2016 version of
TSPDT's
1,000 Greatest Films
encompasses 40 changes from last year's list (comprised of 24 re-entries, and 16 films that make their debut). A total of 225 best-of/all-time individual lists were added to the
TSPDT
database. The total list of critics/filmmakers polled increased from 3,648 to 3,873.
Additionally, approximately 291 miscellaneous lists were added, taking the complete tally used to 2,834
.


In summary, here is the summarised breakdown of individual ballots used, or if you like, from where I have begged, borrowed and stolen:
Sight & Sound's 1952-2012 polls (1,594 ballots)
Senses of Cinema's 2000-2007 Top Tens (126 ballots)
Rotten Tomatoes' lists from 2003-2015 (1124 ballots)
Cinephilia's 2012 poll (119 ballots)
Time Out's 1995 poll (88 ballots)
Nickel Odeon's 1994-1998 polls (76 ballots)
PBS's Independent Lens lists (70 ballots)
El Mundo's 1995 poll (67 ballots)
Steadycam's 1995 & 2007 polls (66 ballots)
Your Movie Database's (YMDB) Critics Corner (65 ballots)
Positif's 1991 poll (61 ballots)
The Cinematheque's Top 10 Project (56 ballots)
Cinematheque Belgique's 1952 poll (52 ballots)
Facets' polls (50 ballots)
Libre Journal du Cinéma's 2009 poll (49 ballots)
One-Line Review's 2009 poll (48 ballots)
Federazione Italiana Cineforum 2013 poll (45 ballots)
Faróis do Cinema 2010-2014 (44 ballots)
El Pais' 2009-2010 polls (44 ballots)
John Kobal Presents the Top 100 Movies (42 ballots)
Indiewire 2006-2009 (42 ballots)
PopCornQ's 1997 poll (38 ballots)
Beijing News' 2011-2012 polls (37 ballots)
HKCinema's 2011 poll (31 ballots)
IonCinema!'s Top 10 lists (2009-2015) (30 ballots)
Empire (1989-2008) (29 ballots)
Sodankylä Ikuisesti: Desert Island Films (1996) (27 ballots)
La Cinetek 2014-2015 (26 ballots)
Fifty Filmmakers (2002 book) (27 ballots)
Cinemania's 2012 poll (26 ballots)
The Village Voice's 1999 poll (26 ballots)
Plus 648 more ballots from other sources.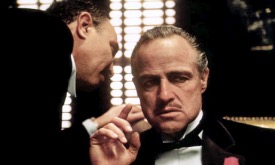 The Godfather (1972)
TSPDT's Top 10 Greatest Films
1. Citizen Kane (1)
2. Vertigo (2)
3. 2001: A Space Odyssey (3)
4. Tokyo Story (4)
5. The Rules of the Game (5)
6. The Godfather (7)
7. 8½ (6)
8. Sunrise (8)
9. The Seven Samurai (9)
10. The Searchers (10)
Listed below are the biggest winners and losers in this year's edition:
The Winners – Top Climbers within the 1,000
Y tu mamá también (2001)… 985 to 752 (up 233 spots)
Limite (1931)… 818 to 587 (up 231 spots)
Rope (1948)… 972 to 744 (up 228 spots)
Twenty Years Later (1985)… 795 to 573 (up 222 spots)
My Own Private Idaho (1991)… 760 to 571 (up 189 spots)
The Winners – Highest Entrants into the 1,000
The Wicker Man (1973), ranked 645
Mother India (1957), ranked 746
Portrait of Jason (1967), ranked 758
Saturday Night Fever (1977), ranked 765
When We Were Kings (1996), ranked 766
The Losers – Biggest Fallers within the 1,000
Dust in the Wind (1987) 711 to 859 (down 148)
Vengeance is Mine (1979) 729 to 877 (down 148)
Van Gogh (1991) 814 to 949 (down 135)
News from Home (1976) 811 to 938 (down 127)
Ludwig (1972) 708 to 830 (down 122)
The Losers – Biggest Fallers from the 1,000
Crumb (1994), formerly ranked 714
Pickpocket (1997), formerly ranked 748
Alice (1988), formerly ranked 798
Lessons of Darkness (1992), formerly ranked 805
Ghostbusters (1984), formerly ranked 816
Narrowed down from a
starting list
of 14,934 films (an increase of 1,270 films from last year), utilizing some rather tricky formulas, this is quite possibly the most definitive guide to the most-acclaimed movies of all-time. At the very least it is a rather spiffy place for all budding/established film buffs to commence/enhance their cinematic experiences. So what are you waiting for? Start that checklist now!
Thank you to everyone that has contributed lists and/or lent their support towards this venture over the years. I hope your interest and support continues.
You Can Help…
If you have access to any additional film lists from critics and/or filmmakers that you think I may have missed, then of course I'd love to see them. Please send all lists to
bill@theyshootpictures.com
. And, as always, I would love to read any feedback (good, bad, or otherwise) you have on this ongoing project.
Begin browsing the
1,000 Greatest Films
.
The 1,000 Greatest Films:
Introduction
,
A-B
,
C-D
,
E-G
,
H-L
,
M-N
,
O-R
,
S
,
T-Z
,
Full List (Sortable Table)
,
By Ranking
,
By Ranking History
,
Ex-1000
,
Alternative Titles
,
Sources/Critics
,
Top 250 Directors
,
Resources/Links
,
Films Ranked 1001-2000