"Only a country as adept as France at subsuming its avant-garde into its mainstream culture could have produced a film-maker as idiosyncratic as Philippe Garrel… His constant themes are alienation, anguish and pain under pressures from outside or within, and his means of sketching them, owing nothing to the resources of drama or montage, seem to draw almost equally on the French symbolist tradition (via Cocteau?) and on post-1967 'psychedelic' art."
-
Tony Rayns (Cinema: A Critical Dictionary, 1980)
Director / Screenwriter / Editor / Producer / Actor / Cinematographer

(1948- ) Born April 6, Paris, France
Top 250 Directors
Key Production Countries: France, Switzerland
Key Genres: Drama, Romantic Drama, Marriage Drama, Psychological Drama, Comedy Drama, Romance
Key Collaborators: Maurice Garrel (Leading Character Actor), Louis Garrel (Leading Actor), Marc Cholodenko (Screenwriter), Arlette Langmann (Screenwriter), Yann Dedet (Editor), Caroline Deruas-Garrel (Screenwriter), Michel Fournier (Cinematographer), Brigitte Sy (Leading Character Actress), Nico (Leading Actress), Saïd Ben Saïd (Producer), Pascal Laperrousaz (Cinematographer), Sophie Coussein (Editor)
"Garrel began making movies as a teenager, and his early work that I've seen is both gorgeous and the epitome of stereotypical arthouse pretension of the period. There is 1968's
Le lit de la vierge
, a very of-its-time film about a particularly mopey Jesus, and 1975's
Le berceau de cristal
, in which his then-lover Nico smokes opium and stares blankly. It wasn't until 1979's
L'enfant secret
that Garrel began moving into the realm of reasonably conventional narrative, in a series of dramas that double as family therapy. Working early and often with his actor father Maurice, latterly with his son Louis, and even playing a version of himself in 1989's
Emergency Kisses
, Garrel repeatedly probes personal and family history." -
Vadim Rizov (Filmmaker, 2016)
"Garrel's films are made up of moments, moments of day-to-day intimacy or alienation, often elliptically linked. Quiet conversations and silences between friends and lovers. And thought. Few other directors have made reflection so central to their filmmaking and almost none have captured it with such unforced grace. It is a cinema of contemplation rather than narrative. He shoots with the most basic means in an elegant, portrait like style. Sometimes he uses quite long takes, always with very little cutting around in a scene and often none at all. Scenes are filmed with a stillness and a patience that do the exact opposite of what most effective narrative cinema does, that is, to grab audiences and manipulate them into a state of false emotion." -
Maximilian Le Cain (Senses of Cinema, 2001)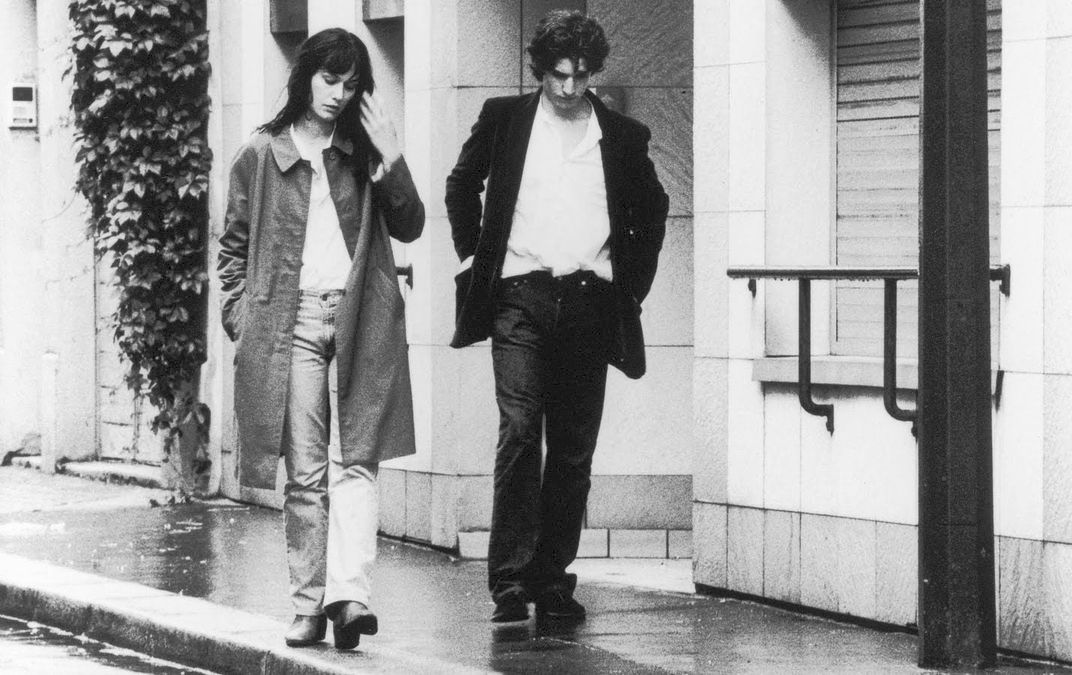 "Enamored by the giants of the French New Wave,
Jean-Luc Godard
and
François Truffaut
, Garrel made his first film in 1964 at age 16. Part of the May '68 generation, he channeled a revolutionary spirit into his body of subtly cinematic work, focusing on life's seemingly banal, but essential happenings: family, art, and of course, love. Many of Garrel's favorite actors, especially in the '70s and '80s, surrounded him in real life, including German singer Nico, whom he dated from 1969 to 1979; his ex-wife Brigitte Sy; his son, Louis; and perhaps one of his most frequent collaborators, his father, the actor Maurice Garrel. Garrel's penchant for capturing autobiographical details has burrowed itself into his films, yielding stark portraits of intimacy, alienation, and the dynamic between men and women." -
Colleen Kelsey (Interview Magazine, 2013)
"One of the last genuine romantics (and Romantics) of French cinema, Garrel has never made any bones about the transparency between his films and his life, his casting of Louis as his onscreen alter ego in all of his films since
Les amants réguliers
(2004) continuing that autobiographical connection. Yet while his latest films are as rife with uncensored angst as ever, melting in daydreams of death and suicide, there's a sense that the world has stopped advancing for Garrel—that the further he gets from the traumatic events and tortured individuals that inspired him, the more his unrelieved woe begins to seem merely perpetually maudlin." -
Blake Williams (Cinema-Scope, 2014)
"It's only in the last decade, since the release of his most widely-seen film,
Regular Lovers
that Philippe Garrel has re-entered the collective cinephile consciousness. It's not that he's ever been away – he's been churning out entries in his profoundly auteurist canon of casual masterpieces every year or two since 1964 – more that he remains a mainstay of the festival circuit, even as the presence of his son, Louis, in his last five films has brought a more recognisable public face to such a singular oeuvre of cinematic introspection." -
Matt Thrift (Little White Lies, 2017)
Philippe Garrel / Fan Club

Adrian Martin, Filipe Furtado, David Ehrenstein, Miguel Marías, Stéphane Delorme, Violeta Kovacsics, Nicole Brenez, Miriam Bale, Boris Nelepo, Richard Brody, Quim Casas,
Olivier Assayas
.
"Fan Club"

These film critics/filmmakers have, on multiple occasions, selected this director's work within film ballots/lists that they have submitted.