Cecil B. DeMille
Director / Producer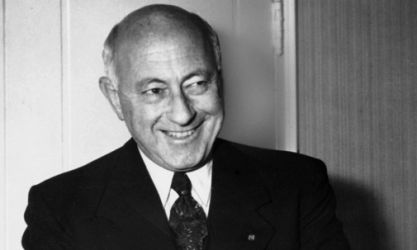 1881 - 1959
Born August 12, Ashfield, Massachusetts, USA
Key Production Country: USA
Key Genres: Drama, Epic, Religious Epic, Action, Adventure, Romantic Adventure, Western
Key Collaborators: Anne Bauchens (Editor), Hans Dreier (Production Designer), Jeanie Macpherson (Screenwriter), Victor Milner (Cinematographer), Roland Anderson (Production Designer), Jesse Lasky Jr. (Screenwriter), Henry Wilcoxon (Character Player), Victor Young (Composer), Mitchell Leisen (Production Designer), Gary Cooper (Leading Player)
---
Recommended: Dynamite (1929), Cleopatra (1934)
Worth a Look: The Cheat (1915), The Ten Commandments (1923), The Road to Yesterday (1925), The King of Kings (1927), The Godless Girl (1929), The Sign of the Cross (1932), The Crusades (1935), Union Pacific (1939), The Story of Dr. Wassell (1944), Unconquered (1947), Samson and Delilah (1949)*, The Greatest Show on Earth (1952), The Ten Commandments (1956)
Approach with Caution: The Squaw Man (1914) [co-directed by Oscar Apfel], The Plainsman (1936), North West Mounted Police (1940), Reap the Wild Wind (1942)
Duds: Madam Satan (1930)
* Listed in TSPDT's 1,000 Greatest Films section.
---
Links: [ Amazon ] [ IMDB ] [ TCMDB ] [ All-Movie Guide ] [ Film Reference ] [ Official Website ] [ Reel Classics ] [ Lost City DeMille ] [ Images Journal Feature ]
Books: [ Cecil B. DeMille: A Life in Art ] [ Empire of Dreams: The Epic Life of Cecil B. DeMille ] [ Cecil B. DeMille and American Culture: The Silent Era ] [ The Complete Films of Cecil B. DeMille ] [ Cecil B. DeMille's Hollywood ] [ Written in Stone: Making Cecil B. DeMille's Epic, The Ten Commandments ]




| | | |
| --- | --- | --- |
| | | |
| | "DeMille's movies are barnstormers, rooted in Victorian theatre, shamelessly stereotyped and sentimental, but eagerly courting twentieth-century permissiveness, if only solemnly to condemn it. The movies are simple, raw, pious, and jingoistic; but though DeMille was commercially cynical, his conviction in the human relevance of his rubbish is undisturbed, and the energy of his imagination seldom flags." - David Thomson (The New Biographical Dictionary of Film, 2002) | |
| | | |
| | "DeMille sold the public morality and religion under the brown paper wrappings of sex and sin. Although he made dozens of films, his most famous remain the Biblical and historical spectaculars, with their casts of thousands, and their magnificent costumes, sets and effects. DeMille spared no expense, expected 110 percent from cast and crew alike and believed passionately in the films he made. Although the butt of many jokes, his films made millions at the box-offices of the world." - David Quinlan (Quinlan's Film Directors, 1999) | |
| | | |
| | "Forget the fact that he made, in his early years, some relatively sophisticated marital comedies and, later, decent if unremarkable westerns; think of DeMille, and the epic springs to mind.... Most immediately striking about DeMille's historical extravaganzas is not the pretension to spiritual probity but the gleeful depiction of the corruption and lascivious decadence they purport to condemn... Excess, behavioural and visual, is the keynote to his best-known work; the lurid pageantry is often absurdly watchable, but the historical and moral simplifications, coupled with wooden acting, frequently make for dramatic tedium." - Geoff Andrew (The Director's Vision, 1999) | |
| | | |
Please note that the rating given for this director (see top-right) is based only on the films we have seen (listed above). Films by this director that we haven't seen include The Little American (1917), Male and Female (1919), The Squaw Man (1931), This Day and Age (1933), Four Frightened People (1934), and The Buccaneer (1938).
8-
"For much of his forty-year career, the public and the critics associated Cecil B. DeMille with a single kind of film, the epic. He certainly made a great many of them: The Sign of the Cross, The Crusades, King of Kings, two versions of The Ten Commandments, The Greatest Show on Earth, and others. As a result, DeMille became a symbol of Hollywood during its ''Golden Age.'' He represented that which was larger than life, often too elaborate, but always entertaining. By having such a strong public personality, however, DeMille came to be neglected as a director, even though many of his films—not just the epics—stand out as extraordinary." - Eric Smoodin, International Dictionary of Film and Filmmakers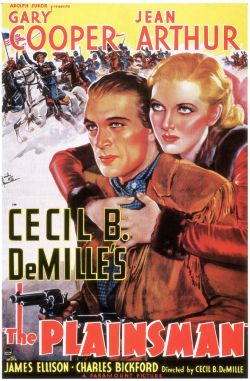 ●

Top 250 Directors
● The Far Side of Paradise
● Jean-Pierre Melville's 64 Favourite Pre-War American Filmmakers (Cahiers du Cinema, October 1961)
● The Wild Bunch... 50 of the Movies' Maddest Visionaries
● 501 Movie Directors: A Comprehensive Guide to the Greatest Filmmakers
See Also
Cecil B. DeMille's Favourites
Ben-Hur (1926) Fred Niblo, The Big Parade (1925) King Vidor, The Birth of a Nation (1915) D.W. Griffith, Cabiria (1914) Giovanni Pastrone, Going My Way (1944) Leo McCarey, Gone with the Wind (1939) Victor Fleming, The King of Kings (1927) Cecil B. DeMille, Samson and Delilah (1949) Cecil B. DeMille, The Sign of the Cross (1932) Cecil B. DeMille, The Ten Commandments (1923) Cecil B. DeMille. Source: Cinematheque Belgique (1952)