1947, USA, 64m, BW, Mystery-Crime-Drama
Screenplay Jerry Warner (with additional dialogue by John O'Dea, based on the short story Cocaine by Cornell Woolrich) Producer Walter Mirisch Photography Mack Stengler Editor William Austin Cast Leo Penn, Robert Armstrong, Teala Loring, Elisha Cook Jr., Douglas Fowley, Charles Arnt, Virginia Dale, Iris Adrian, Jack Overman, John Harmon.
"1947's
Fall Guy
is a mini-budgeted B-pic hoping to compete with the trendy mystery thrillers that were then in vogue. Only years later would they be branded as Films Noir. Although
Fall Guy
isn't exactly a front-rank example of the filmic style, this "Loser Noir" did make the cut for the first
Encyclopedia of Film Noir
in the late 1970s. The film's leading player "Clifford" Penn is a source of interest - he's really Leo Penn, the father of the famous star
Sean Penn
. The show can also boast a decent literary pedigree -- the author of the original story is the celebrated mystery novelist Cornell Woolrich. That fact is touted right on the posters, proving that Woolrich's name was a selling point, at least at this level of filmmaking." -
Glenn Erickson (DVD Savant)
1945, USA, 97m, BW, Mystery-Drama-Crime
Screenplay Harry Kleiner (based on the novel by Marty Holland) Producer Otto Preminger Photography Joseph LaShelle Editor Harry Reynolds Music David Raksin Cast Alice Faye, Dana Andrews, Linda Darnell, Charles Bickford, Anne Revere, Bruce Cabot, John Carradine, Percy Kilbride, Olin Howland, Hal Taliaferro.
"The huge success of
Laura
may have done more ill than good to Otto Preminger's career, not only for setting expectations high early in the game, but also for forcing a "noir mystery master" image onto an artist much more interested in asking questions than in answering them.
Fallen Angel
, the director's follow-up to his 1944 classic, is often predictably looked down as a lesser genre venture, yet its subtle analysis of shadowy tropes proves both a continuation and a deepening of Preminger's use of moral ambiguity as a tool of human insight...
Fallen Angel
may not satisfy genre fans who like their noir with fewer gray zones, but the director's take on obsession remains no less fascinating for trading suspense for multilayered lucidity." -
Fernando F. Croce (Slant Magazine)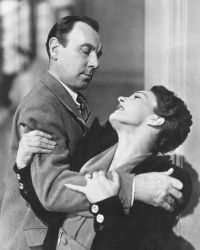 ●
BRIT-NOIR
1948, UK, 94m, BW, Thriller-Childhood Drama
Screenplay
Graham Greene (based on his short story
The Basement Room
)
Producer
Carol Reed
Photography
Georges Périnal
Editor
Oswald Hafenrichter
Music
William Alwyn
Cast
Ralph Richardson, Michele Morgan, Bobby Henrey, Sonia Dresdel, Denis O'Dea, Jack Hawkins, Dora Bryan, Walter Fitzgerald, Karel Stepanek, Joan Young.
"Like
The Third Man
,
The Fallen Idol
has the advantage of a script by Graham Greene based on his own fiction, in this case a short story he considered "unfilmable." But the trio of Greene, Reed and producer
Alexander Korda
, as well as an expert cast toplined by Ralph Richardson, turned a story involving adult secrets and childhood fantasies into a classically well-made movie that is both unexpected and exceptionally gripping. As
The Third Man's
admirers can testify, impeccable construction, keen psychological acuity and moral complexity are the hallmarks of Reed's pictures from this period. In
Idol
, a terrific amount of emotional tension is added to the mix, a sense of possible impending doom that bespeaks a movie that knows what it is about." -
Kenneth Turan (Los Angeles Times)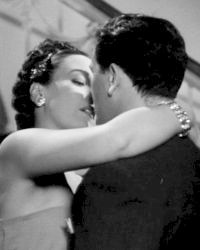 1943, USA, 94m, BW, Spy-Drama-Mystery
Screenplay
Warren Duff (based on a novel by Dorothy B. Hughes)
Producer
Robert Fellows
Photography
Nicholas Musuraca
Editor
Robert Wise
Music
Roy Webb
Cast
John Garfield, Maureen O'Hara, Walter Slezak, Patricia Morison, Martha O'Driscoll, Bruce Edwards, John Banner, John Miljan, Hugh Beaumont, Bobby Barber.
"In the middle of the war RKO produced and released
The Fallen Sparrow
, borrowing John Garfield from Warners. As in a classic noir, Garfield's character surfaces in New York City to avenge the murder of a friend, only to find that Nazi agents have followed him back from Spain...
The Fallen Sparrow
is a political intrigue thriller that's light on the thrills and heavy on good acting from John Garfield, a natural who seems to inhabit his characters rather than perform them. Bouncing from cocktail parties to night clubs to hotel rooms, we're introduced to a cast of suspects faster than we can digest them or tell them apart... With his authoritative and brash manner, John Garfield singlehandedly pulls this one to the finish line, but it's a real haul." -
Glenn Erickson (DVD Savant)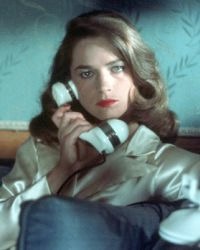 ●
NEO-NOIR / COLOUR NOIR

1975, USA, 97m, Col, Thriller-Mystery-Detective Film
Screenplay
David Zelag Goodman (based on the novel by Raymond Chandler)
Producer
George Pappas, Jerry Bruckheimer
Photography
John A. Alonzo
Editors
Joel Cox, Walter Thompson
Music
David Shire
Cast
Robert Mitchum, Charlotte Rampling, John Ireland, Sylvia Miles, Jack O'Halloran, Anthony Zerbe, Harry Dean Stanton,
Sylvester Stallone
, Jim Thompson, John O'Leary.
"In this 1975 adaptation of Chandler's second novel, there is something unhealthy lurking just beyond cinematographer John A. Alonzo's neon-soaked shadows and production designer Dean Tavoularis's extravagantly shabby hotel rooms, whorehouses, dance halls, and offices… Despite the fact that Goodman's adaptation is tarted up with fragrantly kinky inventions of the sort that graced his scripts for
Man on a Swing
and
Eyes of Laura Mars
, the film plays out as the final, dying afterimage of a vanished era. Both here and in his Foreign Legion epic
March or Die
, director Dick Richards managed to perfect a narcotized "Old Hollywood" syntax, where everything is slowed down, emptied out, silenced. This is a film of rooms, street corners, and swaths of shadow through which actors move, of room tones in which voices appear and die away. -
Kent Jones (Film Comment)
●
NEO-NOIR / COMEDY NOIR / COLOUR NOIR
1996, USA, 98m, Col, Black Comedy-Crime-Drama
Screenplay
Ethan Coen, Joel Coen
Producer
Ethan Coen
Photography
Roger Deakins
Editors
Ethan Coen, Joel Coen
Music
Carter Burwell
Cast
Frances McDormand, Steve Buscemi, Peter Stormare, William H. Macy, Harve Presnell, Kristin Rudrud, John Carroll Lynch, Steve Reevis, Larry Brandenburg, Jose Feliciano.
"Joel and Ethan Coen's beguiling film is both very funny and, finally, very moving. Performed to perfection by an imaginatively assembled cast, it displays the customary Coen virtues, at the same time providing a robust emotional core unaffected by the taint of mere technical virtuosity. The talk is more leisurely than usual, the camera largely static, the focus firmly on relationships, character, ethics. However banal the lives and aspirations of the leading figures, there's nothing condescending about the humour. Marge and her husband are genuinely good, ordinary people caught up in extraordinary events of, to them, unfathomable evil. Suspense, satire, mystery, horror, comedy and keen (if faintly surreal) social observation combine to prove yet again that (bar very few) the Coens remain effortlessly ahead of the American field." -
Geoff Andrew (Time Out)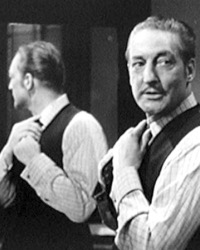 1946, USA, 68m, BW, Crime-Drama-Mystery
Screenplay Alfred Zeisler, Dennis Cooper (based on the novel Crime and Punishment by Fyodor Dostoevsky) Producer Lindsley Parsons Photography Jackson Rose Editor Ace Herman Cast Peter Cookson, Warren William, Anne Gwynne, James Cardwell, Nestor Paiva, Francis Pierlot, William Moss, Almira Sessions, Darren McGavin, Harry Clay.
"Released by Monogram in 1946,
Fear
is a little-remembered film noir that has all the flaws of a typical Poverty Row production, including a low budget, a less-than-stellar ensemble, and a trumped-up storyline. However in spite of the limitations it's an inventive, exciting, and thought-provoking little movie. It takes a core film noir narrative: man desperately needs money, man commits murder to get it, man's life falls apart — and embroiders it with a series of story developments that are either surprising, inexplicable, or just plain weird. What makes the film truly fascinating is the final plot twist, which leaves viewers wondering if the whole thing was intended to be a tongue-in-cheek gag. Regardless,
Fear
is put together with unexpected panache, and the results are as pleasing as they are mystifying." -
Mark Fertig (Where Danger Lives)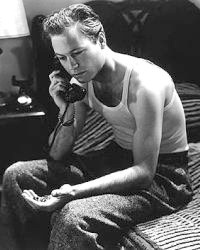 Fear in the Night

1947, USA, 72m, BW, Mystery-Crime-Thriller
Screenplay Maxwell Shane (based on the short story Nightmare by Cornell Woolrich) Producers William C. Thomas, William H. Pine Photography Jack Greenhalgh Editor Howard Smith Music Rudy Schrager Cast DeForest Kelley, Paul Kelly, Ann Doran, Kay Scott, Charles Victor, Robert Emmett Keane, Jeff York, Gladys Blake, Jack Collins, Leander De Cordova.
"Evidently, Shane appreciated Woolrich's conception for the novelette
Nightmare
because he not only scripted and directed two versions of it, but in adapting it to film, he retained most of the original material and captured much of the author's atmospheric style and thematic intent... As a faithful adaptation, Shane's film works extremely well. An able cast delivers convincing performances. DeForest Kelley's portrayal of a meek yet high-strung, emotionally suppressed individual perfectly captures the honest Everyman, who, struggling to uphold his moral principles in a corrupt and deceitful world, suffers psychological convulsions because of his sensitive conscience." -
Thomas C. Renzi (Film Noir of the Week)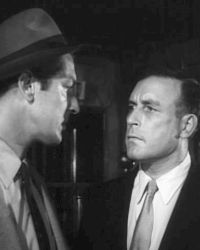 1955, USA, 73m, BW, Crime-Drama-Detective Film
Screenplay Bruno VeSota, Burt Kaiser Producer Burt Kaiser Photography Elwood Bredell Editor Carl Pingitore Music Nicholas Carras Cast Lawrence Tierney, John Carradine, Jayne Mansfield, Burt Kaiser, Kathleen Crowley, James Kodl, Duane Grey, Cornelius Keefe, Bruce Carlisle, Connie Cezon.
"This low-budget noir-thriller was the directorial debut of character actor Bruno VeSota, who starred in several of
Roger Corman's
AIP flicks (including
Bucket of Blood
) — but it's perhaps even more notable as the first significant screen appearance of Jayne Mansfield (who was paid $150 for her work, and promptly went back to her job selling popcorn). Unfortunately, it's a flawed film: the screenplay is muddled, with too many characters introduced as potential suspects; the ending is frustratingly vague (just when we think things are resolved, another twist is hinted at); and the acting is uneven (Crowley as the artist's wife is particularly bad). Yet the entire affair is at least partially redeemed by a couple of noteworthy performances (Tierney and Carradine), and an effectively dark-and-dirty B-level atmosphere." -
FilmFanatic.org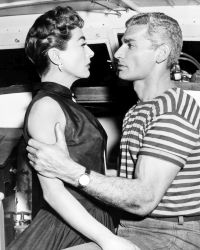 1955, USA, 97m, BW, Mystery-Crime-Drama
Screenplay Richard Alan Simmons, Robert Hill (based on the play The Besieged Heart by Robert Hill) Producer Albert Zugsmith Photography Charles Lang Editor Russell Schoengarth Music Heinz Roemheld, Herman Stein Cast Joan Crawford, Jeff Chandler, Jan Sterling, Cecil Kellaway, Judith Evelyn, Charles Drake, Natalie Schafer, Stuart Randall, Marjorie Bennett, Romo Vincent.
"This deliciously campy thriller was panned upon its release (Bosley Crowther complained about the "hackneyed script and the artificiality and pretentiousness of Miss Crawford's acting style"), but has since become a minor cult favorite. 50-year-old Crawford (you'd never know it) is at her inimitable best, showing off her gorgeously preserved gams as she struts around her beach house, vacillating between an embittered desire to be left alone, a rising attraction for the undeniably hunky Chandler, and - once she falls headlong in love - concern for her own safety." -
Film Fanatic.org
1950, USA, 100m, BW, Thriller-Drama-Crime
Screenplay Ketti Frings (based on a story by Marty Holland) Producer Hal B. Wallis Photography George Barnes Editor Warren Low Music Victor Young Cast Barbara Stanwyck, Wendell Corey, Paul Kelly, Joan Tetzel, Stanley Ridges, Richard Rober, Barry Kelley, Minor Watson, Laura Elliott, Basil Ruysdael.
"A fine film noir which works an ingenious, intricate variation on the situation in
Double Indemnity
, but which takes its tone, unlike
Wilder's
film, not from Stanwyck's glittering siren who courts her own comeuppance ('Judgement day, Jordon!'), but from the nondescript assistant DA she drives to the brink of destruction. The part is played (remarkably well) by Corey, whose haunted, hangdog persona as a perennial loser is echoed so perfectly by the deliberately slow, inexorable tempo of Siodmak's direction (not to mention George Barnes' superbly bleak lighting) that the film emerges with a quality akin to
Lang's
dark, romantic despair." -
Tom Milne (Time Out)
1955, USA, 82m, BW, Crime-Drama
Screenplay Warren Douglas (based on story by Morris Lipsius and John Lardner) Producer Lindsley Parsons Photography William A. Sickner Editor Maurice Wright Music Paul Dunlap Cast Frank Lovejoy, Forrest Tucker, Peggie Castle, Timothy Carey, John Cliff, William Leicester, Glen Gordon, John Close, Hugh Sanders, Evelyn Eaton.
"Director Harold D. Schuster, heretofore more at home with "outdoor" fare, does a nice job with the film noir trappings of
Finger Man
. Frank Lovejoy plays the title character, a career criminal named Casey Martin. In exchange for immunity from prosecution, Martin agrees to help the Feds net a larger fish--namely, big-time mobster Dutch Becker (Forrest Tucker). Torn between the two men is good-time girl Gladys Baker (Peggie Castle). The moment she casts her lot with Martin, Gladys seals both her doom and Becker's.
Finger Man
is stolen hands-down by the saturnine Timothy Carey as Becker's wacko triggerman (reportedly, Carey was nearly punched out by Frank Lovejoy when the latter caught on he was being upstaged)." -
Hal Erickson (Allmovie)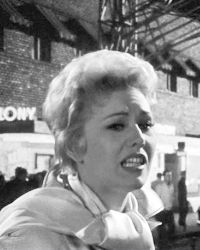 1955, USA, 84m, BW, Drama-Crime-Caper
Screenplay John Barnwell, Stirling Silliphant, William Bowers (based on the novel by Jack Finney) Producer John Barnwell, Stirling Silliphant Photography Lester White Editor Jerome Thoms Music George Duning Cast Guy Madison, Kim Novak, Brian Keith, Alvy Moore, Kerwin Mathews, William Conrad, Jack Dimond, Jean Willes, Adelle August, George Brand.
"Brian Keith and Guy Madison play Korean War buddies finishing up law school alongside their younger, less-serious chums Alvy Moore and Kerwin Mathews. After being humiliated on a trip to Reno, Mathews comes up with an idea for a foolproof plan to rob a casino, though he conceptualizes the holdup only as a hoax…
5 Against The House
bogs down whenever Karlson changes gears and covers the romance between Madison and nightclub singer Kim Novak, but mostly, this is an effective suspense movie, playing out against spectacular Nevada locations. It becomes a surprisingly insightful study of how men often subtly—and disastrously—compete with each other to be "the first one to tear down the goalposts, or any other red-blooded college prank." -
Noel Murray (A.V. Club)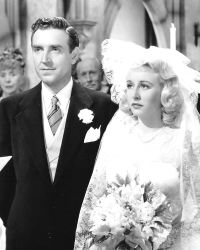 1947, USA, 97m, BW, Crime-Drama
Screenplay Lawrence Kimble (based on a story by Robert Terrance Shannon) Producer John H. Auer Photography Reggie Lanning Editor Richard L. Van Enger Music Heinz Roemheld Cast Vera Ralston, John Carroll, Robert Paige, Broderick Crawford, Henry Travers, Constance Dowling, John Albright, Vince Barnett, Harry Cheshire, Jeff Corey.
"Carlotta Duval (Vera Ralston) is willing to help her boyfriend George McAllister (John Carroll) get his hands on his ailing brother Barry's (Robert Paige) fortune. She is willing to marry Barry, knowing full well that he has only been given a few months to live. And when she deviates from the scheme by falling in love with Barry, she is willing to nurse her husband back to health, despite what George has to say about it. But is George willing to prevent slimy blackmailer Ernie Hicks (Broderick Crawford) from destroying Carlotta and Barry's newfound happiness? In terms of both budget and histrionic level,
The Flame
is one of the most lavish of Republic Pictures' late-1940s productions." -
Hal Erickson (Allmovie)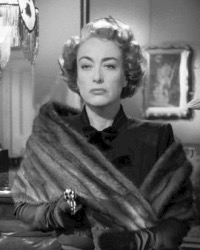 1949, USA, 94m, BW, Melodrama-Political Drama
Screenplay Edmund H. North, Robert Wilder (based on the novel by Robert Wilder, and the play by Robert Wilder and Sally Wilder) Producer Jerry Wald Photography Ted McCord Editor Folmar Blangsted Music Max Steiner Cast Joan Crawford, Zachary Scott, Sydney Greenstreet, David Brian, Gladys George, Virginia Huston, Fred Clark, Gertrude Michael, Alice White, Sam McDaniel.
"
Flamingo Road
is terrific Hollywood melodrama. The studio system at its best - a top notch director (Curtiz) with one of the best-ever leading ladies (Crawford) reuniting after 1945's
Mildred Pierce
. The film is about female empowerment in a sexist age of specifically-defined domestic and gender roles. It's an engrossing story of a girl from the wrong side of the tracks who fights prejudice and sexism as she moves up into high society and the corrupt world of American State politics… Michael Curtiz directs with his usual panache. His great choreography, editing and efficiency with his narrative make this plot-heavy film a fast-paced breeze." -
Alan Bacchus (Daily Film Dose)
Bad Blonde (USA title)
●
BRIT-NOIR
1953, UK, 81m, BW, Drama-Crime-Mystery
Screenplay
Guy Elmes, Richard H. Landau (based on the novel by Max Catto)
Producer
Anthony Hinds
Photography
Walter J. Harvey
Editor
James Needs
Music
Ivor Slaney
Cast
Barbara Payton, Frederick Valk, John Slater, Sidney James, Tony Wright, Marie Burke, Selma Vaz Dias, Enzo Coticchia, Chris Adcock, John Brooking.
"A pretty standard story. Johnny Flanagan (Tony Wright) is an up-and-coming boxer who gets involved with the wife of his promoter. The bad blonde in question, Lorna (Barbara Payton), is an American girl who married the much older Giuseppe (Frederick Valk) for his money… Veteran director Reginald Le Borg (the
Joe Palooka
series) brings a conservative hand to what should have been a steamier potboiler, and the final product comes out a little tepid. Wright stumbles through the movie like a punch-drunk composite of Joseph Cotten and
Route 66
start Martin Milner, and his empty gaze needs a flashy counterbalance. Payton, sadly, is not it. She is the least vamping vamp I've seen in a while, and her downfall is nowhere near as salacious as one expects from classic noir." -
Jamie S. Rich (DVD Talk)
1949, USA, 86m, BW, Thriller-Crime-Drama
Screenplay David Lang Producer Saul Elkins Photography Carl Guthrie Editor Frank Magee Music William Lava Cast Virginia Mayo, Zachary Scott, Dorothy Malone, Tom D'Andrea, Helen Westcott, Douglas Kennedy, Elisha Cook Jr., Douglas Fowley, Monte Blue, Jack Overman.
"Virginia Mayo is Flaxy Martin in this complicated Warner Bros. melodrama. Flaxy is a bad girl but good company, especially when she's around criminal attorney Walter Colby (Zachary Scott). When Colby begins to have second thoughts about his gangster cohorts, Flaxy arranges a murder frame, forcing the attorney to go on the run. The bulk of the film is a thrill-packed chase teaming Colby with the film's resident Good Girl, Nora Carson (Dorothy Malone). Also figuring into the proceedings is Elisha Cook Jr., playing his usual shifty little creep. Director Richard L. Bare had only recently moved up from the
Joe McDoakes
comedy shorts to features when he guided
Flaxy Martin
with skill and aplomb." -
Hal Erickson (Allmovie)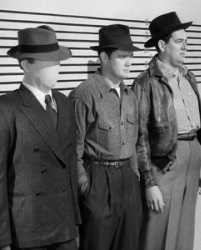 1949, USA, 59m, BW, Mystery-Crime-Police Detective Film
Screenplay
Lillie Hayward (from a story by Francis Rosenwald and
Anthony Mann
)
Producer
Herman Schlom
Photography
Robert De Grasse
Editor
Elmo Williams
Music
Leonid Raab
Cast
William Lundigan, Dorothy Patrick, Jeff Corey, Nestor Paiva, Charles D. Brown, Paul Guilfoyle, Edwin Max, Frank Ferguson, Marlo Dwyer, Archie Twitchell.
"This was clearly timed to play the bottom of a double bill, but it has better production values than most B-movies and Fleischer devotes much greater care to the direction. He's announcing his ambitions here. William Lundigan is the lead detective on the trail of a self-styled executioner called "The Judge"... Fleischer does a tremendous job of whipping up drama from a generally static script, though even he can't generate much heat from the love-hate tension between Lundigan and spunky, persistent reporter Dorothy Patrick. But while Fleischer garnered well-deserved kudos for a couple of sharp cinematic stings involving the dummy they mock up from the clues, his more impressive achievement is the eerie mood he creates from a generic backlot city street set and the chase finale he stages in an industrial plant." -
Sean Axmaker (Parallax View)
1948, USA, 78m, BW, Drama-Crime
Screenplay Abraham Polonsky, Ira Wolfert (based on the novel Tucker's People by Ira Wolfert) Producer Bob Roberts Photography George Barnes Editor Art Seid Music David Raksin Cast John Garfield, Beatrice Pearson, Thomas Gomez, Howland Chamberlain, Roy Roberts, Marie Windsor, Paul McVey, Tim Ryan, Sid Tomack, Georgia Backus.
"One of the key films of the '40s. From a novel by Ira Wolfert (
Tucker's People
), it extracts a clinical analysis of the social, moral and physical evils attending on the numbers racket, centering this on a remarkably complex portrayal of the mutual guilt of two brothers caught at opposite ends of the same rat trap: one (Garfield) torn by the realisation that his corruption means the destruction of his brother, the other (Gomez) by his awareness that he was responsible for that corruption in the first place... Like no other film of the period, it stands as a testament, its mood - as Polonsky has confessed - being compounded on the one hand by fear of the McCarthy witch-hunts, and on the other by conflict in potential victims doubting the absolute justice of their cause." -
Tom Milne (Time Out)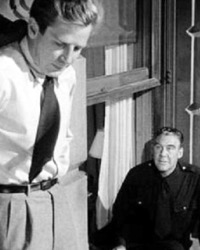 1951, USA, 92m, BW, Thriller-Drama
Screenplay John Paxton (based on the New Yorker story The Man on the Ledge by Joel Sayre) Producer Sol C. Siegel Photography Joseph MacDonald Editor Dorothy Spencer Music Alfred Newman Cast Richard Basehart, Paul Douglas, Barbara Bel Geddes, Debra Paget, Agnes Moorehead, Robert Keith, Howard da Silva, Jeffrey Hunter, Grace Kelly, Jeff Corey.
"A boy (Basehart) in his early twenties contemplates suicide on the ledge of a top floor of a high-rise Broadway hotel... Although the contributions of black-and-white (but mostly gray) cinematographer Joseph MacDonald and cutter Dorothy Spencer are incalculable (his for achieving an identical range of "soft" tonalities indoors and out that are correlative to the boy's indecision and confusion, hers for piecing together a precise depiction of the physical nature of his predicament), the centerpiece of the film is undoubtedly Richard Basehart's brilliant performance as sensitive, nervous Robert... Agnes Moorehead is equally compelling as Robert's hysterical mother. As an onlooker contemplating divorce rather than suicide, Grace Kelly made here her screen debut." -
Dennis Grunes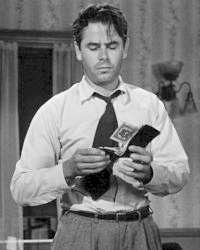 Framed

1947, USA, 82m, BW, Crime-Drama-Thriller
Screenplay Ben Maddow (based on a story by Jack Patrick) Producer Jules Schermer Photography Burnett Guffey Editor Burnett Guffey Music Marlin Skiles Cast Glenn Ford, Janis Carter, Barry Sullivan, Edgar Buchanan, Karen Morley, Jim Bannon, Sid Tomack, Barbara Woodell, Paul E. Burns, Stanley Andrews.
"
Framed
is a programmer that benefits greatly from having a rising star like Ford in the lead role. It's a B movie that's clearly cast in the same mold as
Double Indemnity
(1944) and
The Postman Always Rings Twice
(1946), but I think it succeeds wonderfully on its own terms. The script by Ben Maddow (based on a story by John Patrick) evolves naturally as it chugs forward, and never seems too contrived. Shifting loyalties and the yearnings of the main characters drive the story forward, and it never felt as if plot points were being checked off." -
Adam Lounsbery (Film Noir of the Week)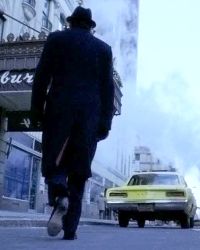 ●
NEO-NOIR / COLOUR NOIR
1971, USA, 104m, Col, Crime-Action-Police Detective Film
Screenplay
Ernest Tidyman (based on the novel
The French Connection: A True Account of Cops, Narcotics, and International Conspiracy
by Robin Moore)
Producer
Philip D'Antoni
Photography
Owen Roizman
Editor
Jerry Greenberg
Music
Don Ellis
Cast
Gene Hackman, Fernando Rey, Roy Scheider, Tony Lo Bianco, Marcel Bozzuffi, Frederic de Pasquale, Bill Hickman, Ann Rebbot, Harold Gary, Arlene Farber.
"A newfangled genre flick, fraught with urban decay and racial tension, William Friedkin's bang-bang procedural created a paradigm for the tell-it-like-it-is cop drama; it was the third-highest-grossing film of 1971 and swept the Oscars… Friedkin once had documentary aspirations; that
The French Connection
was shot almost entirely on the mean streets of Marseilles and New York, grounds the fantastic exploits of Hackman's Popeye Doyle and his more low-key partner (Roy Scheider) in a gritty naturalism, if not a crumbling mess… While
Dirty Harry
provided audiences an anti-establishment legal vigilante,
The French Connection
introduced the notion of the heroic working-class narc." -
J. Hoberman (The Village Voice)
●
NEO-NOIR / COLOUR NOIR
1973, USA, 102m, Col, Crime-Thriller-Drama
Screenplay
Paul Monash (based on the novel by George V. Higgins)
Producer
Paul Monash
Photography
Victor J. Kemper
Editor
Patricia Lewis Jaffe
Music
Dave Grusin
Cast
Robert Mitchum, Peter Boyle, Richard Jordan, Steven Keats, Alex Rocco, Joe Santos, Mitchell Ryan, Peter MacLean, Kevin O'Morrison, Marvin Lichterman.
"In one of the best performances of his legendary career, Robert Mitchum plays small-time gunrunner Eddie "Fingers" Coyle in an adaptation by Peter Yates of George V. Higgins's acclaimed novel
The Friends of Eddie Coyle
. World-weary and living hand to mouth, Coyle works on the sidelines of the seedy Boston underworld just to make ends meet. But when he finds himself facing a second stretch of hard time, he's forced to weigh loyalty to his criminal colleagues against snitching to stay free. Directed with a sharp eye for its gritty locales and an open heart for its less-than-heroic characters, this is one of the true treasures of 1970s Hollywood filmmaking—a suspenseful crime drama in stark, unforgiving daylight." -
The Criterion Collection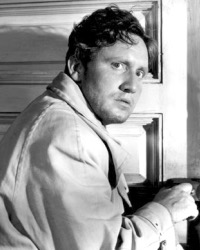 Fury

●
NOIR-PRECURSOR
1936, USA, 94m, BW, Drama-Crime
Screenplay
Bartlett Cormack, Fritz Lang (based on a story by Norman Krasna)
Producer
Joseph L. Mankiewicz
Photography
Joseph Ruttenberg
Editor
Frank Sullivan
Music
Franz Waxman
Cast
Spencer Tracy, Sylvia Sidney, Walter Abel, Edward Ellis, Walter Brennan, Bruce Cabot, George Walcott, Frank Albertson, Arthur Stone, Morgan Wallace.
"It would be difficult to think of another Hollywood film to take such a corrosive view of American democracy as
Fury
. Begun a full year after Lang left Europe, the director's first American film stars Spencer Tracy and Sylvia Sidney as innocent lovers whose lives are derailed when Tracy is mistaken for a kidnapper and pursued by a lynch mob. Lang precisely evokes the grotesque carnival atmosphere of the lynching, though the film finally settles into an unsparing study of the monstrous impulses of revenge... The key piece of evidence brought against the townspeople is a newsreel film identifying the assailants in the midst of their murderous rampage, an eloquent figure for Lang's conviction in cinema as the privileged medium for revealing humanity's darkest tendencies." -
Harvard Film Archive

The 100 Most Cited Noir Films
Available on Blu-ray

Recommended Viewing (by
TSPDT
)