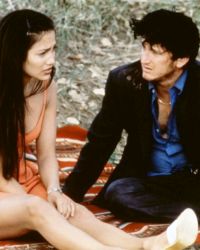 ●
NEO-NOIR / COLOUR NOIR
1997, USA-France, 125m, Col, Crime-Drama-Thriller
Screenplay
John Ridley (based on his novel
Stray Dogs
)
Producers
Clayton Townsend, Dan Halsted
Photography
Robert Richardson
Editors
Hank Corwin, Thomas J. Nordberg
Music
Ennio Morricone
Cast
Sean Penn
, Billy Bob Thornton, Abraham Benrubi, Richard Rutowski, Jon Voight, Jennifer Lopez, Powers Boothe, Nick Nolte, Aida Linares, Sean Stone.
"Here's something different in an Oliver Stone film: laughs. Bitter, bruising laughs, yes, but it's humor, not politics, driving the plot. The film was adapted by John Ridley from his novel
Stray Dogs
, but this is Stone's view of humans as greedy, lustful, natural-born killers… Ridley's dialogue crackles nicely until Stone shifts into overdrive. Some directors, such as
John Dahl
(
Red Rock West
), heighten brutality by showing you less. Not Stone, who is congenitally in your face. We see an old lady blow away a thief with a shotgun, a father fuck his daughter doggie style and a blood-dripping ax murder. For sex, we watch Bobby (Penn) jerk off behind a tree after Grace (Lopez) makes him pull out before his orgasm. Stone isn't one for the sweet mysteries of life… Hmm. Maybe
U-Turn
isn't such a different Stone film after all." -
Peter Travers (Rolling Stone)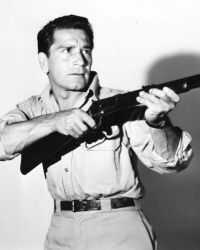 1951, USA, 83m, BW, Prison Film-Crime-Drama
Screenplay George Zuckerman (from a story by Daniel B. Ullman) Producer Ralph Dietrich Photography Henry Freulich, John L. Herman Editor Virgil W. Vogel Music Milton Rosen Cast Richard Conte, Audrey Totter, Sam Jaffe, John McIntire, Shepperd Strudwick, Greg Martell, Phillip Pine, Donald Randolph, Royal Dano, Richard Taber.
"No forgotten masterpiece, but a neat little crime thriller, ingeniously plotted by George Zuckerman (who also provided source material for
Border Incident
and
99 River Street
) around the teasing legal anomaly that a prison trusty who kills an escaping convict can earn himself a pardon. Worth watching for the admirable Conte, the Florida locations, and fitful direction by Tetzlaff, a fine cameraman (
My Man Godfrey
,
Notorious
) who never quite hit his director's stride again after the excellent
The Window
in 1949." -
Tom Milne (Time Out)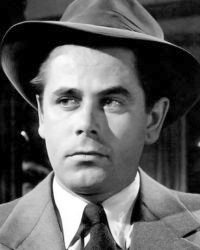 1949, USA, 85m, BW, Crime-Drama-Thriller
Screenplay
Sydney Boehm (with additional dialogue by Marvin Wald, based on a screen story by Jack Rubin from an article
Undercover Man: He Trapped Capone
by Frank J. Wilson)
Producer
Robert Rossen
Photography
Burnett Guffey
Editor
Al Clark
Music
George Duning
Cast
Glenn Ford, Nina Foch, James Whitmore, Barry Kelley, David Wolfe, Frank Tweddell, Howard St. John, John F. Hamilton, Leo Penn, Anthony Caruso.
"A superior crime thriller in the semi-documentary style beloved by Hollywood in the late '40s. With the Big Fellow clearly inspired by Capone (he's prosecuted for tax evasion when normal policing methods fail to nail him), and Glenn Ford's Federal Treasury agent wading through piles of paperwork (as well as resorting to the customary action-packed physical pursuit), it achieves an authenticity rare in the genre. Perhaps even more impressive is the acknowledgment that mob crime affects not only cops and criminals, but innocents too: witnesses are silenced, bystanders injured. And Lewis - one of the B movie greats - directs in admirably forthright, muscular fashion, making superb use of Burnett Guffey's gritty monochrome camerawork." -
Geoff Andrew (Time Out)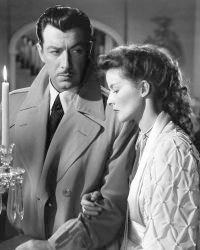 Undercurrent

1946, USA, 116m, BW, Thriller-Melodrama
Screenplay Edward Chodorov (with contributions from Marguerite Roberts and George Oppenheimer, from the novel You Were There by Thelma Strabel) Producer Pandro S. Berman Photography Karl Freund Editor Ferris Webster Music Herbert Stothart Cast Katharine Hepburn, Robert Taylor, Robert Mitchum, Edmund Gwenn, Marjorie Main, Jayne Meadows, Clinton Sundberg, Dan Tobin, Kathryn Card, Charles Trowbridge.
"Stylishly directed by Vincente Minnelli, this captivating thriller finds a chemistry professor's daughter falling for and marrying a man of many secrets. Ann Hamilton (Katharine Hepburn) slowly discovers that it is really her brother-in-law, whom she believes she has never met, with whom she is in love... While the narrative may seem casual, with a lot of red herrings to mask real events and motives, thematically this film is taut. Fraternal conflict and betrayal, as well as marital conflict and betrayal, reflect on marketplace machinations and national betrayal... Spectacularly entertaining, this film is uncommonly thoughtful as well, somewhat anticipating Arthur Miller's play
All My Sons
. It is also a grand love story—one of exquisite tact and patience, with the feelings involved slowly taking form in the psyches of Ann and a gentleman other than her spouse." -
Dennis Grunes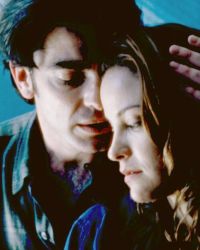 The Underneath

●
NEO-NOIR / COLOUR NOIR
1995, USA, 99m, Col, Drama-Crime-Caper
Screenplay
Steven Soderbergh [as Sam Lowry] (based on the screenplay by Daniel Fuchs, from the novel
Criss Cross
by Don Tracy)
Producer
John Hardy
Photography
Elliot Davis
Editor
Stan Salfas
Music
Cliff Martinez
Cast
Peter Gallagher, Alison Elliott, William Fichtner, Adam Trese, Joe Don Baker, Paul Dooley, Shelley Duvall, Elisabeth Shue, Joseph Chrest, Anjanette Comer.
"
The Underneath
is minor Soderbergh, a slim genre piece made before the director started turning his obsessions into serious art. Nevertheless, it offers some bold experiments in visual style as well as narrative, like the glacial push-in on Gallagher and Elliott kissing underneath an overpass, bathed in blue. Soderbergh-ian color filters are frequent, sometimes making a nondescript city look as stylized as Las Vegas. Soderbergh would revisit the intersection of gambling and robbery again in his
Ocean's
trilogy, adding further to the list of his movies whose roots can be traced back to this one. In retrospect,
The Underneath
looks like crucial practice time." -
Jesse Passenger (A.V. Club)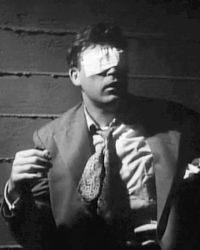 1949, USA, 71m, BW, Crime-Thriller-Mystery
Screenplay Arthur T. Horman, Lee Loeb (from a story by Arthur T. Horman) Producer Ralph Dietrich Photography Irving Glassberg Editor Ralph Dawson Music Milton Schwarzwald Cast Scott Brady, John Russell, Dorothy Hart, Peggy Dow, Bruce Bennett, Gregg Martell, Robert Anderson, Dan Ferniel, Rock Hudson, Charles Sherlock.
"Arthur T. Horman and Lee Loeb's screenplay for
Undertow
is standard stuff. It's fine for what it is, but it's not that different from any number of other B noirs about an innocent man on the run. However,
Undertow
is worth seeking out for several reasons. First off, the direction is great. Castle knew how to make an entertaining, fast-moving film, and
Undertow
is one of his better pictures from the 1940s. Another reason to see
Undertow
is all of the location shooting in Reno and Chicago, which is rare for a 70-minute programmer." -
Adam Lounsbery (Film Noir of the Week)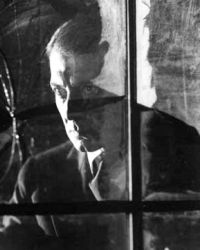 Underworld

●
NOIR-PRECURSOR
1927, USA, 80m, BW, Crime-Drama-Gangster Film
Screenplay
Charles Furthman, George Marion Jr., Robert N. Lee (from a story by Ben Hecht)
Producer
Hector Turnbull
Photography
Bert Glennon
Editor
E. Lloyd Sheldon
Cast
George Bancroft, Clive Brook, Evelyn Brent, Larry Semon, Fred Kohler, Helen Lynch, Jerry Mandy, Karl Morse, Alfred Allen, Shep Houghton.
"Josef von Sternberg's
Underworld
is a fascinating early cornerstone of both the director's worldview and the gangster genre. While its swagger and vendettas left indelible fingerprints on the gangland classics of the early '30s (screenwriter Ben Hecht would shamelessly recycle such elements as the delusion-of-greatness neon sign and the barricaded shootout for the original
Scarface
), Sternberg's evocation of a cosmos of mobsters and molls is far removed from the grime and grit of the later Warner Bros. films. Where those underworlds are muscular, bristling, and tabloid-rough, Sternberg's is ethereal and oneiric, gliding from scene to scene like the feather that floats into the saloon as the fates of its three protagonists become intertwined." -
Fernando F. Croce (Slant Magazine)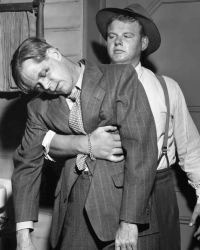 1950, USA, 90m, BW, Crime-Drama-Mystery
Screenplay Henry Blankfort, Cy Endfield (based on the story by Craig Rice) Producer Hal E. Chester Photography Stanley Cortez Editor Richard Heermance Music David Rose Cast Dan Duryea, Herbert Marshall, Gale Storm, Howard da Silva, Michael O'Shea, Mary Anderson, Gar Moore, Melville Cooper, Frieda Inescort, Art Baker.
"The first feature by the underrated writer-director Cy Endfield to attract much attention was this pungent noir item, socially corrosive in the best Endfield manner. The plot, based on a story by Craig Rice, follows the ruthless, cynical machinations of a newspaperman (Dan Duryea) taking over a small-town newspaper and boosting circulation by exploiting various aspects of a local murder case, including false accusations made against the victim's black maid. Herbert Marshall plays a corrupt tycoon, and Howard da Silva is sensational as a cheerfully creepy hood. This isn't quite on the same level as Endfield's next feature,
Try and Get Me!
, but it's still essential viewing." -
Jonathan Rosenbaum (Chicago Reader)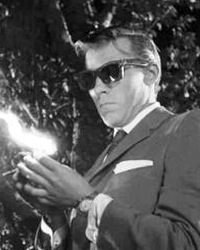 Underworld, U.S.A.

●
LATE NOIR (1960s)
1961, USA, 99m, BW, Crime-Drama-Thriller
Screenplay
Samuel Fuller (from the
Saturday Evening Post
articles by Joseph F. Dinneen)
Producer
Samuel Fuller
Photography
Hal Mohr
Editor
Jerome Thoms
Music
Harry Sukman
Cast
Cliff Robertson, Beatrice Kay, Larry Gates, Dolores Dorn, Paul Dubov, Robert Emhardt, Richard Rust, Gerald Milton, Allan Gruener, David Kent.
"Sam Fuller's harsh, obsessional 1960 crime drama is narrated in the style of a comic book gone berserk. Cliff Robertson is the neurotic hero, bent on avenging his father's death by infiltrating and destroying a crime syndicate that operates under the redolent name "National Projects." Corruption is all-pervasive in this vision of America, and Fuller disturbingly suggests that only a madman can make a difference. One image from
Underworld
—of a heavy striking straight at the camera—prompted
Jean-Luc Godard
to describe Fuller's films as "cinema-fist." There is no more apt phrase." -
Dave Kehr (Chicago Reader)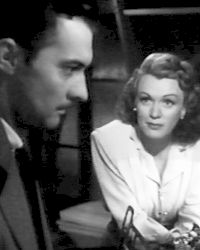 1947, USA, 109m, BW, Drama-Thriller
Screenplay David Goodis, James Gunn (loosely based on the film The Letter, which was based on the play by W. Somerset Maugham) Producer Jerry Wald Photography Ernest Haller Editor Alan Crosland Jr. Music Max Steiner Cast Ann Sheridan, Lew Ayres, Zachary Scott, Eve Arden, Jerome Cowan, Steven Geray, John Hoyt, Bob Alden, Lois Austin, Monte Blue.
"A fine melodrama loosely updating Somerset Maugham's
The Letter
to take in the problem of lonely wartime wives. The magnificent Sheridan gives one of her best performances as the woman who falls from grace, and is then forced to kill her importunate lover (alleging that he is an intruder) to prevent the husband she loves from finding out. A little florid as her trial builds to an impassioned plea for understanding (though Scott as the husband, and Ayres as the sympathetic defence counsel, both give good support); but the rest, co-scripted by David Goodis and including a blackmailer among its tortuous thriller-style ramifications, is beautifully handled." -
Tom Milne (Time Out)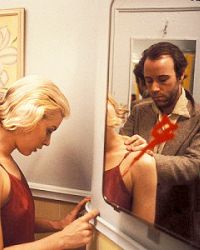 ●
NEO-NOIR / COLOUR NOIR
1980, USA, 87m, Col, Drama-Mystery-Psychological Thriller
Screenplay
Marcus Reichert (based on the short story
The Corpse Next Door
by Cornell Woolrich)
Producer
Graham Belin
Photography
Ed Lachman
Editors
Jerry Michaels, Lana Jokel
Music
Chris Stein
Cast
Dennis Lipscomb, Deborah Harry, Irena Maleeva, Sam McMurray, Cynthia Crisp, Charles Rydell, Terina Lewis, Everett McGill, Pat Benatar, Tony Azito.
"Mark Reichert's
Union City
, a seamy melodrama, circles the film noir tradition so dizzily that it loses its own orientation. Its the sort of film you maybe shouldn't see until you've seen movies like
Pickup on South Street
and
Dark Passage
but don't let that stop you; you'll get the idea in the first few scenes. Reichert creates a world of grim apartment dwellers, muffled passions, middle-class routines and petty crimes escalating to accidental death. His story is inspired by the cult mystery writer Cornell Woolrich, whose books were also filmed by
Hitchcock
and
Truffaut
. And his stars look like shopworn versions of 1940s B-movle icons: Deborah Harry, of the rock group Blondie, has a soft, sad, bored prettiness, and Dennis Lipscomb, as her husband, looks and lives like Dagwood Bumstead." -
Roger Ebert (Roger Ebert.com)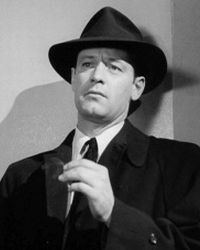 1950, USA, 81m, BW, Crime-Drama-Police Detective Film
Screenplay Sydney Boehm (from an unpublished story by Thomas Walsh) Producer Jules Schermer Photography Daniel Fapp Editor Ellsworth Hoagland Music David Buttolph, Heinz Roemheld Cast William Holden, Nancy Olson, Barry Fitzgerald, Lyle Bettger, Jan Sterling, Allene Roberts, Herbert Heyes, Don Dunning, Fred Graff, James Seay.
"Despite implausibilities in its police procedural aspects, a sharp, brilliantly staged thriller about the kidnapping of a blind girl (Roberts), and the massive surveillance operation set up at Chicago's Union Station, the contact point established with the girl's father... Agreeably ruthless on both sides of the law, the whole thing is considerably boosted by being shot on location (though not actual locations). Good performances down the line too, from Holden as the caring cop, Fitzgerald as the cynical one, and Olsen (secretary to the girl's father) as the bystander whose sharp eyes help crack the case." -
Tom Milne (Time Out)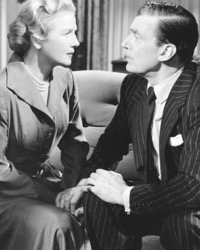 1951, USA, 86m, BW, Crime-Drama-Thriller
Screenplay George Froeschel, Ronald Millar Producer Robert Thomsen Photography William Mellor Editor Ben Lewis Music Conrad Salinger Cast Walter Pidgeon, Ann Harding, Barry Sullivan, Keefe Brasselle, Lewis Stone, Eduard Franz, Richard Anderson, Dawn Addams, Philip Ober, Konstantin Shayne.
"Though it's not exactly your typical crusading attorney story,
The Unknown Man
circles back to courtroom drama for the climax. By then, however, the road to justice has taken some complicated detours into the shadows of film noir territory. The syndicate became a presence in urban crime films after World War II and here it looms over the story, invisible but powerful and run by an unknown mob boss who may or may not even exist. Our moral, honest hero Bradley Mason (Pidgeon) is determined to find the truth." -
Sean Axmaker (Turner Classic Movies)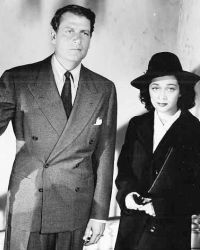 1945, USA, 80m, BW, Mystery-Drama-Thriller
Screenplay Hagar Wilde, Raymond Chandler (adapted by Hagar Wilde and Ken Englund from the novel Midnight House by Ethel Lina White) Producer John Houseman Photography John F. Seitz Editor Doane Harrison Music Ernst Toch Cast Joel McCrea, Gail Russell, Herbert Marshall, Phyllis Brooks, Isobel Elsom, Norman Lloyd, Mikhail Rasumny, Elisabeth Risdon, Tom Tully, Nona Griffith.
"Taken from Ethel Lina White's
Midnight House
- she also wrote the excellent
The Wheel Spins
, which became
The Lady Vanishes
- and co-scripted by Raymond Chandler, this follow-up to
The Uninvited
is labyrinthine, New England atmospheric, and delivers what the New York Herald Tribune called 'bona fide creeps'. Maybe some of it was down to the creaking of unidexter Herbert Marshall, the doctor from over the road. 'The last one was pretty, too' says a retainer to new governess Gail Russell, with heavy foreboding.'" -
Brian Case (Time Out)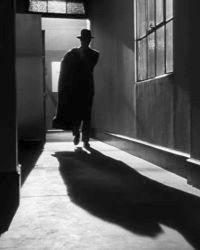 The Unsuspected

1947, USA, 103m, BW, Crime-Mystery-Drama
Screenplay Ranald MacDougall (from the adaptation by Bess Meredyth of the novel by Charlotte Armstrong) Producer Charles Hoffman Photography Elwood Bredell Editor Frederick Richards Music Franz Waxman Cast Claude Rains, Joan Caulfield, Audrey Totter, Constance Bennett, Hurd Hatfield, Ted North, Fred Clark, Harry Lewis, Jack Lambert, Ray Walker.
"A gilt-edged performance from Rains, revelling in sinister ambiguities as a radio personality/criminologist who, while regaling his fans with titillating tales of true crime and learned speculations as to the tortuous ways of the criminal mind, secretly commits a murder of his own. Based on a marvellous novel by Charlotte Armstrong, the film is considerably weakened by the fact that her intricate plot is partly discarded. But this hardly matters, since Curtiz wraps the rest up in a pyrotechnic display of expressionistic effects, including one shot in which a girl dying of poison is coolly watched through the bubbles in a champagne glass, and another in which a reluctant killer broods in his sleazy hotel room while Rains can be heard droning away on the radio and part of a neon sign seen flashing on and off outside urges 'kill...kill...kill." -
Tom Milne (Time Out)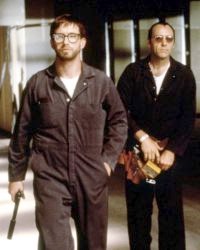 The Usual Suspects

●
NEO-NOIR / COLOUR NOIR
1995, USA, 105m, Col, Thriller-Mystery-Crime
Screenplay
Christopher McQuarrie
Producer
Bryan Singer, Michael McDonnell
Photography
Newton Thomas Sigel
Editor
John Ottman
Music
John Ottman
Cast
Gabriel Byrne, Kevin Spacey, Stephen Baldwin, Chazz Palminteri, Pete Postlethwaite, Giancarlo Esposito, Kevin Pollak, Suzy Amis, Benicio Del Toro,
Paul Bartel
.
"This labyrinthine, very well played thriller never lets up. It begins with the explosion of a docked ship, before one of the two survivors goes on to detail, to the cops and the audience, the events of the previous six weeks that led him to the vessel. It's a yarn involving five criminals unwittingly brought together in a police cell due to one thing they have in common: the master criminal Keyser Soze, who may or may not exist... Working from Christopher McQuarrie's marvellously tortuous, colourful script, Singer creates a classy, thought-provoking mystery that is pleasingly old-fashioned (the settings, characters and sassy mood recall Hammett and Chandler) and absolutely modern in the sly, slightly self-conscious play it makes with myth and methods of storytelling." -
Geoff Andrew (Time Out)

Recommended Viewing (by
TSPDT
)