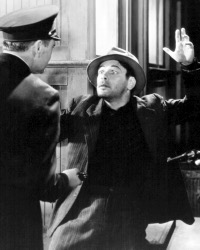 I Am a Fugitive from a Chain Gang

●
NOIR-PRECURSOR
1932, USA, 93m, BW, Drama-Crime-Prison Film
Screenplay
Brown Holmes, Howard Green (based on the memoir
I am a Fugitive from a Georgia Chain Gang
by Robert E. Burns)
Producer
Hal B. Wallis
Photography
Sol Polito
Editor
William Holmes
Music
Leo F. Forbstein
Cast
Paul Muni, Glenda Farrell, Helen Vinson, Preston Foster, Allen Jenkins, Edward Ellis, John Wray, Hale Hamilton, Harry Woods, David Landau.
"Warner Brothers developed a reputation in the '30s for "social problem" films like 1932's
I Am A Fugitive From A Chain Gang
, which has Paul Muni as a World War I veteran enduring, then speaking out against, the inhuman tortures of Southern prisons. The film is based on a real-life case, but Warner and director Mervyn LeRoy massaged the details, turning a restless vet into a war hero beaten down by the Depression. Still,
Chain Gang
doesn't flinch from the situation's gaminess. Muni consorts with prostitutes, tries to pawn his war medals, and sinks into the sweat and gruel of prison life. The film features one of the most nerve-wracking escape sequences in movie history, but it's just as impressive how the filmmakers connect a pressing social issue with more universal problems." -
Noel Murray (A.V. Club)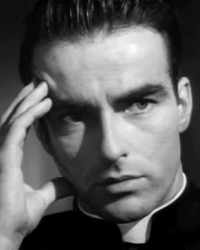 I Confess

1953, USA, 95m, BW, Drama-Psychological Thriller-Crime
Screenplay George Tabori, William Archibald (from a play by Paul Anthelme) Producer Alfred Hitchcock Photography Robert Burks Editor Rudi Fehr Music Dimitri Tiomkin Cast Montgomery Clift, Anne Baxter, Karl Malden, Brian Aherne, O.E. Hasse, Dolly Haas, Roger Dann, Charles Andre, Judson Pratt, Ovila Legare.
"
Alfred Hitchcock's
earliest serious critics, the Catholic-minded
Cahiers
group, revered this 1953 film above all his 50s work; today it's very seldom revived. Montgomery Clift plays a stone-faced priest (
Hitchcock's
only direction to him seems to have been "don't twitch") who hears a confession of murder and assumes the killer's guilt. The movie is more interesting than achieved: it's the most forthright statement of the transference theme in
Hitchcock's
work, but it's also the least nuanced. Still, there are shots of extraordinary beauty, emerging from the grayish Quebec background like flashes into color. " -
Dave Kehr (Chicago Reader)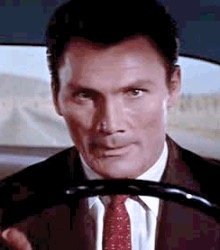 ●
COLOUR NOIR
1955, USA, 109m, Col, Crime-Drama
Screenplay
W.R. Burnett (from his novel
High Sierra
)
Producer
Willis Goldbeck
Photography
Ted McCord
Editor
Clarence Kolster
Music
David Buttolph
Cast
Jack Palance, Shelley Winters, Lori Nelson, Lee Marvin, Pedro Gonzalez-Gonzalez, Lon Chaney Jr., Earl Holliman, Perry Lopez, Richard Davalos, Howard St. John.
"Warners must have needed to get a film into production quickly, because 1955's
I Died a Thousand Times
is an almost shot-by-shot remake of
Walsh's
High Sierra
from only fourteen years earlier. All that's changed is the cast, a few updatings of details and a high-speed chase at the finish with the cars actually speeding. Oh, and WarnerColor and CinemaScope… At first glance the remake
I Died a Thousand Times
is a nice package. Although he doesn't carry the same charge of world-weary fatalism, young Jack Palance is sympathetic as the new Roy, and definitely more menacing in physical terms… Viewers unfamiliar with
High Sierra
will surely be very impressed with
I Died a Thousand Times
-- the story has classic contours and the ending has a brutal finality. The rest of us are more likely to play a comparison game." -
Glenn Erickson (DVD Savant)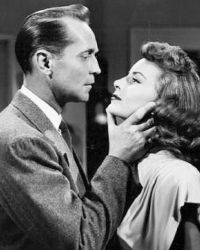 1948, USA, 93m, BW, Mystery-Romance-Detective Film
Screenplay Roy Huggins (from his novel The Double Take) Producer S. Sylvan Simon Photography Charles Lawton Jr. Editor Al Clark Music George Duning Cast Franchot Tone, Janet Blair, Janis Carter, Adele Jergens, Glenda Farrell, Steven Geray, Tom Powers, Lynn Merrick, John Ireland, Donald Curtis.
"This is one-helluva-movie. A gem that sparkles like the eyes of the hot dames that swagger, pout, smolder, and snap their high heels across the screen. A joyous LA romp in Marlowe territory which has it all. An enthralling thriller plot enlivened by a hot-jive script from Roy Huggins (
Too Late for Tears
,
Pushover
). Incredibly taught and fluid direction from Columbia b-director S. Sylvan Simon. Superb noir photography from Charles Lawton Jr. A dynamic score from George Duning that sways effortlessly from dark melodrama to lecherous winks. A great turn by Franchot Tone as LA private eye Stuart 'George' Bailey, who out-Bogart's and out-Powell's Philip Marlowe in a deliciously convoluted story of deception, greed, frame-ups, murder, and sexy high jinks." -
Tony D'Ambra (FilmsNoir.net)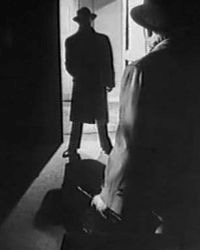 1953, USA, 87m, BW, Crime-Mystery-Detective Film
Screenplay Harry Essex (from the novel by Mickey Spillane) Producer Victor Saville Photography John Alton Editor Fredrick Y. Smith Music Franz Waxman Cast Biff Elliot, Preston Foster, Peggie Castle, Margaret Sheridan, Alan Reed, Mary Anderson, Tom Powers, Joe Besser, Paul Dubov, Elisha Cook Jr.
"Make no mistake, this isn't
Kiss Me Deadly
. Though in defense of
I, The Jury
it's a solidly watchable low-budget film noir with good direction, A-1 cinematography, a decent cast, and a lackluster yet still likable star. But warts and all, it's also the first screen appearance of a crime fiction archetype as important as Sam Spade and Phillip Marlowe, and consequently worth seeking out. There is something primitively attractive about the way Spillane's Mike Hammer approaches the world, and that's what makes the character so appealing: He acts out all of those tough guy fantasies so common in American men, and in the end he gets the girl. What's not to like?" -
Mark Fertig (Where Danger Lives)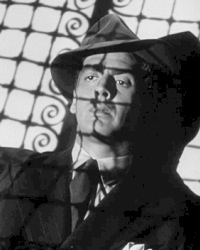 I Wake Up Screaming


1941, USA, 82m, BW, Mystery-Thriller
Screenplay Dwight Taylor (from the novel by Steve Fisher) Producer Milton Sperling Photography Edward Cronjager Editor Robert Simpson Music Cyril J. Mockridge Cast Victor Mature, Betty Grable, Laird Cregar, Carole Landis, William Gargan, Elisha Cook Jr., Alan Mowbray, Allyn Joslyn, Chick Chandler, Morris Ankrum.
"
I Wake Up Screaming
is one of the most beautiful black-and-white movies ever made. Nearly every detail, other than a few amateurish process shots, suggests the glossy perfection that exemplifies what Andre Bazin famously called "the genius of the system." How else to explain the transformation of prosaic melodrama into a highly influential exercise in sculpted lighting?... The chiaroscuro police grilling in the first scene may indicate a typical postwar crime thriller, but
I Wake Up Screaming
was made in 1941, the year
Orson Welles
and
John Huston
directed their first films. If it lacks the substance of
Citizen Kane
and
The Maltese Falcon
, it rivals them in shoring up plot with procedural panache, a gleaming surface that came to characterize Fox's "B" product." -
Gary Giddins (The New York Sun)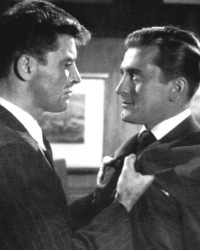 I Walk Alone

1948, USA, 98m, BW, Drama-Crime
Screenplay Charles Schnee (adapted by Robert Smith and John Bright from the play Beggars Are Coming to Town by Theodore Reeves) Producer Hal B. Wallis Photography Leo Tover Editor Arthur Schmidt Music Victor Young Cast Burt Lancaster, Lizabeth Scott, Kirk Douglas, Wendell Corey, Kristine Miller, Georges Rigaud, Marc Lawrence, Bobby Barber, John Bishop, Charles D. Brown.
"Haskin's work with the camera is more assured than his work with the actors and is the main reason why
I Walk Alone
is watchable. Though the script, betraying its stage origins, is declamatory, the film is a small marvel of visual construction, Haskin bringing static scenes to life by reconfiguring his characters in a variety of camera setups... In a 1978 article listing his "Guilty Pleasures" for
Film Comment
,
Martin Scorsese
praised the film and drew parallels between its portrayal of the modernization of American crime and the realities of American filmmaking...
I Walk Alone
may wobble at times, but it can hold its head up among the many lesser crime thrillers of its day." -
Chris Fujiwara (Turner Classic Movies)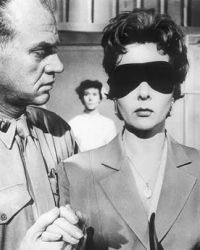 I Want to Live!

1958, USA, 120m, BW, Crime-Biography-Drama
Screenplay Don Mankiewicz, Nelson Gidding (based on newspaper articles by Ed Montgomery, and letters by Barbara Graham) Producer Walter Wanger Photography Lionel Lindon Editor William Hornbeck Music Johnny Mandel Cast Susan Hayward, Simon Oakland, Virginia Vincent, Theodore Bikel, Wesley Lau, John Marley, Dabbs Greer, Gavin MacLeod, Philip Coolidge, Lou Krugman.
"One of the great anti-capital punishment movies, this is based on the life and death of Barbara Graham. At one time or another, Graham was convicted of prostitution, perjury, forgery, and finally murder. Basing their screenplay on contemporary newspaper files and her own letters, Nelson Gidding and Don Mankiewicz make no bones about Graham's anti-social tendencies, but conclude that she was probably innocent of the last charge. Wise paces the film so that the last half-hour, taking us into the gas chamber, is incredibly powerful, and Hayward won an Oscar for her unforgettable performance." -
Tom Charity (Time Out)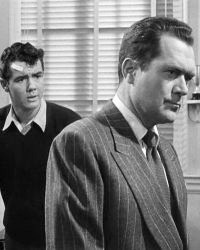 I Was a Communist for the F.B.I.
1951, USA, 83m, BW, Drama-Spy-Propaganda Film
Screenplay Crane Wilbur (from the Saturday Evening Post article I Posed as a Communist for the FBI by Matt Cvetic, as told to Pete Martin) Producer Bryan Foy Photography Edwin B. DuPar Editor Folmar Blangsted Music William Lava Cast Frank Lovejoy, Dorothy Hart, Philip Carey, James Millican, Richard Webb, Konstantin Shayne, Paul Picerni, Edward Norris, Ron Hagerthy, Hugh Sanders.
"Stylishly directed by Gordon Douglas, and with more than a few Film Noir-inspired action set pieces to commend it, Warner Bros'
I Was a Communist for the F.B.I.
is still a thudding, simplistic piece of anti-Communist propaganda which gleefully engages in the sort of reckless finger-pointing that the McCarthy era is known for… Produced by Bryan Foy for the Warner Bros. B-unit,
I Was a Communist for the F.B.I.
appears to have existed mainly to glorify efforts to root out the Communist Threat wherever it may (or may not have) existed… Square-jawed Frank Lovejoy brings his usual no-nonsense approach to the lead role as undercover man; he would go on to portray a variety of cops, detectives and military men during his career." -
John M. Miller (Turner Classic Movies)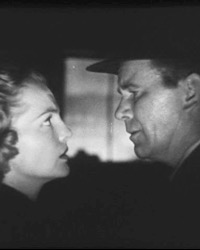 I Wouldn't Be in Your Shoes
1948, USA, 70m, BW, Mystery-Crime-Detective Film
Screenplay Steve Fisher (from the novel by Cornell Woolrich) Producer Walter Mirisch Photography Mack Stengler Editor Roy V. Livingston Music Edward Kay Cast Don Castle, Elyse Knox, Regis Toomey, Charles D. Brown, Rory Mallinson, Robert Lowell, Steve Darrell, Bill Kennedy, Esther Michelson, Ray Dolciame.
"A lesser film noir and quite obviously made on a budget,
I Wouldn't Be In Your Shoes
should nevertheless provide entertainment for noir fans looking for something that's not very well known.
Shoes
is based on a Cornell Woolrich book, which means that it's quite intricately plotted and is drenched in paranoia. When a typical Woolrich story is paired with a director that has a keen understanding of the underpinnings of the story and knows how to bring out the cinematic life in it, as in
Alfred Hitchcock
and
Rear Window
, the results can be outstanding. Director William Nigh, however, is no
Hitchcock
; his work is professional and relatively effective (if a bit sluggish), but the material requires more." -
Craig Butler (Allmovie)
1955, USA, 88m, BW, Crime-Courtroom Drama
Screenplay James R. Webb, W.R. Burnett (based on the play The Mouthpiece by Frank J. Collins) Producer Frank P. Rosenberg Photography Peverell Marley Editor Thomas Reilly Music Max Steiner Cast Edward G. Robinson, Nina Foch, Hugh Marlowe, Robert Ellenstein, DeForest Kelley, Jay Adler, Albert Dekker, Jayne Mansfield, Ellen Corby, Howard St. John.
"The moral compass points swing to and fro in Lewis Allen's
Illegal
, which stars Edward G. Robinson as a crackerjack D.A. who suffers way more than he should for winning a case that sends an innocent man to the electric chair. Tormented by guilt, Victor Scott (Robinson) rises phoenix-like from a gutter of booze and self-flagellation and to the defense of criminal lowlifes everywhere… Every character is intriguingly trapped between a rock and a hard place, and the talents of Robinson, Foch, and Ellen Corby, as Victor's legal aide, have an elasticizing effect on Allen's stiff but workmanlike direction. Robinson's cocksure conviction never wavers, and as such Victor's obscene courtroom antics feel more probable than Jayne Mansfield's real-world physique." -
Ed Gonzalez (Slant Magazine)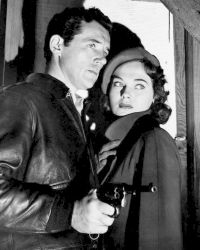 1949, USA, 84m, BW, Crime-Action-Drama
Screenplay Joel Malone, Art Cohn (based on a story by Ben Bengal, Herbert Kline and Dan Tyler Moore) Producer Jules Schermer Photography William Daniels Editor Edward Curtiss Music Milton Schwarzwald Cast Howard Duff, Marta Toren, George Brent, Gar Moore, Tom Tully, Paul Stewart, Richard Rober, Joseph Vitale, James Nolan, Clifton Young.
"
Illegal Entry
is a straight forward crime programmer with a couple strong doses of irony, but more on those later. Put out by Universal in the summer of 1949 and staring Howard Duff as Bert Powers, a down on his luck former WWII pilot who's now trying to earn a buck with his own one plane air freight company. While short on panache, what the film lacks in style is more than made up in the impressive who's who of actors filling both key and minor roles. In addition to the steely Duff, Anna, the female who's playing both sides is handled deftly by Märta Torén with George Brent playing Dan Collins, Chief Agent of the Immigration Bureau." -
Film Noir of the Week
1949, USA, 111m, BW, Crime-Drama
Screenplay Dorothy Davenport, Jay Dratler (from a story by Jay Dratler) Producer Leo C. Popkin Photography Ernest Laszlo Editor Arthur H. Nadel Music Michel Michelet Cast Brian Donlevy, Ella Raines, Helen Walker, Charles Coburn, Anna May Wong, Robert Warwick, Clarence Kolb, Art Baker, William Wright, Mae Marsh.
"Brian Donlevy stars as an industrialist whose perfidious wife (Helen Walker) conspires with her lover (Tony Barrett) to murder the "softy" for his insurance policy. When the other man winds up dead in his place, the body burned beyond recognition, an injured Donlevy recovers with no memory of past events or even his own identity... Director of photography Ernest Lazlo went on to lens such latter day noir classics as
D.O.A.
(1950) and
Joseph Losey's
remake of
M
(1951) but
Impact
alternates between evocative shadowplay and the antiseptic brilliance of a "woman's picture," while Michel Michelet's use of the Theremin telegraphs the divided mind of its decent but damaged protagonist." -
Richard Harland Smith (Turner Classic Movies)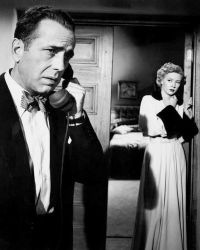 In a Lonely Place


1950, USA, 91m, BW, Drama-Mystery-Romance
Screenplay Andrew Solt (adapted by Edmund H. North from the novel by Dorothy B. Hughes) Producer Robert Lord Photography Burnett Guffey Editing Viola Lawrence Music George Antheil Cast Humphrey Bogart, Gloria Grahame, Frank Lovejoy, Carl Benton Reid, Robert Warwick, Jeff Donnell, Martha Stewart, Art Smith, Morris Ankrum, William Ching.
"
In a Lonely Place
has been described by the critic Kim Morgan as "one of the most heartbreaking love stories ever committed to film," and love is indeed what it's really about. It has the look, feel and trappings of a film noir, and a murder takes place in it, but it is really about the dark places in a man's soul and a woman who thinks she can heal them. As carefully constructed by Bogart, who produced it, and directed by Nicholas Ray, from a great noir novel by Dorothy Hughes, it's at pains to make its man and women adults who know their way around. Neither is a victim, except of their own natures." -
Roger Ebert (Roger Ebert.com)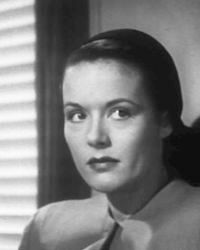 1948, USA, 62m, BW, Mystery-Thriller
Screenplay Jerome T. Gollard Producers Samuel Rheiner, Walter Shenson Photography Allen G. Siegler Editor Fred R. Feitshans Jr. Music Leo Klatzkin Cast Charles Russell, Mary Beth Hughes, Dale Belding, Billy House, Fritz Leiber, Nana Bryant, Lee Patrick, Roscoe Ates, Eddie Parks, Eve Miller.
"While it is certainly not one of the best-known films noir,
Inner Sanctum
has many of the genre's elements: black & white cinematography with ample shadows, a murder, jealousy and betrayal, a woman (or two) scorned, a man at his breaking point, and a suspenseful plot with a clever, twist ending…
Inner Sanctum
is in no way a big budget film or a must see. It's sort of like a parlor trick. It's fun and you kind of want to know how the director pulls it off. But the acting isn't particularly memorable and, apart from the train, the settings are generally forgettable." -
Jonathan Lewis (Mystery*File)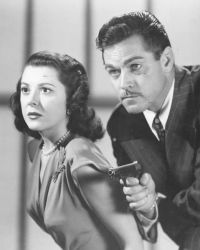 1946, USA, 65m, BW, Crime-Drama
Screenplay
George Bricker, Jerry Warner (based on a story by
Tod Browning
and Garrett Fort)
Producers
Ben Pivar, Jean Yarbrough
Photography
Maury Gertsman
Editor
Otto Ludwig
Music
Frank Skinner
Cast
Preston Foster, Ann Rutherford, Alan Curtis, Milburn Stone, Samuel S. Hinds, Joseph Sawyer, Marc Lawrence, John Berkes, Jimmy Moss, Howard Freeman.
"Jean Yarbrough (
Shed No Tears
/
The Mutineers
/
Law of the Jungle
) directs a weak B film crime drama about an ex-convict and the difficulty he has of going straight. Eddie Norton (Alan Curtis) gets a temp job during Christmas in a department store. The gangster Bart Madden (Preston Foster) blackmails the ex-con Eddie into robbing the store with his former partner, his wife Claire (Ann Rutherford), a model in the store, or get fired when he tells the store about his past record… The story was lame and unbelievable. It's noteworthy only because the story was written by the great silent director
Tod Browning
. The screenplay by George Bricker and Jerry Warner could use a rewrite." -
Dennis Schwartz (Movie Reviews)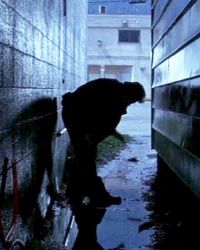 Insomnia

●
NEO-NOIR / COLOUR NOIR
2002, USA, 118m, Col, Crime-Psychological Thriller-Police Detective Film
Screenplay
Hillary Seitz (based on the screenplay by Nikolaj Frobenius and Erik Skjoldbjærg)
Producers
Andrew A. Kosove, Broderick Johnson, Edward L. McDonnell, Paul Junger Witt
Photography
Wally Pfister
Editor
Dody Dorn
Music
David Julyan
Cast
Al Pacino, Robin Williams, Hilary Swank, Maura Tierney, Martin Donovan, Nicky Katt, Paul Dooley, Jonathan Jackson, Katharine Isabelle, Oliver 'Ole' Zemen.
"This could this be
The Big Sleep
for a new generation. Christopher Nolan, the British-born director of those compulsive, time-bending dramas
Following
and
Memento
, has straightened out the narrative kinks to give us a magnificent blanc-noir thriller, a remake derived from a Norwegian original starring Stellan Skarsgard, directed by Erik Skjoldbjaerg in 1997. Nolan has made of it something pleasingly old-fashioned, yet viscerally and sensually modern, delivering an icy, sub-zero burn to the mind…
Insomnia
establishes or rather further establishes Christopher Nolan as one of the most exciting talents in mainstream cinema, and gives Pacino what must surely be the most satisfying role in the late period of his career. As a picture of a driven cop, and as a vision of a personal hell, it's unmissable stuff." -
Peter Bradshaw (The Guardian)
Finger of Guilt (USA title)
●
BRIT-NOIR

1956, UK, 85m, BW, Drama
Screenplay
Howard Koch
Producer
Alec C. Snowden
Photography
Gerald Gibbs
Editor
Geoffrey Muller
Music
Trevor Duncan
Cast
Richard Basehart, Mary Murphy, Constance Cummings, Roger Livesey, Faith Brook, Mervyn Johns, Vernon Greeves, Andre Mikhelson, David Lodge, Basil Dignam.
"The fourth feature directed in England by American Joseph Losey, credited pseudonymously to Joseph Walton due to the Hollywood blacklist, this serviceable but rarely screened thriller was released overseas in a version ten minutes longer as
The Intimate Stranger
. Scripted by
Casablanca's
Howard Koch (another blacklisted expatriate at the time, signing himself Peter Howard) and shot on a shoestring in a dozen days, it concerns an American film producer (Richard Basehart) working in London whose job and marriage are threatened by an American actress (
The Wild One's
Mary Murphy) claiming to be his mistress. It's less effective than the English thrillers made during the same period by the similarly blacklisted
Cy Endfield
, though the uses made of an English filmmaking milieu are both convincing and fascinating." -
Jonathan Rosenbaum (Chicago Reader)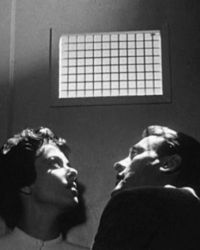 Invasion of the Body Snatchers

●
SCI-FI NOIR
1956, USA, 80m, BW, Science Fiction-Horror-Alien Invasion Film
Screenplay
Daniel Mainwaring, Richard Collins [uncredited] (based on a 1954 serial in
Collier's
magazine, and the novel
The Body Snatchers
by Jack Finney)
Producer
Walter Wanger
Photography
Ellsworth Fredricks
Editor
Robert S. Eisen
Music
Carmen Dragon
Cast
Kevin McCarthy, Dana Wynter, Larry Gates, King Donovan, Carolyn Jones, Virginia Christine, Jean Willes, Ralph Dumke, Tom Fadden, Kenneth Patterson.
"It scared me to death when I was nine, and 40 years later it's still a pretty hair-raising experience to watch Don Siegel's
Invasion of the Body Snatchers
. A poorly reviewed $380,000 sci-fi film shot in 23 days in 1956, then wantonly interfered with by its backers, who bookended it with sequences aiming to temper its extreme pessimism, it has since risen, quite rightly, to the first rank of unquestioned science fiction classics, spawning three remakes along the way… Its noirish visuals – no effects, no process shots – make it a twin to
Robert Aldrich's
Kiss Me Deadly
(which, with an atom bomb as its MacGuffin, is already halfway to sci-fi) and its apocalyptic, end-of-the-world fatalism anticipates both
The Birds
and
Night of the Living Dead
." -
John Patterson (The Guardian)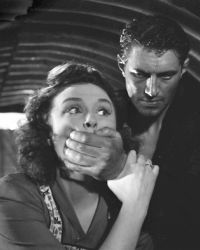 It Always Rains on Sunday
●
BRIT-NOIR
1947, UK, 92m, BW, Drama-Crime
Screenplay
Angus MacPhail, Henry Cornelius, Robert Hamer (from the novel by Arthur La Bern)
Producer
Michael Balcon
Photography
Douglas Slocombe
Editor
Michael Truman
Music
Georges Auric
Cast
Googie Withers, John McCallum, Jack Warner, Edward Chapman, Susan Shaw, Patricia Plunkett, Sydney Tafler, John Slater, Alfie Bass, Jimmy Hanley.
"Postwar east London is a place of doomed dreams, cheeky chancers and youthful attitude in 1947's punchy and poignant
It Always Rains on Sunday
… Robert Hamer's film operates as both a lively portrait of cockney life and a noir-tinged crime thriller as one quiet, rainy Sunday in Bethnal Green becomes the focus of a search for a runaway convict… What makes
It Always Rains on Sunday
special is its humour and energy. The thriller element is taut and clear, and the comedy is served sparingly but pointedly: 'Nice weather for ducks and aspidistras,' quips a neighbour as Rose (Withers) tries to hide her fugitive (McCallum). There are no lessons learned, no easy answers. You feel next Sunday could be just the same for someone across the street. A real gem." -
Dave Calhoun (Time Out)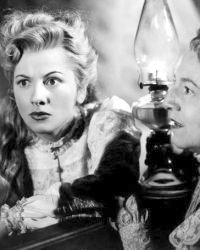 Ivy

1947, USA, 99m, BW, Drama-Crime
Screenplay Charles Bennett (based on the novel The Story of Ivy by Marie Belloc Lowndes) Producer William Cameron Menzies Photography Russell Metty Editor Ralph Dawson Music Daniele Amfitheatrof Cast Joan Fontaine, Patric Knowles, Herbert Marshall, Richard Ney, Cedric Hardwicke, Lucile Watson, Sara Allgood, Henry Stephenson, Rosalind Ivan, Lilian Fontaine.
"Russell Metty's gorgeous low-key camerawork sets the tone for this Edwardian chiller with a wonderfully moody opening sequence at a fortune-teller's where Fontaine learns that her destiny is to become a murderess. Demurely grasping ambition aiding, she is soon on her way to black widowhood by poisoning her husband, framing her lover, and setting her sights on the next victim. Based on a novel by Mrs Belloc Lowndes (of
The Lodger
) and given an exquisite period gloss by William Cameron Menzies' designs, it's a little bland but a real pleasure on the eye." -
Tom Milne (Time Out)

The 100 Most Cited Noir Films

Recommended Viewing (by
TSPDT
)