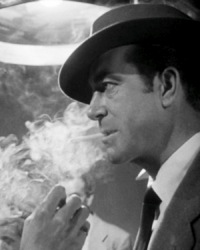 Kansas City Confidential


1952, USA, 98m, BW, Drama-Crime Thriller-Caper
Screenplay George Bruce, Harry Essex, Phil Karlson [uncredited], John Payne [uncredited] (from an unpublished story by Harold R. Greene and Rowland Brown) Producer Edward Small Photography George E. Diskant Editor Bud Small Music Paul Sawtell Cast John Payne, Coleen Gray, Preston Foster, Dona Drake, Jack Elam, Neville Brand, Lee Van Cleef, Mario Siletti, Howard Negley, George Wallace.
"Terse and tough,
Kansas City Confidential
is one of the great lean, mean B crime thrillers, with a bang-up opening, a deadly payoff and a shifting set of identities and alliances that keep pulling the rug from under our hero. The scheming rogues gallery and Karlson's steely transformation of thick fall guy Payne into a snarling, ruthless hero makes this hard-bitten low budget classic a darkly satisfying caper. The collaboration was so successful that Karlson and Payne reunited the next year for
99 River Street
, an even more bare-knuckle noir set in the nocturnal shadows of the predatory city." -
Sean Axmaker (Parallax View)
Key Largo


1948, USA, 101m, BW, Crime-Drama-Gangster Film
Screenplay
Richard Brooks
, John Huston (from the play by Maxwell Anderson)
Producer
Jerry Wald
Photography
Karl Freund
Editor
Rudi Fehr
Music
Max Steiner
Cast
Humphrey Bogart, Edward G. Robinson, Lauren Bacall, Lionel Barrymore, Claire Trevor, Thomas Gomez, Dan Seymour, Harry Lewis, John Rodney, Marc Lawrence.
"Reworking of a Maxwell Anderson play about a gangster under threat of deportation who holes up with his henchmen in a semi-derelict hotel on an island off Florida... The debt to
The Petrified Forest
is obvious, but instead of wallowing in world-weary pseudo-philosophy,
Key Largo
has altogether sharper things to say about post-war disillusionment, corruption in politics, and the fact that the old freebooting ways of the gangster were about to change into something more sinisterly complex. Huston skilfully breaks up the action (basically one set and one continuous scene), working subtle variations on his groupings with the aid of superb deep-focus camera-work by Karl Freund. And although the characters are basically stereotypes, they are lent the gift of life by a superlative cast." -
Tom Milne (Time Out)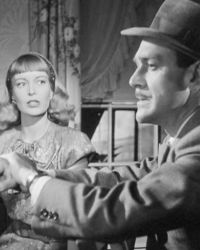 1947, USA, 67m, BW, Crime-Drama
Screenplay Edward Bock, Raymond L. Schrock (from a story by J. Donald Wilson) Producer Rudolph C. Flothow Photography Philip Tannura Editor Dwight Caldwell Music Mischa Bakaleinikoff Cast John Beal, Trudy Marshall, Jimmy Lloyd, Helen Mowery, Wilton Graff, Barbara Read, Charles Trowbridge, Harry Hayden, William Newell, Selmer Jackson.
"Highly implausible, vastly over plotted, coincidence-ridden tale of failed inventor Milton Higby (John Beal), who wins a stack of money at the races, goes on the lam as a hobo after a girl is murdered while he drunkenly slumbers, takes on the identity of another hobo whose dead body he finds, is taken in as a long-lost son by the dead hobo's wealthy father, John Ballin (Charles Trowbridge), becomes a
successful
inventor, is tracked down and accused of murdering both the dead girl and dead hobo… All this and more in 67 minutes!" -
John Grant (A Comprehensive Encyclopedia of Film Noir)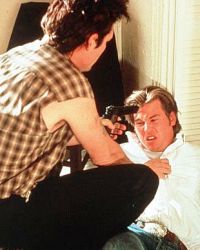 ●
NEO-NOIR / COLOUR NOIR
1989, USA, 94m, Col, Thriller-Crime
Screenplay
David W. Warfield, John Dahl
Producers
David W. Warfield, Sigurjon Sighvatsson, Steve Golin
Photography
Jacques Steyn
Editors
Eric L. Beason, Frank Jimenez, Jonathan Shaw
Music
William Olvis
Cast
Val Kilmer, Joanne Whalley-Kilmer, Michael Madsen, Jon Gries, Pat Mulligan, Nick Dimitri, Michael Greene, Bibi Besch, Jim Boeke, Carroll Lewis.
"Derived from assorted
Hitchcocks
and noir classics, the tortuous storyline of writer-director Dahl's determinedly sordid thriller has its moments, but the whole thing is fatally scuppered by the Kilmer pairing. Joanne is trying far too hard and looks like it, while Val, whose pudgy baby-face makes nonsense of his world-weary, tough-guy posturing, alternates between two expressions: troubled (unsmiling) and beguiled (faintly smiling). Setting its study of betrayal and deceit in and around the gambling towns of the Nevada desert, the film sporadically achieves a truly seedy atmosphere, but there are too many symbols, too many loose ends, and too many vaguely sensationalist scenes." -
Geoff Andrew (Time Out)
●
NEO-NOIR / COLOUR NOIR
1976, USA, 99m, Col, Crime-Police Drama
Screenplay
Edward Mann, Robert Chamblee (based on the novel by Jim Thompson)
Producer
Michael W. Leighton
Photography
William A. Fraker
Editors
Aaron Stell, Danford B. Greene
Music
John Rubinstein, Tim McIntire
Cast
Stacy Keach, Susan Tyrrell, Tisha Sterling, Keenan Wynn, Don Stroud, Charles McGraw, John Dehner, Pepe Serna, John Carradine, Royal Dano.
"Not even the offices of the excellent Burt Kennedy can save this hopelessly stodgy and psychologising story about a self-consciously good cop (Keach) who finds a traumatic childhood experience catching up on him. Kennedy none the less does ensure that the film is crammed with enough pleasing incidental detail to make it watchable. Don Stroud lopes through the part of a naive and ape-ish slob with evident enjoyment; now perhaps if he and Keach had swapped roles... The pity of it is that the script by Edward Mann and Robert Chamblee wrecks a very good novel by Jim Thompson." -
Verina Glaessner (Time Out)
1956, USA, 73m, BW, Crime-Drama-Police Detective Film
Screenplay Harold Medford (from the story by John Hawkins & Ward Hawkins, published in the Saturday Evening Post) Producer Robert L. Jacks Photography Lucien Ballard Editor George Gittens Music Lionel Newman Cast Joseph Cotten, Rhonda Fleming, Wendell Corey, Alan Hale Jr., Michael Pate, John Larch, Dee J. Thompson, John Beradino, Virginia Christine, Paul Bryar.
"I agree with Sheri Chinen Biesen, the author of
Blackout: World War II and the Origins of Film Noir
, that the genre was launched during the war and reflects the traumas that it immediately inflicted on American society. Those traumas reached deep and lasted long, and Budd Boetticher's 1956 film noir,
The Killer Is Loose
, is fuelled by them. The coldly fragmented bank-robbery scene that sets the plot in motion offers an odd aside of a veterans' reunion, and the memories and scars of war crop up decisively throughout the movie. But Boetticher saw violence everywhere and was sensitive to its ambient horrors, even when unleashed with principle. This movie, with its focus on crime and punishment—and on the private lives of police officers and criminals alike—redefines the very idea of the war at home." -
Richard Brody (The New Yorker)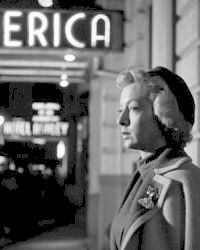 The Killer That Stalked New York
1950, USA, 79m, BW, Crime-Drama-Thriller
Screenplay Harry Essex (from a Cosmopolitan magazine article Smallpox: The Killer That Stalked New York by Milton Lehman) Producer Robert Cohn Photography Joseph Biroc Editor Jerome Thoms Music Hans J. Salter Cast Evelyn Keyes, Charles Korvin, William Bishop, Dorothy Malone, Lola Albright, Barry Kelley, Carl Benton Reid, Ludwig Donath, Art Smith, Whit Bissell.
"Think of the teeming hub of humanity that is New York City and then imagine a person with a highly contagious and deadly disease wandering among the masses, spreading death and panic. Based on an actual case in 1946 - a smallpox scare in which millions of New Yorkers received free vaccinations -
The Killer That Stalked New York
is a fictionalized dramatization of that incident…
The Killer That Stalked New York
, directed by Earl McEvoy, is a highly atmospheric and taut little film noir that benefits greatly from the documentary-like approach that cinematographer Joseph Biroc brings to the film, utilizing real New York City locations." -
Jeff Stafford (Turner Classic Movies)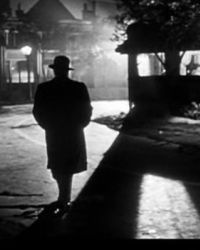 The Killers


1946, USA, 105m, BW, Crime-Drama
Screenplay Anthony Veiller, Richard Brooks, John Huston (based on the short story by Ernest Hemingway) Producer Mark Hellinger Photography Elwood Bredell Editor Arthur Hilton Music Miklos Rozsa Cast Edmond O'Brien, Ava Gardner, Burt Lancaster, Albert Dekker, Sam Levene, Virginia Christine, Charles McGraw, William Conrad, John Miljan, Vince Barnett.
"
The Killers
was made in 1946, the year French critic Nino Frank coined the term film noir. It's a classic by a supreme exponent of that genre, German emigre Robert Siodmak. It was adapted by Anthony Veiller (a frequent collaborator of
John Huston's
) from a Hemingway short story in which the novelist's alter ego, Nick Adams, is present at a Midwestern diner when two hitmen come to murder a down-and-out ex-boxer known as 'the Swede'...
The Killers
introduced Burt Lancaster to the screen as the Swede and made him a star, as it did the then little-known Ava Gardner who smoulders like Mount Etna... The movie's influence has extended over 60 years to take in
Cronenberg's
homage,
A History of Violence
." -
Philip French (The Guardian)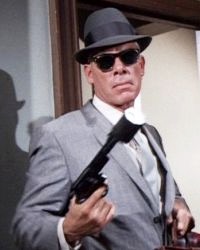 The Killers

●
LATE NOIR (1960s) / COLOUR NOIR
1964, USA, 95m, Col, Drama-Crime-Thriller
Screenplay
Gene L. Coon (based on the short story by Ernest Hemingway)
Producer
Don Siegel
Photography
Richard L. Rawlings
Editor
Richard Belding
Music
John Williams
Cast
Lee Marvin, Angie Dickinson,
John Cassavete
s, Ronald Reagan, Clu Gulager, Claude Akins, Norman Fell, Virginia Christine, Don Haggerty, Robert Phillips.
"The second film version of Ernest Hemingway's short story, directed by Don Siegel with far more energy than
Robert Siodmak
could muster for his overrated 1946 effort. Siegel turns the story inside out, taking the point of view of Hemingway's two faceless hit men and following their attempt to find out why one of their victims refused to run. It was planned as one of the first made-for-TV movies, but Siegel, with the perversity of a true auteur, went ahead and shot it in 'Scope anyway. Thankfully, Universal decided it was too violent and released it to theaters." -
Dave Kehr (Chicago Reader)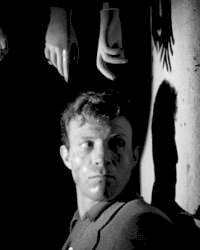 Killer's Kiss

1955, USA, 67m, BW, Thriller-Crime
Screenplay Stanley Kubrick, Howard Sackler [uncredited] Producer Stanley Kubrick, Morris Bousel Photography Stanley Kubrick Editor Stanley Kubrick Music Gerald Fried Cast Frank Silvera, Jamie Smith, Irene Kane, Jerry Jarret, Julius Adelman, Mike Dana, Felice Orlandi, Ralph Roberts, Alec Rubin, Phil Stevenson.
"Produced on a shoestring budget of $75,000,
Killer's Kiss
was Stanley Kubrick's second feature but the first one to demonstrate his emerging style and technical virtuosity as a filmmaker. Although the plot is straight out of a pulp fiction novel - a second-rate boxer rescues a dancer from a lecherous nightclub owner with underworld connections - Kubrick cleverly exploits the film noir aspects of the material through his evocative cinematography; flophouses, cheap restaurants, penny arcades, and other now vanished remnants of the Broadway section around Times Square serve as a seedy backdrop to the story. The film is also distinguished by Kubrick's use of flashbacks, nightmare sequences shot on negative film stock, and dynamic editing techniques such as the scene where he cuts back and forth between a boxing match and an attempted rape." -
Jeff Stafford (Turner Classic Movies)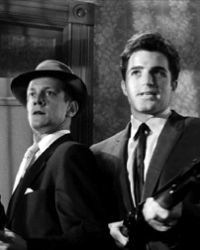 The Killing


1956, USA, 85m, BW, Crime-Thriller-Gangster Film
Screenplay Stanley Kubrick, Jim Thompson (from the novel The Clean Break by Lionel White) Producer James B. Harris Photography Lucien Ballard Editor Betty Steinberg Music Gerald Fried Cast Sterling Hayden, Coleen Gray, Vince Edwards, Jay C. Flippen, Marie Windsor, Elisha Cook Jr., Ted De Corsia, Timothy Carey, Joseph Sawyer, Jay Adler.
"Based on a novel by Lionel White,
The Killing
is at base a fairly straightforward accounting of a racetrack robbery engineered by a group of small-time crooks. There's nothing straightforward, however, about Kubrick's style. The sense of cool remove, obsession with technical detail, and unblinking regard toward violence that would make such Kubrick classics as
The Shining
,
Barry Lyndon
, and
Full Metal Jacket
is everywhere apparent in this tight, sleek action film highlighted by an array of sharp character performers and the polished sheen of Lucien Ballard's high contrast cinematography." -
David Ehrenstein (The Criterion Collection)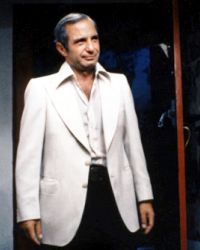 The Killing of a Chinese Bookie
●
NEO-NOIR / COLOUR NOIR
1976, USA, 109m, Col, Drama-Crime
Screenplay
John Cassavetes
Producer
Al Ruban
Photography
Frederick Elmes, Michael Ferris, Mitchell Breit
Editor
Tom Cornwall
Music
Bo Harwood
Cast
Ben Gazzara, Timothy Carey, Seymour Cassel, Azizi Johari, Meade Roberts, Alice Fredlund, Virginia Carrington, Soto Joe Hugh, Robert Phillips, Morgan Woodward.
"John Cassavetes's first crime thriller, a postnoir masterpiece, failed miserably at the box office when first released in 1976… A personal, deeply felt character study rather than a routine action picture, it follows Cosmo Vitelli (Ben Gazzara), the charismatic owner of an LA strip joint—simultaneously an asshole and a saint—who recklessly gambles his way into debt and has to bump off a Chinese bookie to settle his accounts. In many respects the film serves as a personal testament; what makes the tragicomic character of Cosmo so moving is its alter-ego relation to the filmmaker—the proud impresario and father figure of a tattered showbiz collective (read Cassavetes's actors and filmmaking crew) who must compromise his ethics to keep his little family afloat (read Cassavetes's career as a Hollywood actor)." -
Jonathan Rosenbaum (Chicago Reader)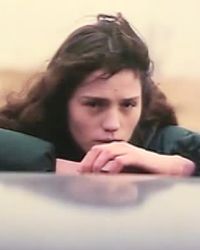 ●
NEO-NOIR / COLOUR NOIR
1989, USA, 91m, Col, Drama-Crime
Screenplay
Maggie Greenwald (based on the novel by Jim Thompson)
Producer
Lydia Dean Pilcher
Photography
Declan Quinn
Editor
James Y. Kwei
Music
Evan Lurie
Cast
Loretta Gross, Andrew Lee Barrett, Jackson Sims, Steve Monroe, Cathy Haase, William Russell, Jorja Fox, Sean O'Sullivan, Ellen Kelly, Ralph Graff.
"For her second feature, an adaptation of Jim Thompson's novel, Greenwald almost gets it perfect. As she charts the sordid lives of various no-hopers struggling to make it in a seedy, wintry East Coast resort, she revels in the laconic dialogue, vicious motivations and downbeat mood beloved by Thompson fans… Loretta Gross, memorably nasty as the twisted invalid, is backed up by equally efficient unknowns, while Declan Quinn's camerawork creates a vivid atmosphere of claustrophobic despair. As a thriller, however, the movie is short of real suspense: comparison with
Blood Simple
highlights Greenwald's slow pace, while
Le Corbeau
,
Clouzot's
misanthropic masterpiece of 1943, provides far more psychological complexity, moral rigour and nail-biting tension in its corrosive examination of paranoid corruption." -
Geoff Andrew (Time Out)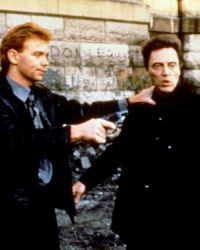 ●
NEO-NOIR / COLOUR NOIR
1990, USA, 103m, Col, Crime-Thriller-Gangster Film
Screenplay
Nicholas St. John
Producer
Mary Kane
Photography
Bojan Bazelli
Editor
Anthony Redman
Music
Joe Delia
Cast
Christopher Walken, David Caruso, Laurence Fishburne, Victor Argo, Wesley Snipes, Janet Julian, Joey Chin, Giancarlo Esposito,
Steve Buscemi
, Theresa Randle.
"This 1990 movie hasn't aged well, perhaps because director Abel Ferrara relied too heavily on the canned irony at the heart of Nicholas St. John's script about a rising drug king who's also a philanthropist. Expressive montages of New York City make for some of the strongest moments, and the high-style action set pieces helped define a standard that's since been debased by empty emulation. But the themes about the many hypocrisies of the war on drugs are spelled out almost too efficiently… Still, the imposing performances in this chess game between pointedly black and white criminals (Christopher Walken, Laurence Fishburne) and police detectives (Victor Argo, Wesley Snipes, David Caruso) are as impressive as ever." -
Lisa Alspector (Chicago Reader)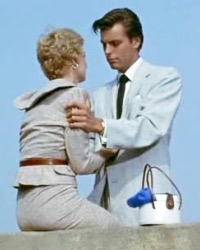 A Kiss Before Dying

●
COLOUR NOIR
1956, USA, 94m, Col, Mystery-Thriller
Screenplay
Lawrence Roman (based on the novel by Ira Levin)
Producer
Robert L. Jacks
Photography
Lucien Ballard
Editor
George Gittens
Music
Lionel Newman
Cast
Robert Wagner, Jeffrey Hunter, Joanne Woodward, Virginia Leith, Mary Astor, George Macready, Robert Quarry, Howard Petrie, Bill Walker, Mollie McCart.
"Based on the first novel by an as-yet unheralded Ira Levin,
A Kiss Before Dying
is pure potboiler: college student Bud (Robert Wagner), upon discovering that his girlfriend, Dory (Joanne Woodward), is pregnant out of wedlock, plots to kill her… There's little, narratively speaking, to suggest a work of weight and nuance, and yet Oswald accomplishes it, crafting a visually complex film… Suffice it to say I am unreasonably, inescapably smitten with Gerd Oswald's
A Kiss Before Dying
, but then again, I am also particularly drawn to films that proudly trumpet their own alterity. It is one of those rare films that is able to overcome the organizational or studio fetters that seem destined to bog so many films down in the mires of B-grade obscurity, and demonstrate genuine intelligence" -
James Crawford (Reverse Shot)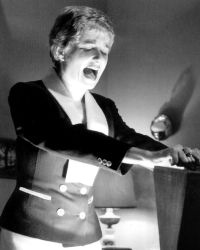 Kiss Me Deadly


1955, USA, 106m, BW, Crime-Thriller-Detective Film
Screenplay A.I. Bezzerides (from the novel by Mickey Spillane) Producer Robert Aldrich Photography Ernest Laszlo Editor Michael Luciano Music Frank De Vol Cast Ralph Meeker, Albert Dekker, Maxine Cooper, Paul Stewart, Gaby Rodgers, Cloris Leachman, Jack Lambert, Wesley Addy, Nick Dennis, Marian Carr.
"Talk about the tension between a director and his material - which was one of the critical cornerstones of the French New Wave's reassessment of American movies - and they were the first to point out this frisson in the work of iconoclastic director-producer Robert Aldrich; perhaps most noticeably in his aggressive independent film, the dark and dangerous 1955 thriller,
Kiss Me Deadly
. Aldrich hated detective-fiction writer Mickey Spillane's novels so much that he took one of the author's most popular and typical Mike Hammer private-eye stories and transformed it into not only the best picture ever made from Spillane (which isn't saying much) but a savagely angry film noir classic of annihilating dimension - literally: At the end, everybody, including Hammer, gets blown away in a dusk-lit Malibu beach house by no less than a nuclear blast. What then happened to L.A. is left to the imagination." -
Peter Bogdanovich (Blogdanovich)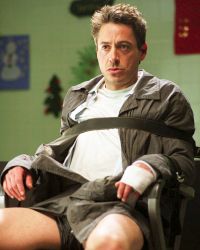 ●
NEO-NOIR / COLOUR NOIR
2005, USA, 103m, Col, Action-Comedy-Crime
Screenplay
Shane Black (based on the novel
Bodies Are Where You Find Them
by Brett Halliday)
Producer
Joel Silver
Photography
Michael Barrett
Editor
Jim Page
Music
John Ottman
Cast
Robert Downey Jr., Val Kilmer, Michelle Monaghan, Corbin Bernsen, Dash Mihok, Larry Miller, Rockmund Dunbar, Shannyn Sossamon, Angela Lindvall, Indio Falconer Downey.
"In his lively debut as a director, screenwriter Shane Black creates a movie that is defiantly smartass and too cool for the room. I couldn't have liked it more. Black was regularly bashed for making too much money churning out escapism, from
Lethal Weapon
to
The Last Boy Scout
and
The Long Kiss Goodnight
. But watching him use
Kiss Kiss, Bang Bang
to turn the action-thriller genre on its empty head provides a special kind of pleasure. Even when the movie jumps the tracks, it's outrageous, off-the-wall fun. Robert Downey Jr., at his playfully snarky best, narrates the film as Harry Lockhart, a petty thief from New York who evades the cops by hiding out at an acting audition." -
Peter Travers (Rolling Stone)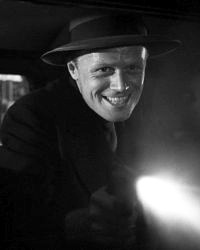 Kiss of Death


1947, USA, 98m, BW, Drama-Crime-Thriller
Screenplay Ben Hecht, Charles Lederer (from an unpublished story by Eleazar Lipsky) Producer Fred Kohlmar Photography Norbert Brodine Editor J. Watson Webb Music David Buttolph Cast Victor Mature, Brian Donlevy, Richard Widmark, Coleen Gray, Karl Malden, Taylor Holmes, Mildred Dunnock, Millard Mitchell, Howard Smith, Anthony Ross.
"Late '40s Fox saw several attempts to conceal the split in the gangster film between noir expressionism and 'procedural' authenticity, but few as bizarre as this. Mature is the stool-pigeon torn apart by two kinds of family loyalty: the Mob and the Missus. Widmark debuts as a psycho hood with an unforgettable chuckle and a nice line in helping wheelchair-ridden old ladies down stairs. Of its period, of course, but extraordinarily modern too: nighttime New York peopled only by daylight's misfits (à la
The Warriors
); and when Mature's wife kills herself, a neighbour happily takes her place." -
Paul Kerr (Time Out)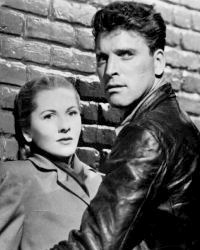 Kiss the Blood Off My Hands
1948, USA, 80m, BW, Crime-Drama
Screenplay Leonardo Bercovici (with additional dialogue by Hugh Gray, adapted by Ben Maddow and Walter Bernstein from the novel by Gerald Butler) Producer Richard Vernon Photography Russell Metty Editor Milton Carruth Music Miklos Rozsa Cast Joan Fontaine, Burt Lancaster, Robert Newton, Lewis L. Russell, Aminta Dyne, Grizelda Harvey, Jay Novello, Colin Keith-Johnston, Reginald Sheffield, Campbell Copelin.
"Lancaster stars as an ex-serviceman who kills the bartender of a London pub one night and escapes into the foggy, bombed-out remains of the city. With the cops in pursuit, he climbs into the window of the apartment of a young nurse played by Joan Fontaine. The mechanics of the plot grind a little as they maneuver Lancaster and Fontaine into a romance, but once the story is set up, things run smoothly... Foster and his team brought a rich visual style to
Kiss the Blood Off My Hands
. Shot by veteran cinematographer Russell Metty, the look of the film recalls Joseph August's work on
John Ford's
The Informer
without simply repeating it. Metty blends sharp blacks and whites with mysterious foggy backgrounds, and he's helped mightily by the fine set design of Bernard Herzbrun and Nathan Juran." -
Jake Hinkson (Bright Lights Film Journal)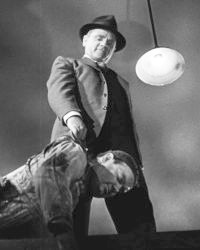 Kiss Tomorrow Goodbye

1950, USA, 102m, BW, Crime-Gangster Film-Thriller
Screenplay Harry Brown (from the novel by Horace McCoy) Producer William Cagney Photography Peverell Marley Editors Truman K. Wood, Walter Hannemann Music Carmen Dragon Cast James Cagney, Barbara Payton, Luther Adler, Helena Carter, Ward Bond, Barton MacLane, Steve Brodie, Neville Brand, Rhys Williams, Herbert Heyes.
"Excellent gangster thriller based on Horace McCoy's novel about an escaped con first ruthlessly betraying his partner, and then planning an ambitious robbery. Strong performances from a great cast and Douglas' taut, classical direction place it among the best of the post-war gangster movies, but it is of course Cagney who is most memorable: strutting, snarling, and lashing out in almost psychopathic anger at all around him, his immense energy conveys the spirit of callous violence far more effectively than the explicit acts perpetrated in later movies." -
Geoff Andrew (Time Out)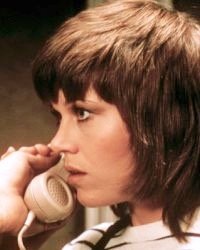 Klute

●
NEO-NOIR / COLOUR NOIR
1971, USA, 114m, Col, Crime-Mystery-Thriller
Screenplay
Andy Lewis, Dave Lewis
Producers
Alan J. Pakula, David Lang
Photography
Gordon Willis
Editor
Carl Lerner
Music
Michael Small
Cast
Jane Fonda, Donald Sutherland, Charles Cioffi, Roy Scheider, Dorothy Tristan, Rita Gam, Richard B. Shull, Vivian Nathan, Nathan George, Morris Strassberg.
"Fonda's Oscar-winning performance as New York call-girl Bree Daniels is the real focus of Pakula's thriller, rather than Sutherland's Klute, the private eye whose increasingly obsessional 'protection' she reluctantly receives when menaced by a former client. Though it's obviously valid to follow the line that
Klute
, with its abstracted updates of private eye and urban noir conventions, initiated Pakula's string of paranoid thrillers (
The Parallax View
,
All the President's Men
), it's just as fruitful to see it as belonging to a trio of features (with
Comes a Horseman
and
Rollover
), each starring Fonda, that hinge on the contradictions of autonomy and emotional commitment facing would-be independent women… For once, a genuinely psychological thriller." -
Paul Taylor (Time Out)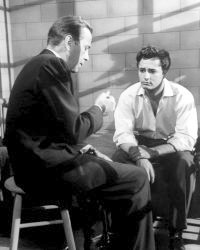 1949, USA, 100m, BW, Crime-Social Problem Film-Courtroom Drama
Screenplay Daniel Taradash, John Monks Jr. (from the novel by Willard Motley) Producer Robert Lord Photography Burnett Guffey Editor Viola Lawrence Music George Antheil Cast Humphrey Bogart, John Derek, George Macready, Allene Roberts, Susan Perry, Mickey Knox, Barry Kelley, Dooley Wilson, Cara Williams, Jimmy Conlin.
"Nick Romano must be the ideal name for a flawed Ray hero-victim. As embodied to vulnerable, narcissistic perfection by John Derek (long before he took up with Bo), he's the centre of a fascinating, slightly askew mix of social document and romantic agony. The basic material may be determinist melodrama - slum boy with deck stacked against him winds up on Death Row despite the efforts of a liberal lawyer (Bogart, whose Santana company made the film). But it's hard hitting in its own right, tautly crafted, and repeatedly stabbed through with Ray's impulsive generosity and anguish towards his characters." -
Tim Pulleine (Time Out)

The 100 Most Cited Noir Films

Recommended Viewing (by
TSPDT
)