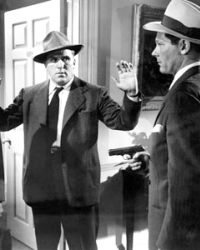 Race Street

1948, USA, 79m, BW, Crime-Drama-Mystery
Screenplay Martin Rackin (based on a story by Maurice Davis) Producer Nat Holt Photography J. Roy Hunt Editor Samuel E. Beetley Music Roy Webb Cast George Raft, William Bendix, Marilyn Maxwell, Frank Faylen, Harry Morgan, Gale Robbins, Cully Richards, Mack Gray, Russell Hicks, Tom Keene.
"Director Edwin L. Marin and actor George Raft collaborated on a number of crime dramas starting with
Johnny Angel
and
Nocturne
for RKO…
Race Street
is a routine crime drama - George Raft plays a high-stakes bookie and a club owner Dan Gannin, William Bendix is his old friend and a police detective Barney Runson, Harry Morgan is his other friend Hal Towers who gets killed by a syndicate for Dan to swear vengeance. Marilyn Maxwell plays Dan's love interest and Gale Robbins plays his sister and sings a few songs. There is some impressive camera work, including the first song number with Gale Robbins floating over the club and the Hal's murder sequence, and noir atmosphere holds up till the very end." -
Gregory Meshman (DVD Beaver)
1951, USA, 88m, BW, Crime-Police Drama
Screenplay W.R. Burnett, William Wister Haines (based on the play by Bartlett Cormack) Producer Edmund Grainger Photography George E. Diskant Editor Sherman Todd Music Constantin Bakaleinikoff Cast Robert Ryan, Robert Mitchum, Lizabeth Scott, William Talman, Ray Collins, Joyce MacKenzie, Robert Hutton, Virginia Huston, William Conrad, Walter Sande.
"The omens were good. Howard Hughes had produced the silent version of
The Racket
that sparked Hollywood's gangster cycle. John Cromwell had won his first movie chance with his performance in a Broadway revival of the original play. Mitchum plus Ryan looked a fail-safe powerhouse confrontation. But... Hughes' RKO was slowly running down; Cromwell was under greylist pressure from HUAC; and Mitchum got himself cast as a cop - representing goddam Society, no less! Softer than it should have been, then, but still dark enough to lose yourself in." -
Paul Taylor (Time Out)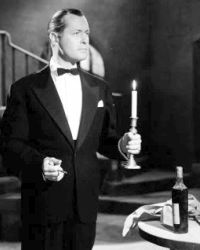 1941, USA, 85m, BW, Marriage Drama-Thriller
Screenplay Christopher Isherwood, Robert Thoeren (based on the novel The Dawn of Reckoning by James Hilton) Producer Gottfried Reinhardt Photography Oliver T. Marsh Editor Harold F. Kress Music Bronislau Kaper Cast Robert Montgomery, Ingrid Bergman, George Sanders, Lucile Watson, Oscar Homolka, Philip Merivale, Matthew Boulton, Aubrey Mather, Frederic Worlock, Francis Compton.
"Co-scripted by Christopher Isherwood from a novel by James Hilton, but still boasting a plot as murkily unconvincing as the English setting. Montgomery, blandly repeating his
Night Must Fall
characterisation (though further up the social scale), is a wealthy scion who goes all funny at full moon, marries his mama's companion (Bergman in her third Hollywood movie), and conceives a dotty revenge plot when he thinks he has grounds for jealousy. Even a strong cast can't make much headway on such soggy ground." -
Tom Milne (Time Out)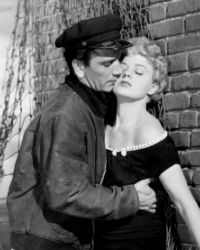 1951, USA, 93m, BW, Crime-Drama
Screenplay Ernest K. Gann (based on the novel Fiddler's Green by Ernest K. Gann) Producer Aaron Rosenberg Photography Russell Metty Editor Ted J. Kent Music Frank Skinner Cast Shelley Winters, Richard Conte, Stephen McNally, Charles Bickford, Alex Nicol, John McIntire, Tito Vuolo, Chubby Johnson, Minerva Urecal, Irvin Berwick.
"Director George Sherman, a journeyman who had made a string of b-Westerns over a long Hollywood career and a b-noir,
The Sleeping City
, the year before, maintains visual interest with solid direction. Aided by his DP, the great Russell Metty, Sherman fashions two truly inspired scenes. The opening noir sequence and the climax aboard the fishing trawler in a savage storm out on the Pacific. As we are in noir territory, redemption costs, and while there are melodramatic trappings to the scenario, the sincerity of the venture elevates the movie to something greater than the sum of its parts… There are faults to be sure. Plot holes and longuers which focus on peripheral characters, and some corny humor, but they all go with the territory." -
Tony D'Ambra (FilmsNoir.net)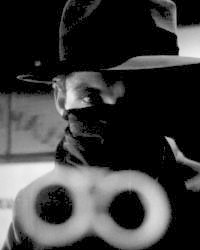 Railroaded!

1947, USA, 71m, BW, Crime-Drama-Thriller
Screenplay John C. Higgins (from a story by Gertrude Walker) Producer Charles Reisner Photography Guy Roe Editor Louis Sackin Music Alvin Levin Cast John Ireland, Sheila Ryan, Hugh Beaumont, Jane Randolph, Ed Kelly, Charles D. Brown, Clancy Cooper, Peggy Converse, Hermine Sterler, Keefe Brasselle.
"This super-low-budget thriller by Anthony Mann was the last production of the Producers Releasing Corporation, the poverty-row studio that provided a home (of sorts) to
Edgar G. Ulmer
and several other bargain-basement auteurs. It's nice to know that PRC went out on an appropriately weird note: Mann's film, about a young woman who hires a private detective (Hugh Beaumont of
Leave It to Beaver
fame) to clear her brother of a phony robbery charge, combines extreme violence with an attenuated, self-conscious humor that could only have been lost on the grind-house audiences the film was intended for. Mann went on to some truly distinguished work in the 50s—centrally, his westerns with James Stewart—but all of Mann's early films display an infectious enthusiasm for the medium." -
Dave Kehr (Chicago Reader)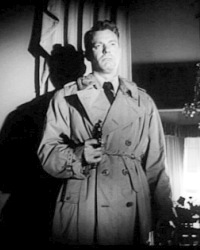 Raw Deal


1948, USA, 79m, BW, Drama-Crime-Thriller
Screenplay Leopold Atlas, John C. Higgins (from a story by Arnold B. Armstrong and Audrey Ashley) Producer Edward Small Photography John Alton Editor Alfredo Gaetano Music Paul Sawtell Cast Dennis O'Keefe, Claire Trevor, Marsha Hunt, John Ireland, Raymond Burr, Curt Conway, Chili Williams, Regis Toomey, Whit Bissell, Cliff Clark.
"One of the great films noirs, directed by Anthony Mann in the first full flush of his creativity. Dennis O'Keefe stars as a small-time hood who breaks out of jail to get revenge on his double-crossing boss (a chuckling pyromaniac played by Raymond Burr). O'Keefe's floozy girlfriend Claire Trevor sacrifices everything to help him and his scheme, only to be thrown over when he meets nice girl Marsha Hunt. The violence, both physical and emotional, is still shocking, while Mann's tortured, gothic visual style throws up a world perfectly in its image." -
Dave Kehr (Chicago Reader)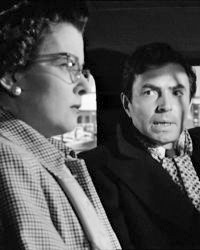 The Reckless Moment


1949, USA, 82m, BW, Drama-Crime
Screenplay Henry Garson, Robert W. Soderberg (adapted by Mel Dinelli and Robert E. Kent from the story The Blank Wall by Elisabeth Sanxay Holding) Producer Walter Wanger Photography Burnett Guffey Editor Gene Havlick Music Hans J. Salter Cast James Mason, Joan Bennett, Geraldine Brooks, Henry O'Neill, Shepperd Strudwick, David Blair, Roy Roberts, Jessie Arnold, Jack Baker, Pat Barton.
"Just as some critics favor
Lang's
midcentury American noirs over his famous German silent masterpieces, I prefer Ophuls' moment-in-the-sun Hollywood output, particularly his twin femme-noir home-runs of 1949,
Caught
and
The Reckless Moment
. The latter of the two may be, in fact, one of its decade's greatest forgotten movies, a stock melodramatic programmer (adapted from a
Ladies Home Journal
story, yet) that is reconceived and crafted with such deftness and attention to emotional detail that it shutters scores of contemporaneous noirs and dramas out of the memory. This was not how studio product was mass-manufactured in the immediate postwar years - here we see Ophuls, almost as far from his native element as he could be, find depths in the abyss of the American family virtually no filmmaker had before." -
Michael Atkinson (Turner Classic Movies)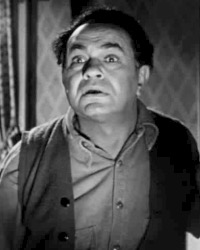 1947, USA, 100m, BW, Thriller / Mystery-Thriller-Melodrama
Screenplay Delmer Daves, Albert Maltz [uncredited] (based on a novel by George Agnew Chamberlain) Producer Sol Lesser Photography Bert Glennon Editor Merrill White Music Miklos Rozsa Cast Edward G. Robinson, Lon McCallister, Allene Roberts, Judith Anderson, Julie London, Rory Calhoun, Ona Munson, Harry Shannon, Arthur Space, Walter Sande.
"If you go down to the woods today, you're bound for a big surprise: you won't find a picnic, however, but necrophilia, madness, incestuous longings, tyrannical possessiveness, and murder. Impossible to give an effective synopsis of the incredibly heavy plotting; but basically, when one-legged farmer Robinson's adopted daughter brings home a potential boyfriend, all manner of mysteries, scandals and sinister goings-on are let loose... Warped relationships are the norm in his weird but hardly wonderful world, and indeed even the film itself boasts a perverse pedigree: it's a pastoral, noir-inflected psychodrama with supernatural overtones, dealing chiefly with the thin line between healthy and sick sexuality. All very Freudian, in fact, and often very frightening, with Robinson in superb form as the patriarch tormented by his past." -
Geoff Andrew (Time Out)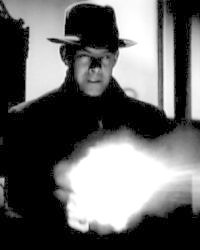 1949, USA, 83m, BW, Crime-Drama
Screenplay George Callahan (from a story by Donald Barry) Producer Roy Del Ruth Photography Bert Glennon Editor Richard Heermance Music Dimitri Tiomkin Cast George Raft, Virginia Mayo, Gene Lockhart, Raymond Burr, Harry Morgan, Barton MacLane, Arthur Franz, Ken Murray, Stanley Clements, William Frawley.
"George Raft, playing a trucking company owner named Johnny Torno, spends the movie trying to track down a bible that was taken from the hotel room where his brother Jess (Arthur Franz), a former army chaplain, was murdered…
Red Light
contains some brutal scenes of violence, including a tour de force suspense sequence in a freight yard at night, in which a character is stalked and killed in a most memorable way…
Red Light
is beautifully shot and scored by Bert Glennon and Dmitri Tiomkin respectively. It maintains a dark, gloomy atmosphere throughout, mixing gritty location shooting and high-contrast interiors for a satisfying "noir" look and feel. It's hardly among the best noirs, but is certainly worthwhile." -
Jeremy Arnold (Turner Classic Movies)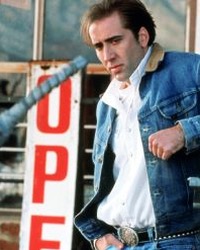 Red Rock West

●
NEO-NOIR / COLOUR NOIR
1993, USA, 98m, Col, Crime-Thriller
Screenplay
John Dahl, Rick Dahl
Producer
Sigurjon Sighvatsson, Steve Golin
Photography
Mark Reshovsky
Editor
Scott Chestnut
Music
William Olvis
Cast
Nicolas Cage, J.T. Walsh, Lara Flynn Boyle,
Dennis Hopper
, Craig Reay, Timothy Carhart, Dan Shor, Dwight Yoakam, Bobby Joe McFadden, Vance Johnson.
"Notwithstanding its cop-out upbeat ending,
Red Rock West
solidified the expert neo-noir credentials of John Dahl (
The Last Seduction
). A taut, nasty bit of crime-genre business, Dahl's tale (co-written with brother Rick) is in most respects archetypal: After failing to find oil-rig work due to an injury, former marine-turned-drifter Michael Williams (Nicolas Cage) stumbles into a remote Wyoming bar and is promptly mistaken by the owner, Wayne Brown (the late, great J.T. Walsh), for the assassin he's hired to kill his wife, Suzanne (Lara Flynn Boyle)… Blue-sky sunshine casts a harsh, judgmental light on the action at hand—and on its protagonist, embodied by Cage with a weirdo ruggedness that's tinged with weary resignation regarding the messy course he's charted for himself." -
Nick Schager (A.V. Club)
Reign of Terror

The Black Book (alternative title)

●
COSTUME NOIR
1949, USA, 89m, BW, Historical Film-Drama-Costume Adventure
Screenplay
Aeneas MacKenzie, Philip Yordan
Producer
William Cameron Menzies
Photography
John Alton
Editor
Fred Allen
Music
Sol Kaplan
Cast
Robert Cummings, Arlene Dahl, Richard Basehart, Richard Hart, Arnold Moss, Norman Lloyd, Charles McGraw, Beulah Bondi, Jess Barker, Ray Bennett.
"With shadowy corners, unsettling camera angles, rampant corruption and an icy femme fatale this neglected classic belies its historical setting to emerge as a kind of French Revolution noir. The source of its visual interest is the teamwork of two film noir masters, director Anthony Mann and cinematographer John Alton, in the third of their five films together. They had previously collaborated on the classic suspense films
T-Men
(1947) and
Raw Deal
(1948), so turning 18th-century Paris into a collection of mean streets came naturally to them. Some of the dark shadows were a matter of necessity. Producer Walter Wanger only allocated a small budget to this fictionalized tale of a heroic Frenchman, Charles D'Aubigny (Cummings), working with former love Arlene Dahl to end Robespierre's (Basehart) dreams of dictatorship." -
TCM Classic Film Festival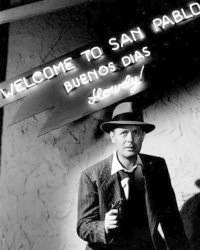 1947, USA, 101m, BW, Crime-Drama-Mystery
Screenplay Ben Hecht, Charles Lederer (from the novel by Dorothy B. Hughes) Producer Joan Harrison Photography Russell Metty Editor Ralph Dawson Music Frank Skinner Cast Robert Montgomery, Wanda Hendrix, Thomas Gomez, Andrea King, Fred Clark, Art Smith, Richard Gaines, Rita Conde, Iris Flores, Grandon Rhodes.
"The oddly titled
Ride the Pink Horse
is one of the odder, but more intriguing, entries in the film noirs of the 1940s. The screenplay is overly convoluted and will lose some viewers, but its intricacy seems to derive from some greater purpose than to just keep the audience on its toes; it unsettles viewers even as it challenges them. Director Robert Montgomery and scenarists Ben Hecht, Charles Lederer, and Joan Harrison are creating a psychological mood piece, murky at times, but intentionally so...
Horse
has its flaws, but it's a powerful, provocative film that rewards repeated viewings." -
Craig Butler (Allmovie)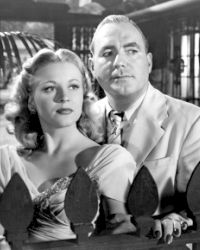 1947, USA, 80m, BW, Adventure-Comedy-Melodrama
Screenplay Martin Rackin Producer Nat Holt Photography George E. Diskant Editor Philip Martin Music Joan Whitney, Roy Webb Cast Pat O'Brien, Anne Jeffreys, Walter Slezak, Percy Kilbride, Jerome Cowan, George Givot, Jason Robards Sr., Marc Krah, William Alland, Ernest Anderson.
"
Riff-Raff
is a routine RKO comedy-adventure movie that has a certain flair with snappy dialog and an engaging cast. It would be a stretch to call it a noir, but the opening sequence is so visually noir and accomplished that it should not be missed. The movie opens at an isolated air-strip late at night in pouring run, as a plane waits for a passenger who finally arrives late. This sequence running for 5 minutes is totally without dialog, and brilliantly establishes a mood of dark mystery. The kudos must go to DP George Diskant and first-time director Ted Tetzlaff, who formerly had a long career as a cinematographer starting in the silent era." -
Tony D'Ambra (FilmsNoir.net)
Du rififi chez les hommes (original title)

●
FRENCH NOIR
1955, France, 115m, BW, Crime-Thriller-Caper
Screenplay
Auguste Le Breton, Jules Dassin, René Wheeler (from the novel by Auguste Le Breton)
Producers
René Bezard, Henri Bérard, Pierre Cabaud
Photography
Philippe Agostini
Editor
Roger Dwyre
Music
Georges Auric
Cast
Jean Servais, Carl Möhner, Robert Manuel, Jules Dassin, Marie Sabouret, Janine Darcey, Claude Sylvain, Pierre Grasset, Robert Hossein, Magali Noël.
"Jules Dassin's fatalistic caper flick, shot on the cheap on the streets of Paris in 1954, was the international success of 1955–56...
Rififi
did not invent the idea of French film noir. It was
Jacques Becker's
Touchez pas au grisbi
, released around the time that
Rififi
went into production, that provided a new model for the French crime film with its pungent evocation of a Montmartre criminal demimonde... But if
Rififi
did not invent a genre, it was nevertheless, thanks to Dassin, a unique synthesis. For the French,
Rififi
had Hollywood pizzazz; for Americans, it exuded continental sophistication; for both, it possessed an authoritative naturalism, albeit one suffused with a sort of American-in-Paris enthusiasm for Pigalle after dark. For the rest of the world, it had all of the above." -
J. Hoberman (The Criterion Collection)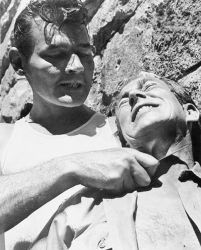 1954, USA, 80m, BW, Crime-Drama-Prison Film
Screenplay Richard Collins Producer Walter Wanger Photography Russell Harlan Editor Bruce B. Pierce Music Herschel Burke Gilbert Cast Neville Brand, Emile Meyer, Frank Faylen, Leo Gordon, Robert Osterloh, Paul Frees, Don Keefer, Dabbs Greer, Whit Bissell, Alvy Moore.
"Early in his career, Don Siegel made his mark with this sensational and high-octane but economically constructed drama set in a maximum-security penitentiary.
Riot in Cell Block 11
, the brainchild of producer extraordinaire Walter Wanger, is a ripped-from-the-headlines social-problem picture about inmates' rights that was inspired by a recent spate of uprisings in American prisons. In Siegel's hands, the film, shot on location at Folsom State Prison, with real inmates and guards as extras, is at once brash and humane, showcasing the hard-boiled visual flair and bold storytelling for which the director would become known." -
The Criterion Collection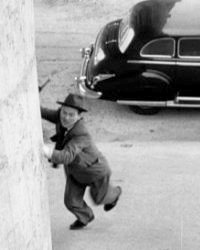 1951, USA, 73m, BW, Crime-Drama
Screenplay George Bricker, Steve Fisher (from a story by Richard Landau and Daniel Mainwaring) Producer Lewis J. Rachmil Photography Nicholas Musuraca Editor Robert Golden Music Paul Sawtell Cast Charles McGraw, Joan Dixon, Lowell Gilmore, Louis Jean Heydt, Milburn Stone, Peter Brocco, Barry Brooks, John Butler, Ben Cameron, Joseph Crehan.
"
Roadblock
is an ingeniously plotted and tautly directed film noir that has more twists and hairpin turns than a winding mountain road. From the opening title sequence, you know this is no run-of-the-mill B-movie; the credits roll down the screen at a slanted angle over the high beams of a car, traveling at night on a deserted road. Director
Robert Aldrich
possibly saw this and imitated it in the opening credits to
Kiss Me Deadly
(1955)... Directed by the relatively unknown Harold Daniels,
Roadblock
also benefits greatly from the crisp black and white cinematography of Nicholas Musuraca, no stranger to the film noir genre (
Out of the Past
(1947),
The Woman on Pier 13
, 1949), who gives the film an added touch of class." -
Jeff Stafford (Turner Classic Movies)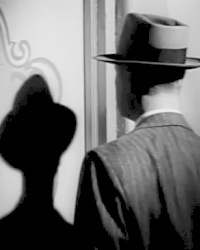 1954, USA, 92m, BW, Crime-Police Drama
Screenplay Sydney Boehm (from the novel by William P. McGivern) Producer Nicholas Nayfack Photography John F. Seitz Editor James E. Newcom Music Jeff Alexander Cast Robert Taylor, Janet Leigh, George Raft, Steve Forrest, Anne Francis, Robert Ellenstein, Robert F. Simon, Anthony Ross, Alan Hale Jr., Vince Edwards.
"The year after writing
The Big Heat
, the story of an upright detective avenging his murdered wife, William McGivern published
Rogue Cop
, a more interesting variation, in which a corrupt detective avenges his murdered brother. Auteur principles being what they are,
Fritz Lang's
movie of the former is a classic, while Rowland's adaptation of the latter is little known, though dramatically it's tougher, more complex, more unpredictable. It also has Anne Francis playing, as it were, Gloria Grahame, which many will find an improvement, and an iconic, if dull Janet Leigh. The fashion for location filming having just ended, we are returned, unfortunately, to MGM's standing city-street set, though it's atmospherically shot by John Seitz." -
Bob Baker (Time Out)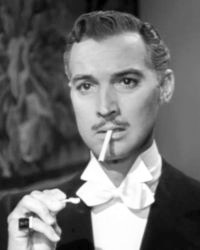 1948, USA, 104m, BW, Melodrama
Screenplay Gordon Kahn, S.K. Lauren, Alvah Bessie [uncredited] (from the novel Prelude to Night by Dayton Stoddart) Producer Arthur S. Lyons Photography Bert Glennon Editor Francis D. Lyon Music Werner Janssen Cast Zachary Scott, Louis Hayward, Diana Lynn, Martha Vickers, Sydney Greenstreet, Lucille Bremer, Raymond Burr, Edith Barrett, Dennis Hoey, Joyce Arling.
"Often thought of as Ulmer's
Citizen Kane
on the cheap, his study of American capitalism and runaway greed—scripted, without formal credit, by blacklisted writer Alvah Bessie—boasts the A-list acting talent of Zachary Scott and Sidney Greenstreet, both on loan-out from Warner Bros. Chronicling the rise and fall of Horace Vendig (Scott)—a tale lifted from the pages of Dayton Stoddart's
Prelude to Night
—the film presents an archetypal man who craves and ultimately captures all that others have. Its core message, riddled with delicious cynicism, hasn't lost any of its timeliness." -
Noah Isenberg (Film Society Lincoln Center)

The 100 Most Cited Noir Films

Available on Blu-ray

Recommended Viewing (by
TSPDT
)